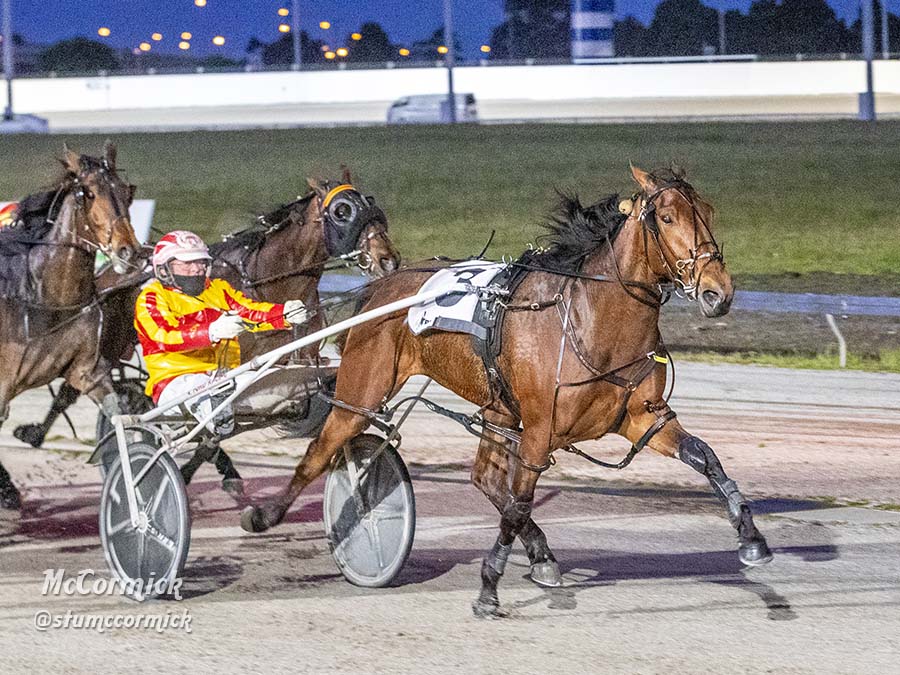 It was promised on TrotsVision and delivered in the run as Chris Alford guided The Pantheist to the lead from where she produced an impressive win in tonight's Angelique Club Pace at Geelong.
Leg two of the Elizabeth Clarke Mares Triple Crown, which reaches its grand climax with next week's $100,00 Bentsud Queen Of The Pacific at Tabcorp Park Melton, looked in the David Miles-trained mare's keeping from the final bend as pre-race favourites Spellbound and Maajida failed to make in-roads.
And so it would prove, rewarding TrotsVision viewers who enjoyed exclusive insights courtesy of a roving reporter Gareth Hall's pre-race chat with Miles and Alford, when they forecast the four-year-old would find the top and be very hard to beat.

"I was pretty confident that if she could find the front tonight she would be hard to run down," Alford told TrotsVision post-race.
"The first couple of runs she'd been back in the field and just flopping around and wasn't real interested, but last week when we went forward and put her in the race she really went well and was probably unlucky not to win."
Following last week's second to Spellbound, The Pantheist tonight pressed forward from what was initially an even line, finding the front at the first turn while Maajida settled for the breeze and Enchanted Stride tucked on to her back.
Spellbound was three back in the running line and then led the three-wide train with a lap to run, but last week's Make Mine Cullen winner would pay a price for her efforts and looked spent at the final turn.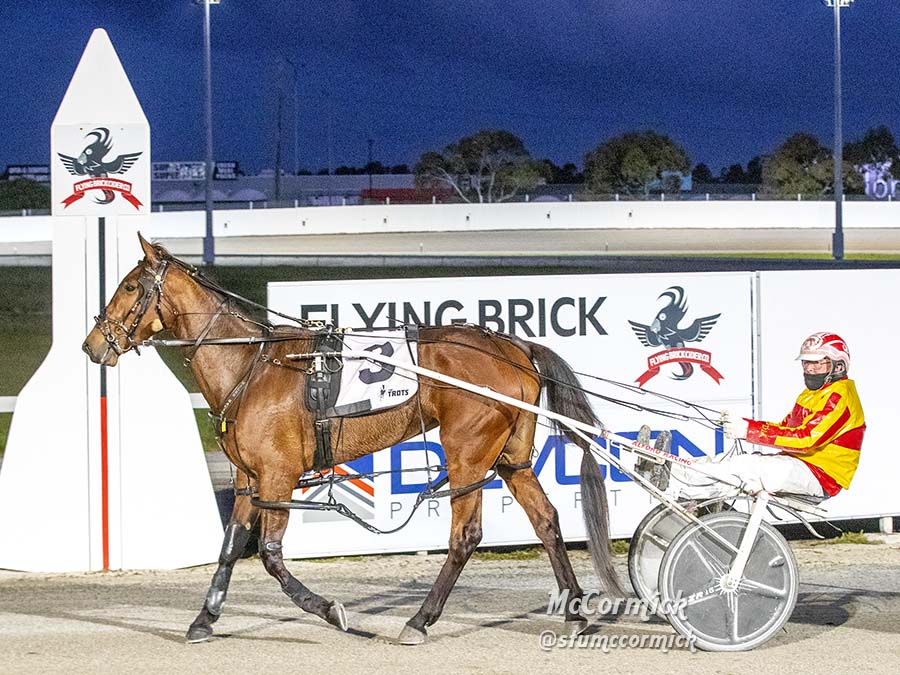 Maajida boxed on best of the chasing brigade but no one threatened the leader, who followed a 27.4-second third quarter with a 28.4-second bolt to the line to win by 2.2 metres in a 1:55.8 mile rate, eclipsing Glenferrie EJ's mares' track record (1:56.2) and just two-10ths outside the all-class record.
"When things go her way she's always hard to beat," Alford said. "She's pretty relaxed and the first three quarters of a lap she just was flopping along, not really concentrating that well, and then when she got up travelling she felt really strong and ran a good half."
She'll advance to the Benstud Queen Of The Pacific, the Group 1 showcase of the Elizabeth Clarke Mares Triple Crown, which carries a $10,000 bonus to the owner whose horse amasses the most points throughout the three-race series.
Competitors get eight points for a victory, five for second and three, two and one points for third, fourth and fifth respectively. After the first two races, The Pantheist has one hand on the crown for owners Greg and Jennifer Pell, having amassed 13 points to be five clear of Spellbound (8).
Other point scorers are Maajida (7), Itzamajorsurprise (3), Enchanted Stride (3), Belladonna Girl (1) and Blame It On Me (1).
While Amazing Dream's expected to add star power to next week's Queen Of The Pacific, Alford said it would be a competitive showing over the long distance.
"It all comes down to draws," he said. "Next week's 2700 (metres), which will sort a few out, but they are all really good mares and none can afford to do any more work and still win. There are no out and out champions, so they are all very even."
READ MORE: "Cool" Dodge brings heat in Geelong Cup stunner
READ MORE: Sof's gems storm the line on night to remember
---