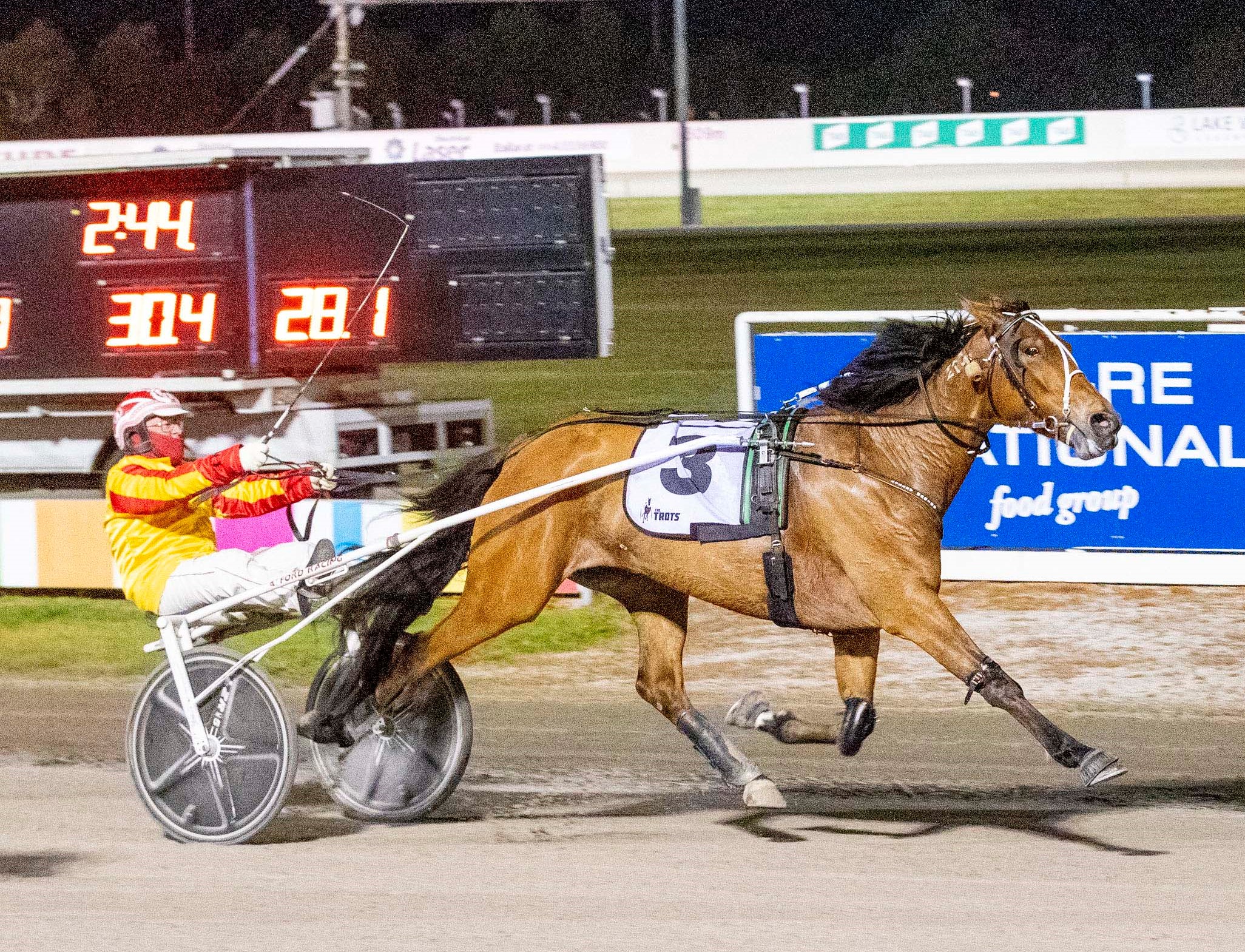 She had to be tough early and fast late but it would prove a tall order within Queen Elida's reach as Brent Lilley and Chris Alford combined to claim the Catanach's Jewellers Victoria Trotters Oaks.
A second Group 1 in as many weeks for Alford, following on from Max Delight's Victoria Cup triumph, the master driver ultimately pulled the right rein when tested to produce the all-the-way win at Ballarat.
Kiwi bred and owned, the Love You filly has flourished in Victoria, tonight producing her eighth career win and improving her prizemoney to six figures.
"She's very professional," Alford told TrotsVision, which was reinforced tonight when she was regularly tested.
From gate three Alford was eager to place early pressure on lead rival, Banglez, who was drawn directly inside him.
"(Banglez) can get out OK but can be a little bit risky," he said. "My intention was to come out full tilt, at least run (her) into the first turn, see if it might make her make a blue."
While they left in an even line Queen Elida soon showed superior pace to cross comfortably, but the threat wasn't over with Lady In The Sky making a play for the front before taking leader's back.
"She got out good and settled well and when Zac (Phillips on Lady In The Sky) came up and tested her again she got a bit revvy and didn't settle that well after that," Alford said.
Off a 44-second lead time he feared that may make his filly vulnerable late, though she was able to get a breather in a 33-second first quarter as Banglez applied no pressure from the breeze.
From about 800 metres Banglez started to eyeball the leader and their 28.2-second third quarter would split the pack, with only Lady In The Sky and Aldebaran Ursula able to keep pace with the leaders.
Banglez loomed ominously only to break at the top of the straight and, while NSW Trotters Oaks winner Aldebaran Ursula battled on gamely for Kate Gath, Queen Elida had the answers to win by 2.4 metres.
"The horse of Kate's (Aldebaran Ursula) was coming home really strong, but when she saw it coming she kicked again," Alford said.