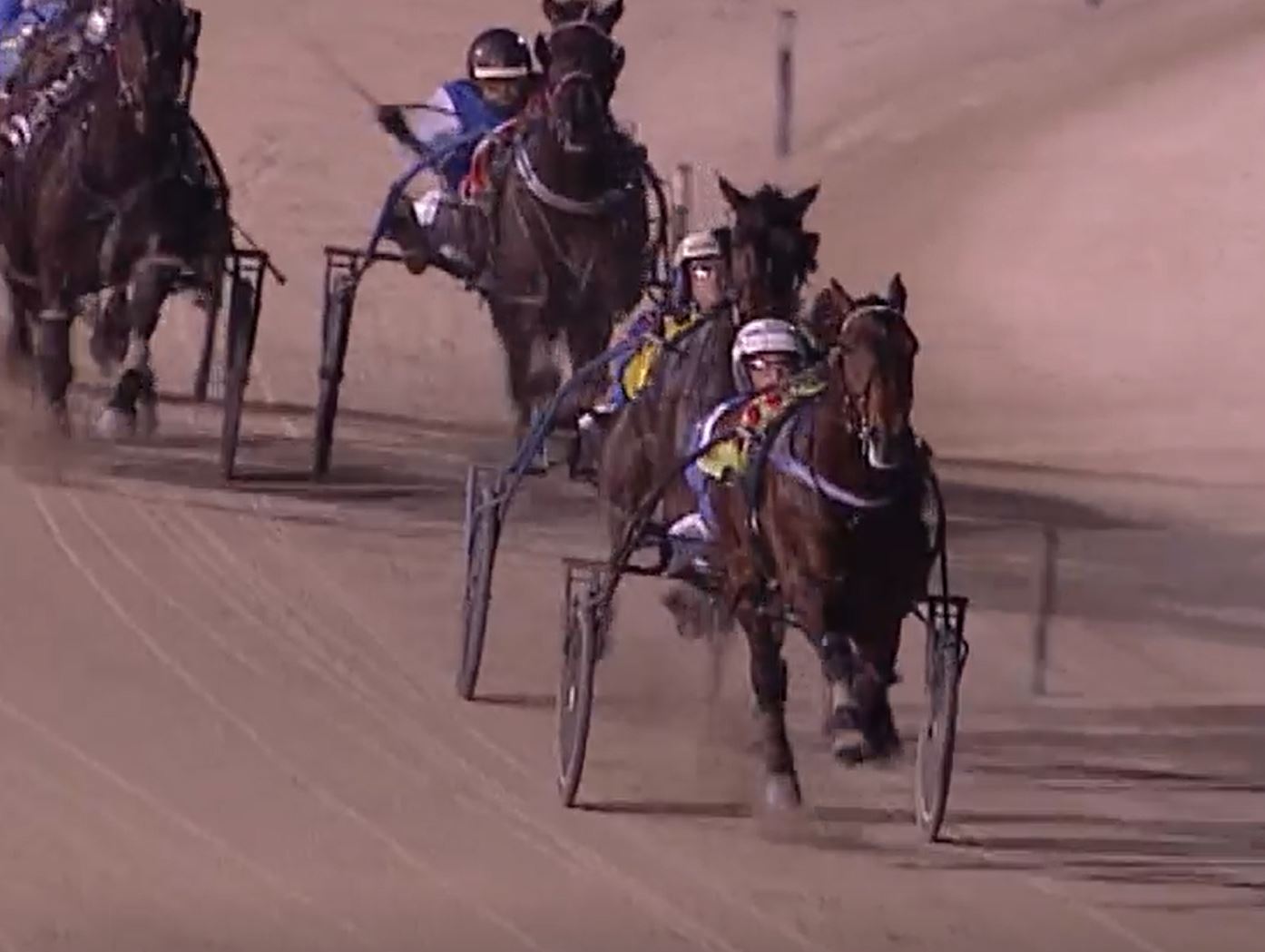 It's not about breaking records, Kima Frenning said after Ride High cruised to a 10th consecutive victory, incidentally breaking Shepparton's last quarter track record in the process.
The Clayton Tonkin-trained star pacer was in cruise mode in winning tonight's Neatline Homes Pace, a flawless performance that would have warmed the hearts of many, including those at the centre of Ride High's sale that unfolded throughout the night.
The Art Major five-year-old entire is set to be partly sold to Alabar, reported Adam Hamilton on Sky Racing, and connections prospective and present would have only had their confidence reinforced tonight.
Ride High worked to the front in a 28.4-second first quarter with Sirletic happy to take the sit, enabling the $1.04 favourite to cruise through 31.2 and 28.6-second quarters before dropping the hammer for the trip home.
With a 26.2-second last quarter he ran half-a-second faster than any horse had done at Shepparton in the final 400 metres, putting 8.4 metres between himself and Sirletic, with Repeat After Me some 25 metres shy of the winner.
"There's a lot of talk about breaking records and stuff, I don't think there's any need to do that," Frenning told Trots Vision, with Ride High posting a 1:54.1 mile rate, more than five seconds slower than his last start win at Bendigo.
"He does this on his own and he stays happy when he gets to do what he wants to do. And it keeps me happy as well."
Frenning has steered Ride High for all five starts this campaign, in which he's joined the select group of 71 horses to produce 10-race winning streaks since 2000, and it's clear he's only just getting warmed up.
"He's just so professional," Frenning said. "I was thinking about it when we were circling around at the start, there's not that many horses that will just warm up, walk around, they won't tippy-toe or anything, they just walk around and take everything in – and he's exactly that.
"When the gate let go he left with Sirletic and as soon as he got to the front he just dropped the bit and relaxed again, which is a really, really good asset to have."
And it's an experience that Frenning's savouring.
"It's amazing. When we are out there it's just me and him and it's the best feeling in the world. After the line it took me 400 to pull him up because he just wanted to keep going."
His gifts are also being enjoyed by his rivals, who can't help but be unabashed fans.
Among that number is reinsman Josh Aiken, who's seen plenty of Ride High, having steered Sirletic to consecutive second placings behind him at his last two starts.
"Ride High might be the best horse in the world," Aiken told Trots Vision. "Watching the American free-for-allers, I'm not sure there's a horse over there who would beat him. He's as impressive (as any) animal I've seen. It's just awesome to race against those horses.
"Horseman and trainers and drivers are in awe of horses like that. Just to watch him warm up in a race, he's just something else. No doubt he's a great racehorse and I think he's going to make a great stallion going forward."
Aiken and Sirletic threw their best shot at Ride High at Bendigo, holding the favourite in the breeze amid a 26-second third quarter only to watch their rival stride clear at the turn.
"We were going a 26 quarter off the back of a 55 half and I'd never been that fast on a 1000-metre track before. I was still on the bit going top speed and Kima flicked him up and he went into a gear that we didn't have. That was just unbelievable. I've never seen a horse accelerate off a 26 quarter like that."
But Aiken remains excited about the path ahead of Sirletic, who's trained by his dad David and wears the late Gavin Lang's colours, an ode to his former trainer and co-owner Meagan Lang.
"We were really proud of our horse at Bendigo last start, (Sirletic) went 1:50.5 himself and he was fantastic," Aiken said. "Tonight we adopted different tactics. We tried those tactics at Bendigo and we found out where we were and how good that horse (Ride High) is.
"We were rapt with (Sirletic) tonight, we will back him up at Bendigo next week off that nice run. He's the sort of horse that's going to be competitive against those really good horses and probably benefit when there's more of them in the race, when a few of those titans meet and he's in behind them he will benefit a lot from that."