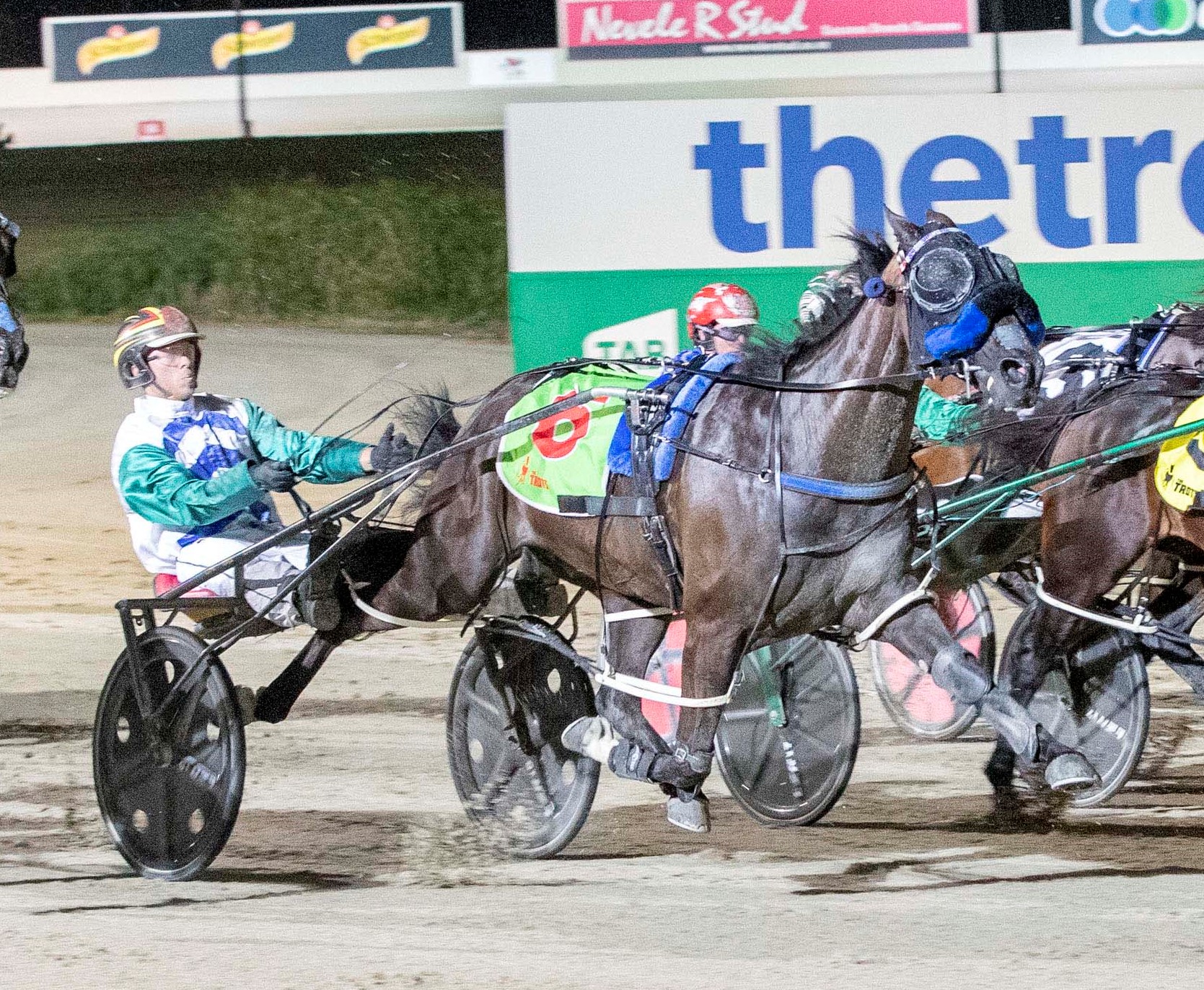 From Bomb to boom – the rise and rise of Basil Dooley and Paula Martin's pacer looks set to etch another significant chapter when this year's Trots Country Cups Championship kicks off on Saturday night.
Bettor Be The Bomb appears well placed to roll into the Garrards Horse And Hound Bendigo Pacing Cup full of confidence after a second successive victory at Tabcorp Park Melton.
The win added to an outstanding last five starts for the just turned seven-year-old, who's produced three victories and two placings, all at Melton and all in open class.
"What a good time to be able to get back on to him," reinsman Jack Laugher told Trots Vision after steering Bettor Be The Bomb to a second successive win in Saturday's APG Pace. "He's in career best form now. He seems to be getting better every time he gets out there."
On Saturday night, Laugher placed the Bettors Delight gelding in the one-one trailing Im Anothermasterpiece, with Wolf Stride on his back and Rishi rolling in front.
There was only moderate early pace, which meant the winner had to find lengths in the 54.6-second last half (27.6, 27.0) to secure the half-neck win.

"Tonight he showed probably a different string to his bow and how quick he can be," Laugher said. "Coming into the country cups now, I'm sure he's going to be a horse punching around in those and doing a pretty good job."
That looks set to begin with the season opener this Saturday at Bendigo, where he's among the nominees for the $70,000 prize. Our Uncle Sam, Wolf Stride, Sicario and Sirletic are among other notables, in what shapes as an even affair.
"He seems like the sort of horse that he's going to be able to cope with that little bit extra step up in grade and probably the rise in distance isn't going to hurt him either," Laugher said. "He just covers the ground that easy. I don't think the 2600 is going to be any troubles for him.
"As most horses do in those races, you rely on the draw and the run you get, but he will definitely be thereabouts if he gets those lucky splits."
It's a reflection of how far he's come, having not broken his maiden status until start 16 and at age four, and then waited more than 12 months before notching win number two.
But since his first start for Dooley on July 2, 2019, he's raced 36 times for six wins and nine placings.
"It's pretty remarkable really, two years between two wins and now he's beaten Rishi, beaten Wolf Stride and he's looking at country cups," Laugher said.
"He's a typical little Bettors Delight. He's got plenty of grunt about him, he's cocky, he knows how good he is. He's a very smart horse. He's got that turn of foot, if you get him off the gate he will settle. He's just a beautiful little horse to drive."

CLICK BEFORE TROTS LIFE'S METROSPECTIVE REVIEW OF SATURDAY'S RACING: