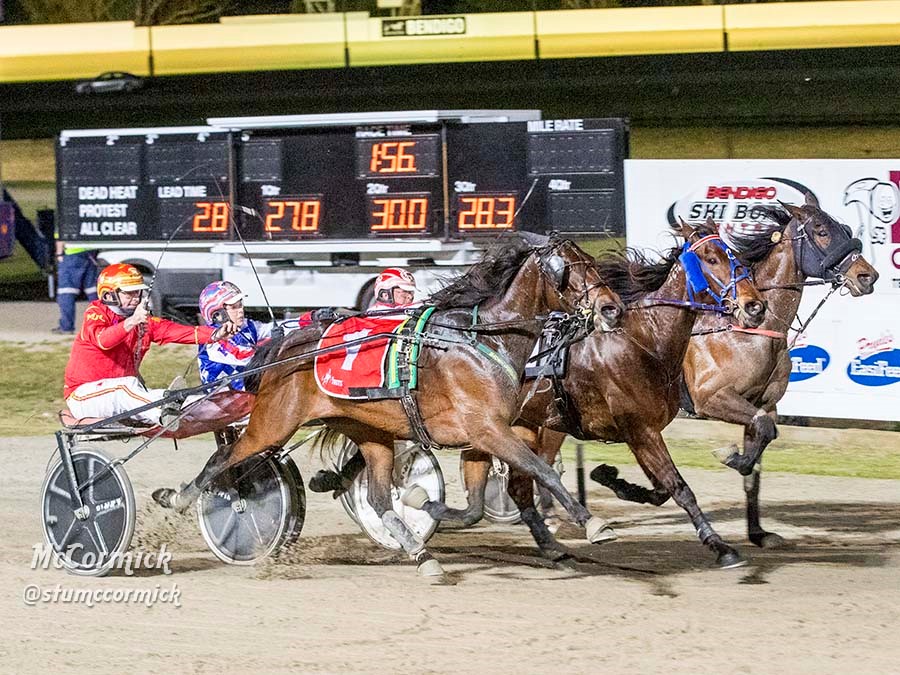 Pink Galahs has reminded of her freak speed in the race that 12 months ago was her coming out party, with the four-year-old mare capturing a fifth career Group 1.
Matt Craven's stable star won a stunning dash to the line in last night's Aldebaran Park Bill Collins Trotters Sprint, pipping Majestuoso by a half-head and Sleepee by a half-neck.
It was her first win since July and the continuation of a brilliant career, which has captured 17 wins from 34 starts and more than $300,000 in prizemoney.
"I really can't believe it actually," Craven told TrotsVision. "On the line I thought I just missed, she got to (Majestuoso), but he fought on so good."
Andy and Kate Gath's brilliant trotter Majestuoso, considered by many Australia's leading squaregaiter, ripped to the lead from gate three, with Pink Galahs pushing through from the pole to take his back.
The early hustle, much hyped in the lead up to the race, wasn't without incident, with Im Ready Jet seemingly tightened for room in the early stages as the leader crossed, temporarily losing her gait before recovering to take Sundons Courage's back in the running line.
A 27.8-second first quarter preceded a 28.4-second third quarter and then Majestuoso opened up around the final turn, but the mares were not done yet.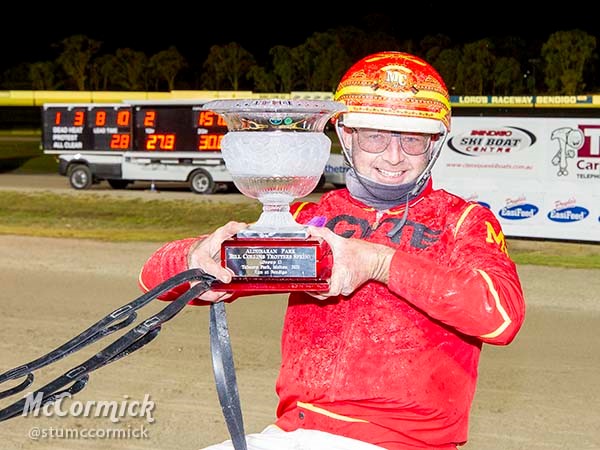 Pink Galahs took off to Majestuoso's right and Sleepee fired down his inside in the thrilling three-way go, with Craven's sit-sprinter getting the nod.
"I was probably out of tickets the last 50 but thank God she stuck her head out," he said.
"It's hard to describe what the feeling is right now. We knew we had to improve a lot from last week to this week, we asked a fair bit of her this week. She's just one of those characters who knows when to lift.
"She travelled so well in the run. I didn't know whether I could pick him off and Sleepee was just flying on the inside, we wouldn't have wanted another inch I don't think.
"What a thrill for the team. Sof (Arvidsson), mum and dad, Caleb (Lewis) and Laura (Lewis) and Brian (Healy) – she's just a wonderful, wonderful mare. We're so blessed to have her."
The victory also puts a track record to Pink Galahs' name, with the 1:54.2 mile rate shaving two-10ths off Glenferrie Typhoon's record of 1:54.4 over the 1650 metres.
WATCH: MATT CRAVEN TALKS TO TROTSVISION AFTER PINK GALAHS' WIN