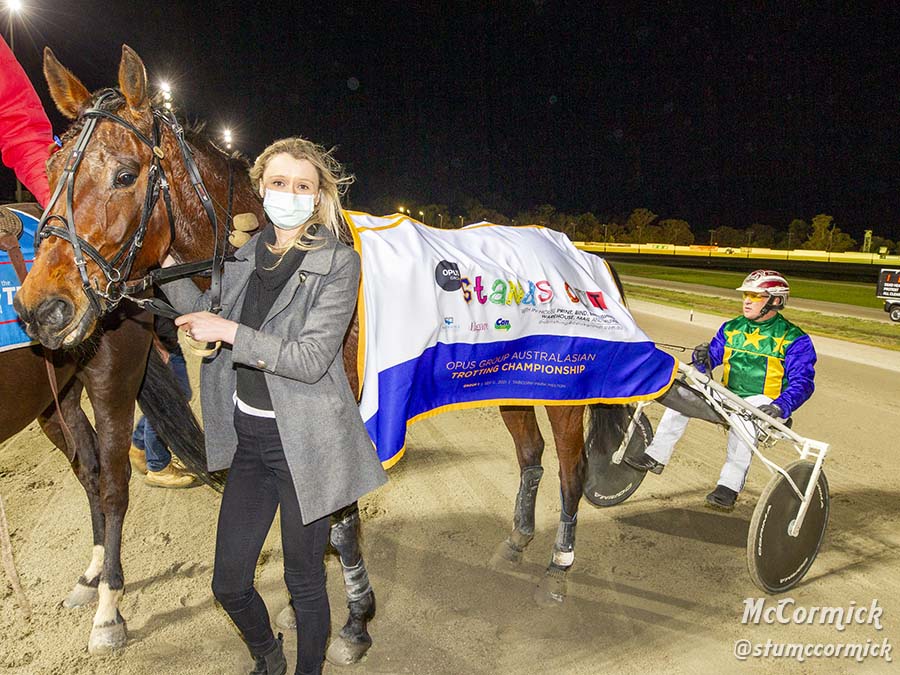 Champion New Zealand horseman Richard Brosnan has captured some of harness racing's biggest prizes, but few moments in his long and successful career would top the one that presented in Bendigo.
Brosnan and son Emmett landed their first Group 1 as a training combination on Saturday night when Maori Law poked his nose out to win a thrilling Opus Group Australasian Trotting Championship over the marathon 2650m trip.
It was a breakthrough elite level triumph for both Emmett and the horse, who has overcome setbacks in recent times to finally secure victory on the biggest stage.
"It's massive," the Bannockburn-based Emmett said.
"It means so much to me. I'm so stoked I can win a Group 1 with my old man as well.
"Growing up and watching him do it and (now) I get a chance to do it, it just means everything."
Richard Brosnan, 73, who has won races such as the Inter Dominion Trotting Championship and New Zealand Cup as a trainer-driver, moved to Australia and took out a licence with his son last year.
Emmett was quick to show his appreciation of Maori Law's owner Fred Crews, who gave him responsibility of the horse after he left former trainer Bill Morgan last year.
"I just have to thank Fred so much because I know that there was a long list ahead of me and he gave me an opportunity to do this. So to get a bit of reward back, it's awesome," he said.
"When he feels good, he's just a really sweet trotter and he seems to just do it effortlessly. Ants (Anthony Butt) drove him exactly how he needs to be driven. He had a couple of options there and he just stuck to the line well."
As mentioned, Butt drove Maori Law to perfection. He got the horse away from the tapes, took the lead away from Robbie Royale and then relinquished it when Cover Of Darkness came with an early rush. He trailed that rival to the lane and then sprinted home to grab Im Ready Jet and Majestuoso – who started from the 10m handicap in his bid for back-to-back wins in the race – in a three-way photo.
Butt won the Australasian Trotting Championship with the great Lyell Creek in both 2000 and 2001.
"They are definitely the peak of our careers, the Group 1s. We all try to win them, get drives in them and I've been lucky enough to have a great career and win a lot of them," Butt said.
Maori Law, who was having just his seventh start for team Brosnan, has now won 17 races for over $200,000 in prizemoney.
---