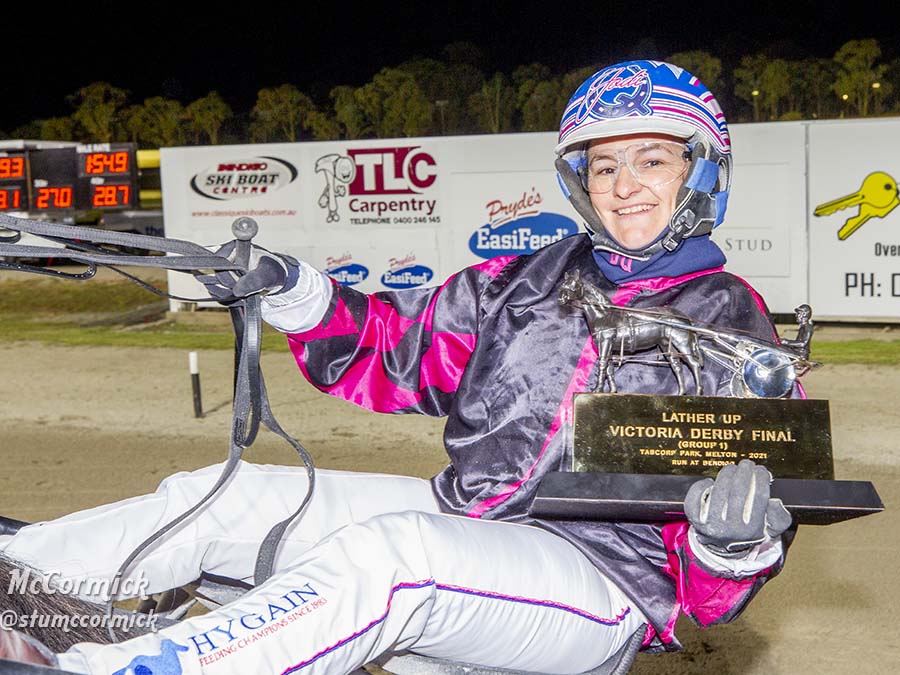 There's no better stable in the land when it comes to young horses, and it would have been little surprise to many when the team at Tonkin Stewart Racing scooped both the Group 1 three-year-old classics at Lord's Raceway on Saturday night.
Head trainer Emma Stewart prepared Act Now to win the Woodlands Stud Lather Up Victoria Derby and Ladies In Red to capture the Pryde's EasiFeed Victoria Oaks on a memorable night for the Cardigan-based juggernaut.
Act Now's all-the-way triumph secured a maiden Derby for driver Jodi Quinlan, while David Moran claimed his first Oaks after the star filly dazzled her rivals about half an hour later.
Quinlan had spruiked Act Now's gate speed in the lead-up to the Derby and he strolled straight to the lead from barrier three, controlled the tempo and then dashed home in 27sec and 28.7sec final quarters to score a dominant 6.2m win on the line.
Blitzern, who is trained by Allan McDonough from Stewart's property, charged home for second, while Act Now's stablemate Longfellow closed off well for third.

For Quinlan, it was a special success and helped register the 15th Australian Group 1 win of her long career.
And it was the loveable reinswoman who Stewart was quick to praise in the post-race scenes, labelling her as crucial to the Somebeachsomewhere colt's brilliant preparation.
"He's a bigger sort of fella and he's taken a little bit of time to mature, but in saying that, all of his runs have been terrific his whole career. And he's been driven tough in a lot of those runs, so he's just a fantastic horse," Stewart said.
"Jodi's actually been driving him terrific this time. He seems to be drawing to lead and that's what he likes to do. And he's been settling well in his runs.
"I couldn't be happier for Jodi, actually."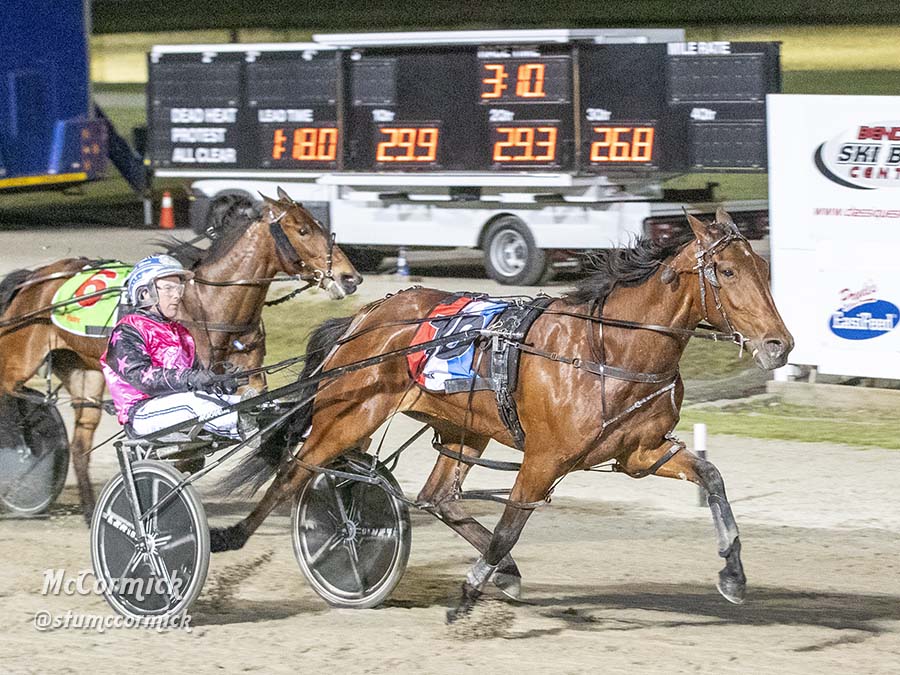 Moran had been left with a conundrum after partnering both Ladies In Red and stablemate Beach Music to impressive Oaks heat wins last weekend, but pulled the right rein by opting to stick with the latter in the $150,000 final on Saturday night.
After drawing the back row, Moran had the daughter of Mach Three up outside the leader - another Stewart runner in Joanna - before the bell and the two clapped on the speed in the final lap. Eventually, but not without a fight, Ladies In Red drew clear in the home straight to beat Joanna by nearly six metres, with Beach Music completing the Stewart trifecta by running third.
They clocked closing fractions of 26.9sec and 27.5sec, for a mile rate of 1:56.5 over the 2650m trip.
Clayton Tonkin, the partner of Stewart, made some bold declarations in the moments after Ladies In Red's breathtaking performance and praised the patience of breeders/owners Bill and Anne Anderson. After running second to Tough Tilly in the Vicbred Super Series 2YO Fillies Final on December 31 last year, the mare was given an extended spell and wasn't seen at the races again until early last month.
"She's an unbelievable filly and we've never had one like her," Tonkin said.
"Everyone sort of doubted her a little bit tonight, but it just shows you how her will is to win. They ran 26 off the back, and my other fillies went sensational, but it just shows you the class of her.
"I think she is the best filly we've ever had - definitely.
"She's definitely the best juvenile we've had because what she does is just unbelievable, but she's so tradesman-like."
Ladies In Red, the reigning Victorian 2YO Pacing Filly of the Year, has now won 13 of 14 career starts for more than $380,000 in prizemoney.
Stewart landed a treble on the night when Jo An Jo claimed victory in the Group 2 Alabar Vicbred Platinum Home Grown Classic (2YO Fillies) Final.
WATCH: EMMA STEWART AFTER ACT NOW'S WIN
WATCH: CLAYTON TONKIN AFTER LADIES IN RED'S WIN
---