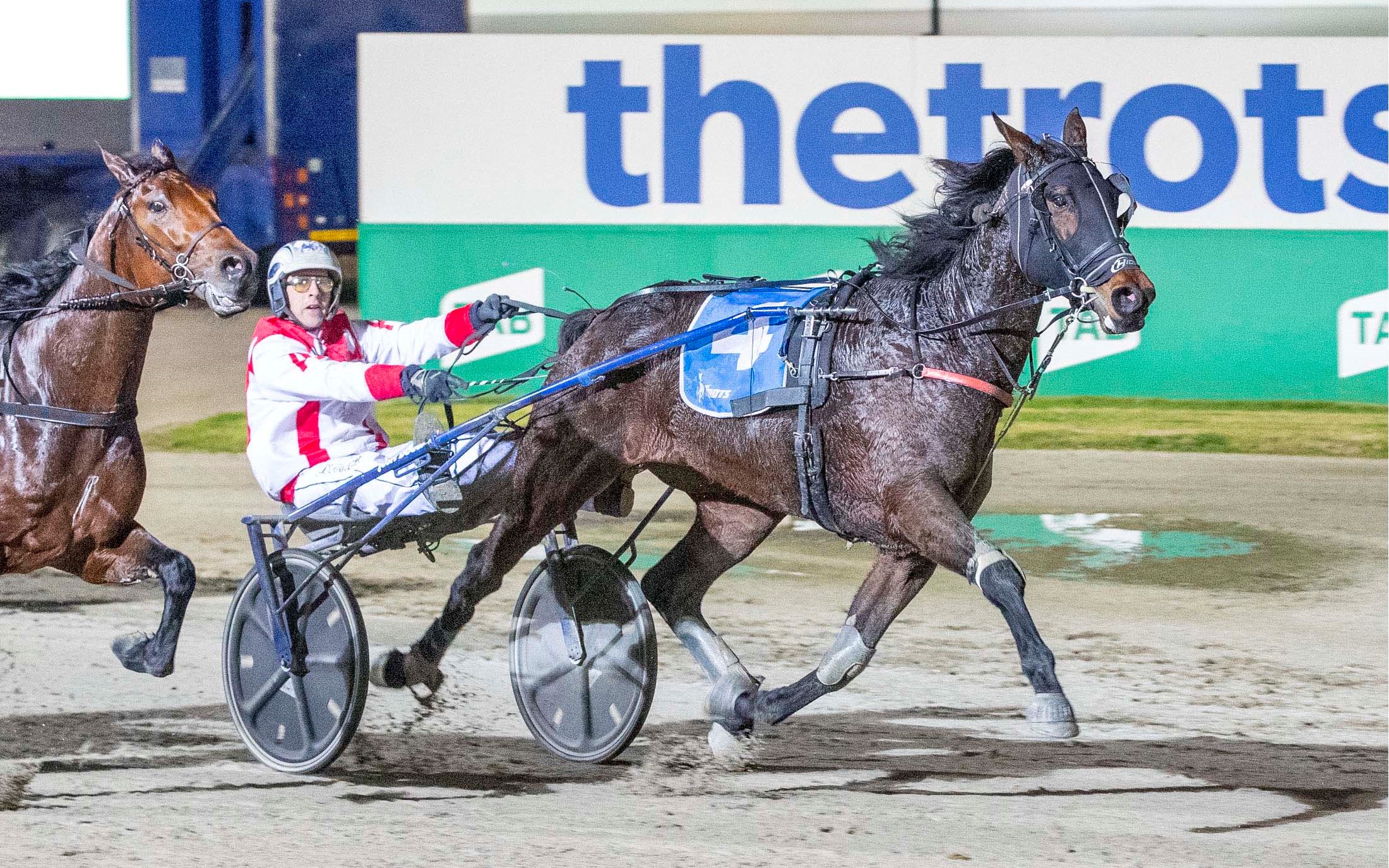 An astute split-second decision by driver Josh Duggan has helped star trotter Sleepee add to her impressive Group race record in the Woodlands Stud Noopy Kiosk Trotters Free For All at Tabcorp Park Melton.
The Alison Alford-trained mare sprinted home to edge out favourite Cover Of Darkness in the Group 3 feature in one of several nail-biting finishes on Saturday night.
Sleepee led briefly in the race's early stages before Cover of Darkness pressed to the front, giving the five-year-old a cosy run in her first race since April 8.
Duggan told Trots Vision she was travelling well around the home turn and he was "in two minds" on whether to bring her out or wait for the sprint lane.
His mind wound back to Cover Of Darkness's first-up win at Melton on May 29 - and that tipped his hand.
"(Cover Of Darkness) wanted to get up the track a lot in the straight and didn't trot that well last (time), so I opted to stay and wait," he said.
"That's … why we opted to take the trail. (Cover Of Darkness) doesn't really trot the straights as well as he does the corners and, our horse being first up, we had to try and look after her at the same stage.

"She was just going off one trial at Bacchus Marsh last week where she came off the second row and just followed them around. Tonight we thought she just needed the run as there's a mares race (Group 2 IRT Australia Matriarch Trot for 4&5YO mares) coming up next week … so we didn't want to cook her first-up."
The win, in a 1:56.1 mile rate, was the ultra-consistent mare's 13th in 26 starts - of which she's been unplaced just three times - and took her career earnings to just shy of $200,000.
Her record in elite Group races is just as impressive - three wins, three seconds and three thirds from 10 starts.
"She's pretty versatile; she can do it tough and she can do it sit-sprint style," Duggan said.
"Tonight I was a little bit worried as in the warm up every time I got to the gate she'd stop and want to walk and carry on, which is not like her as usually she's normally on her toes.
"But tonight she was really quick up the straight."
Sleepee's win was one of several close finishes during the night, with Arocknatthepark (who won by a neck for trainer and driver Tony Calabria), Illawong Stardust (short half-head for trainer Tony Peacock and driver Brian Gath), Jimmy The Irishman (half neck for trainer Adam Kelly and driver Zac Phillips) and Mister Fortunia NZ (head for Andy and Kate Gath) also saluting in edge-of-the-seat fashion.
Cover Of Darkness may have just missed, but his trainer Emma Stewart was still able to score a double with Rockasaki in the Allied Express Blossom Lady and Struve in the Alabar Pace.
---
SLEEPEE'S GROUP RACE RECORD
10 starts, 3 wins, 3 seconds, 3 thirds
Group 1s 5 starts, 2 wins, 1 second, 2 thirds
1st - Breed For Speed Gold Final, Crown 2YO Trot Fillies,
2nd - Aldebaran Park 2YO Trot
3rd - VicBred 4YO Trot Mares Final, 3rd TAB Victoria Trotters Oaks
Group 2 - 3 starts, 1 second, 1 third
2nd - NSW Trotters Oaks
3rd - IRT Australia Matriarch
Group 3 - 2 starts - 1 win, 1 second
1st - Woodlands Noopy Kiosk Trot
2nd - Woodlands Carlotta's Pride
---