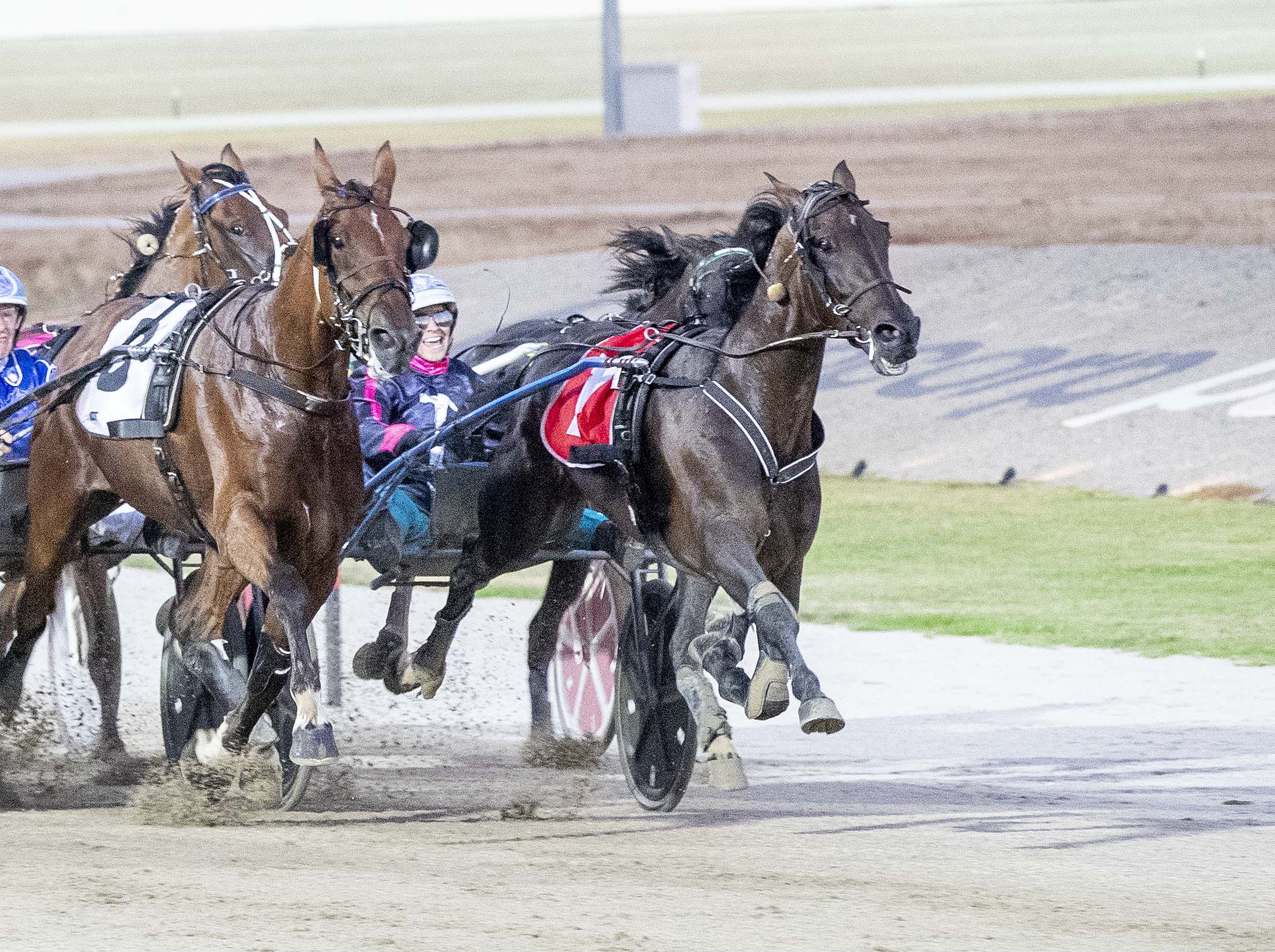 Terry Forster and Heather Lyttleton continue to pine for the trots and next month's Australasian Premier Trotting Sale enables the retirees to fund their passion.
The pair will be ever-present at the March 10 sale, offering two lots and continuing their affinity with the auction, where they have produced a sales topper and a prized purchase for owner Domenic Martello in Big Jack Hammer, winner of Saturday night's Group 1 Hygain V L Dullard Cup.
The win boosted Big Jack Hammer's career stakes to $181,922, the third highest for a sale graduate behind Crusin Around ($209,642) and Endsino ($185,203), and was a second Group 1 for the gelding by The Pres out of Running Pinevale.
"It was a real buzz and I had a few dollars on him as well, which pleased me," Forster said.
Now based in Queensland, the couple formerly operated Pinevale out of Bagshot north of Bendigo and maintain a handful of horses, a vocation funded in no small part by the sale.
"The sale is a big part of it, it keeps the wheels turning," Forster said. "The trotting is getting more competitive and stronger and stronger all the time. We still love the game, so we got others to watch over the horses."
In particular, Russell and Pauleine Thomson having been leading preparers for the Pinevale pair, including readying their two lots for this year's sale, which returns to Inglis Salex Complex on March 10.
Lot 22, by Love You out of Pinevale Ellason, is a chestnut colt who Forster said was "a really big boy and very strong".
"(Love You's) very commercial and, as it turned out, he has the most in the sale, so obviously others think the same," Forster said.
Love You's richest son Quaker Jet sired their other entrant, lot 33, who is out of Ruby Pinevale, a Skyvalley daughter of Pinevale Ellason.
Ruby Pinevale, aged seven, last raced on July 1 2016 in the Empire Stallions Vicbred Super Series four-year-old trot, where she finished seventh, just 8m share of the winner and a sale poster boy Endsino.
The lots are a continuation of the couple's breeding that stretches back to 1992 when they established their Pinevale property, inspired in part by Lyttleton's successful ownership of the likes of 1989 Redwood Classic winner Kwik Kiwi.
"We decided instead of buying a trotter we should breed our own," Forster said.
"We soon realised if you are going to breed you have to have really good mares, so we bought a couple from New Zealand and went from there."
Pinevale Ellason, now 17, was among their leading mares and had a successful racing career, amassing $72,300 in stakes including placing second in a 2008 Inter Dominion heat before a gallop proved costly in the final.
Her progeny would include Duchess Ella ($126,934) and All Star Angus ($60,504), an Angus Hall colt who Mark Purdon snapped up for $28,000 at the 2014 Australasian Premier Trotting Sale.
It was the sale's second staging and the first the Pinevale team ventured into, having also been the year they listed lot 23. That colt was out of Running Pinevale, a winner of $100,618 including the 2004 Victoria Trotters Oaks, and by The Pres. He was snapped up for $22,000 and would become the aforementioned Big Jack Hammer.
Since then Pinevale has been a regular fixture at the sale, returning in 2016 and producing the sale's topper, a colt by Majestic Son out of Pinevale Ellason who drew a bid of $47,000. He would become Kyvalley Frank, the Brent Lilley trained Need For Speed consolation winner and three-year-old Breeders Crown Silver trot placegetter who's amassed $29,900 to date.
In 2017 they produced a Majestic Son colt by Galleons Bliss who garnered a $20,000 bid and, now named Rigondeaux, is a lightly-raced three-year-old for young trots team Maddie Ray and Hayden Gray.
Having been absent last year they return with two lots in 2019, maintaining their philosophy of keeping their fillies and selling their colts.
The couple shares Graciella Pinevale with Rob Thompson and races three: Pinevale Minnaie, an unraced three-year-old filly with trainer Ross Graham, Pinevale Victoria, an unraced two-year-old filly with Chris Svanosio, and five-race winning Myrtle Vale, a five-year-old Skyvalley mare with a pacing bred dam (Valchelon) who they share with trainer Ivan Collison.
It's a racing class they hope will enjoy success on the track and then in the sale's ring, enabling them to continue their trots devotion.
"The trotting sale stands on its own now and was one of the best things that has happened to the trotting game," Forster said.
"Years gone by the people I mixed with all used to go to New Zealand to buy a trotter, now our trotters stand alone – they are as well bred as anything in New Zealand."
CLICK HERE TO VIEW THIS YEAR'S LOTS AND FOR MORE SALE INFORMATION