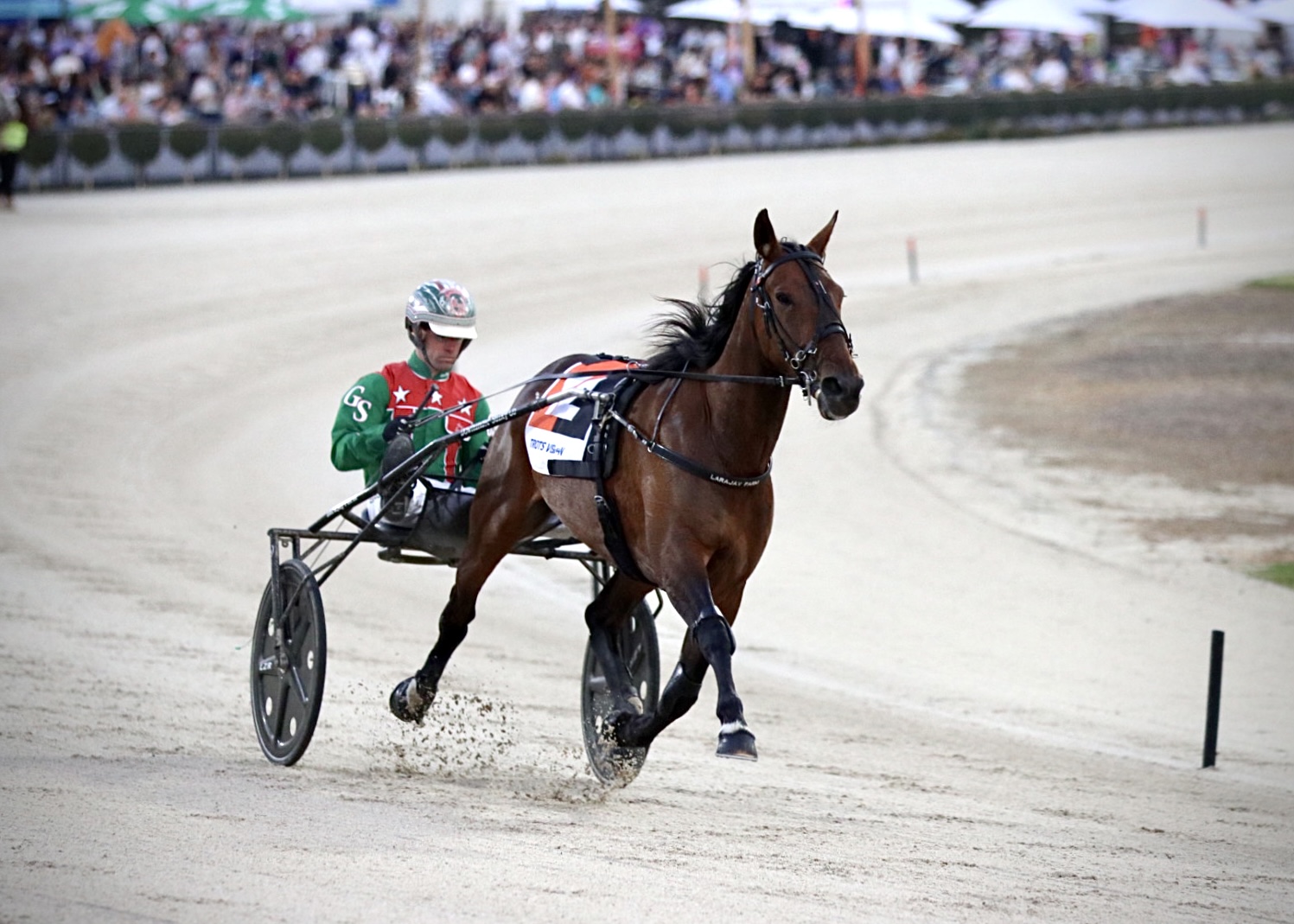 Greg Sugars thinks Just Believe's daring and successful Swedish raid may have made him an even better horse.
More than eight months since he last raced in Australia, Just Believe resumes in the $30,000 Breeders Crown Open Trot at Bendigo on Friday night.
The seven-year-old's last Aussie run was a second at Menangle on March 4, but the last of his three Swedish runs was almost 16,000km from home when second to glamour trotter Francesco Zet in Boden on June 17.
This will be Just Believe's only lead-up run before heading to Brisbane to defend his Inter Dominion crown, starting on December 1 at Albion Park.
"We can't fault him at home. He seems every bit as good as before he went away, maybe even a touch better," Sugars said.
"It was uncharted territory for us, we didn't know what to expect and after having such a lengthy campaign and hard racing before we even set sail for Sweden. We thought he'd need a long break when he got home and it could be hard getting him back (to the races).
"But it's been the exact opposite. He was that bright when he came home to Larajay Farm from quarantine.
"He initially came to hand a bit quicker than we expected so we just had to try and go steady with him.
"His attitude is really on song. He's got to do it at the races of course, but he's given no reason to think he won't."
Sugars and wife, Jess Tubbs, were frustrated Just Believe missed a planned and important first-up run last Saturday night.
"Very unfortunate we didn't get to race last week at Melton when the race didn't stand up (with enough starters).
"But he's had a couple of trials now and his work at home has really pleased Jess and I. We're very happy with where he's at.
"We're really looking forward to getting him back on the track and hopefully he performs as well as we know he's capable of."
Just Believe is the lone back row runner from gate eight in a strong field, headed by his arch rival Queen Elida.
Just Believe had Queen Elida's measure late last year and earlier this year, but she is a year older and has since won 12 of her 13 starts in his absence.
Queen Elida is the $2.20 favourite from Just Believe at $3.20.
On the same card, most of Victoria's top Inter Dominion pacing hopefuls clash in the $60,000 Breeders Crown Pacing free-for-all (race six).
They include the past two Victoria Cup winners Rock N Roll Doo (gate one, $3.10) and Act Now (gate nine, $4).
Premier trainer Emma Stewart will use the race to finalise how many pacers sends to Brisbane with five runners at Bendigo, including Mach Dan (gate four) and Beyond Delight (five)