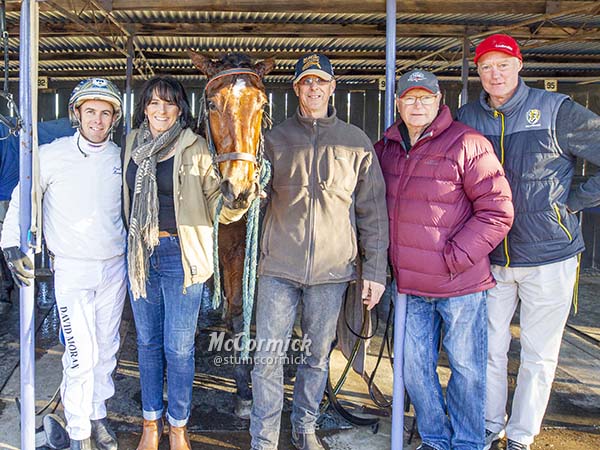 Having had his hands on many a champion, the curtain's been drawn on Patrick Ryan's behind-the-scenes diligence and the results are now there for all to see.
The Shepparton trainer's "been in the game for 35 years" with wife Julie, during which time he's predominantly broken in foals and pre-trained prospects while working one or two himself.
"I have always got young ones going and passed them on to other trainers, like David Aiken," Ryan said.
"Then I got a job with Sheron Park, where I have worked for 10 years. I had the likes of Lennytheshark and Spidergirl go through the stables among many others, but we've started to take care of them ourselves."
Sheron Park proprietor Kevin Riseley consolidated the property and, after Ryan spent 12 months working for Aiken, who he said was "just a pure horseman", he began to train for the farm with stablehand Peter Cormican.
"We thought we would give it a try and see how it goes and have a really good set up now," he said.
Riseley said Ryan had "the patience of the Lord". "He's a real thinking trainer. He's the closest thing to a horse whisperer I've ever seen. He really puts a lot of time into individual horses."
While he had trained on and off since 1983-84, this season has delivered Ryan's most starts (35), wins (12) and stakes ($74,225), and those figures could propel to new heights in tonight's Aldebaran Park Vicbred Super Series trotting finals.
He will have Dizzysjet ($3.60 with TAB.com.au) and The Best Dream ($8) step out from gates seven and 12 respectively in the two-year-old trotting fillies' final, and says Dizzysjet "has been a revelation" in winning two of her three starts. "She seems to be one of those little triers that gets the job done."
But, he says, longer-priced maiden The Best Dream, who's ran second in three of her four starts, has been "working super at the moment" and "had the edge" on Dizzysjet.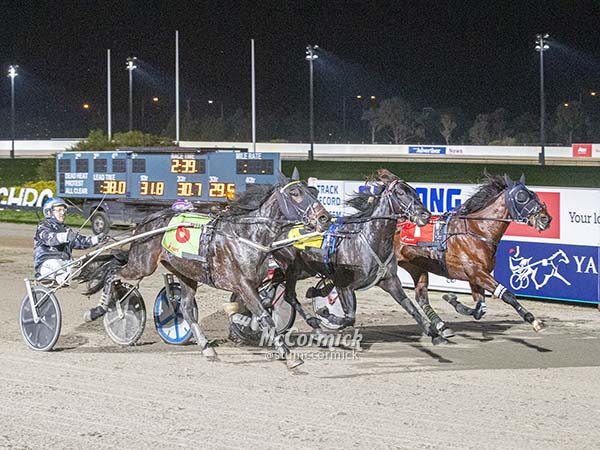 While both are well in the market, it is All The Muscles – an $8 shot in the three-year-old colts and geldings' trotting final – who Ryan said was his "main chance".
"He is a very nice horse," he said of the Muscle Hill colt, who won his Vicbred Super Series heat by a short half-head. "It was just a matter of getting through that race. He was very relaxed before the race, almost asleep, and raced accordingly. He has definitely trained on very good this week. We are rapt with him."
Then tomorrow night he has Starsbythebeach in the two-year-old pacing fillies' final and said the $71 chance had "come through fantastic", despite being the last horse to qualify in both her heat and semi-final.
"Saturday night she has drawn six and we will put her in the race early and she is a chance of filling out the placings," Ryan said.
"It's exciting. With these Group 1s you have got to have everything go right and, touch wood, everything has gone really well."