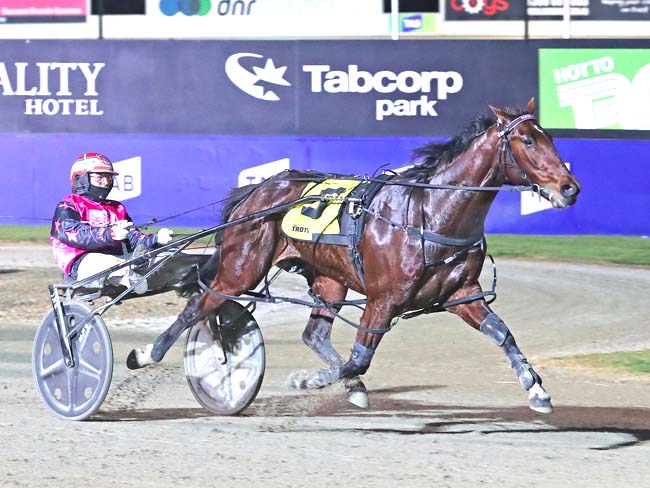 Chris Alford's season of dominance will likely see him smash a longstanding national record and has also delivered some dilemmas.
The champion reinsman looks on track to top Daryl Douglas' 388 wins in a season, set in 2007-8, having amassed 369 victories with more appearing certain in tonight's Empire Stallions Vicbred Super Series' pacing finals.
Alford attributes a good portion of that success to trainer Emma Stewart, who qualified a stunning 19 horses for tonight's racing.
"A big part of it is due to Emma (Stewart) and (her partner) Clayton (Tonkin), and there are others whose horses I'm driving who have also been going well at the right time," Alford said. "It would be pretty special (to record the most wins in a season)."
But Alford will have to pull the right rein in more ways than one, having had to choose between a host of talented Stewart runners.
He's had plenty to rake through this week, in particular regarding the tonight's Empire Stallions three-year-old colts and geldings' final, with NSW Derby winner Poster Boy and new sensation Ride High in the picture.
Alford said Tonkin "leaves it up to me" but had "a fair bit of input and "suggested I should stay with Poster Boy over Ride High, because I've driven Poster Boy most of the time".
"If Ride High had have drawn the front I probably would have gone with him, but they will probably run 1:55.0 and Ride High will be off the track most of the way," Alford said. "He is going to have to be every bit as good as we think he is."
Alford also had a difficult decision in the two-year-old colts and geldings, settling on Australian Pacing Gold winner Centenario (gate two) over well-hyped Stewart stablemate Hurricane Harley (gate one).
"I'm probably on the wrong one there after the draw but I've driven him all the way through," Alford said. "I started on Centenario and then Hurricane Harley improved, improved and improved.
"It probably would have been easy to swap because of the barrier draw, but Clayton said in track work Centenario is a 20m better horse than Hurricane Harley, but Hurricane Harley improves on race day."
And then there's decision three, where he's stuck fat with last year's Victorian filly of the year Nostra Villa over Speak No Evil.
"Nostra Villa's been good to me and is probably the more well-rounded filly. I drove her all last year, but come Breeders Crown it could be the other way around," Alford said.
"It's a hard but it's part of driving for a big stable, you can't drive them all. I could have a really good night, I could go away disappointed, but all the horses got through their semis really well. These are the nights we all want to be a part of."