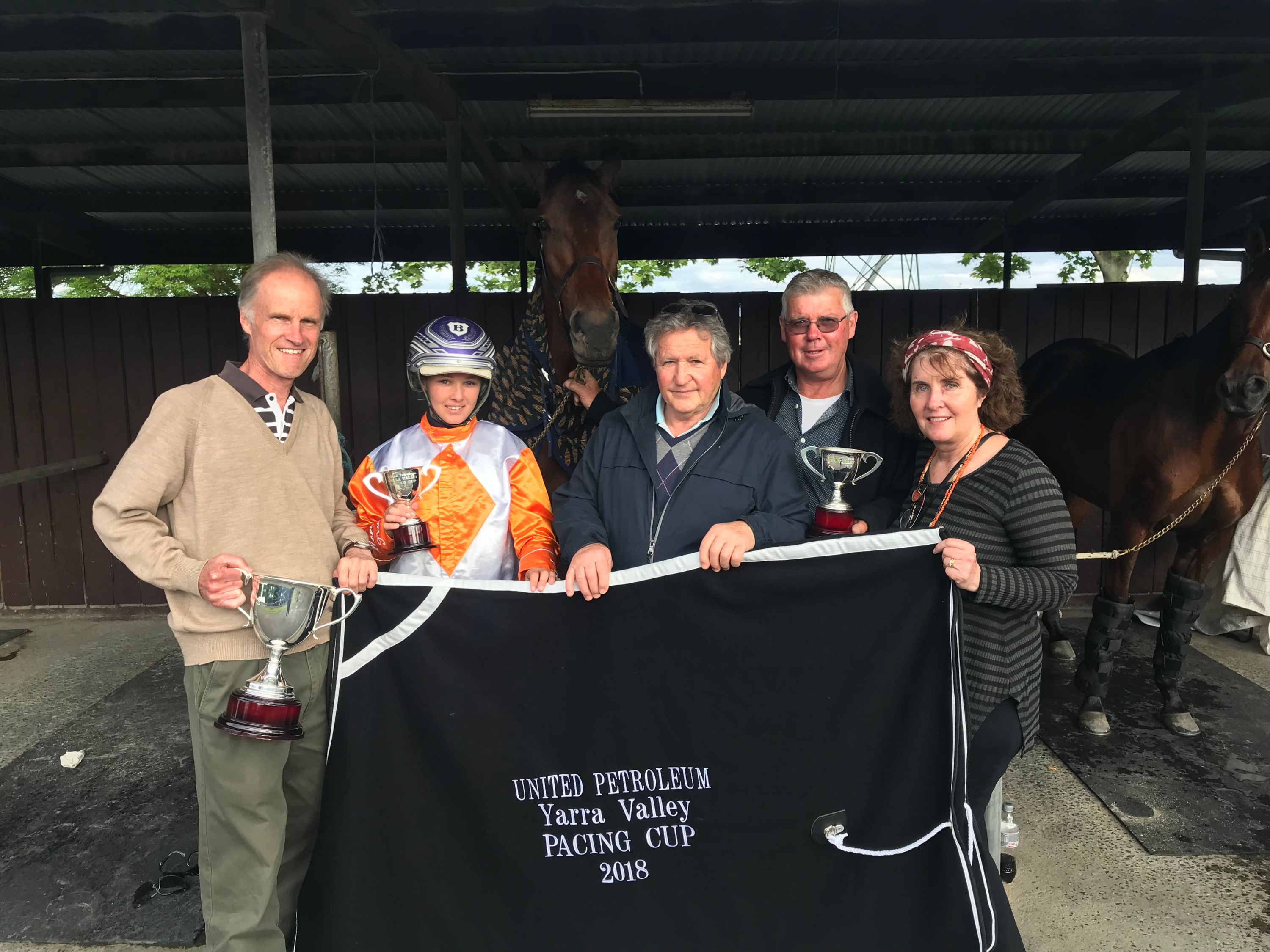 At picturesque Yarra Valley racecourse today, Shepparton pacer San Carlo (pictured right, by Nikkita Ross) took another mighty step towards scaling the TAB Inter Dominion pinnacle.
The brilliant eight-year-old dazzled as he sat parked outside one of the toughest horses in the caper in the United Petroleum Yarra Valley Pacing Cup before scooting clear in the last 200m for an emphatic win.
San Carlo's driver, Bec Bartley, only needed to gently flick the reins when she wanted her charge to go, and go he did, the pair romping home by 4.8 metres as Hickstead ran the race of his life in second place and early leader Im The Boss battled into third.
"He took himself to the front, and as soon as I pulled the plugs he took off," Bartley said of the 1:56.8 win.
"He was so strong right to the line. We're super happy with him."
Today's win came at just his third run back from a spell and trainer Stephen O'Donoghue has San Carlo on track to peak during ID18, which kicks off on Saturday night December 1 at Tabcorp Park Melton.
It was 12 days ago that San Carlo fiercely fended off Tiger Tara in the Decron Cranbourne Gold Cup. That pacer is a serious player in the New Zealand Trotting Cup on Tuesday.
So it is little wonder TAB today slashed San Carlo's ID18 price from $10 this morning into $7 by early evening.
San Carlo was ranked No.6 at the most recent ID18 rankings released on October 31 after initially being No.14 when nominations closed.
When the fourth and final rankings are revealed on Wednesday November 21, he'll be higher again.
I've been lucky enough to have called San Carlo a fair few times in my career. He has done some special things each time he has won but calling his win today was next level. What a superstar and I hope he gives the Interdom one hell of a shake!

— Matt Jackson (@Mjackson_racing) November 8, 2018
San Carlo is the United Petroleum Yarra Valley Cup champ for 2018, driven by Bec Bartley and trained by Steve O'Donoghue. #TheTrots pic.twitter.com/QqP60xvUwG

— The Trots (@TheTrotsComAu) November 8, 2018
San Carlo crushes them in the Yarra Valley Cup in super time. The more you see it him, the more you love him.
And he certainly makes the Tiger Tara form look great, too.

— Adam Hamilton (@AdamTABSports) November 8, 2018
San Carlo that was freakish.

— Dean McKinnon (@deano_mck05) November 8, 2018
Sent out a $1.60 favourite despite drawing the outside of the six-horse field, San Carlo was eased off the gate before following Im The Boss when that horse made his move towards the front.
Things didn't exactly work out perfectly for Kima Frenning and Im The Boss or Bartley aboard San Carlo, with John Justice kicking up on Hickstead for longer than many thought he would.
For Justice, who won the 2000 Inter Dominion with Shakamaker, he knew the score. Hickstead was enormous, eventually relenting to the pressure of Im The Boss before peeling off his back and running home resolutely into second place at cricket score odds.
Hickstead was lowly ranked (No.66) on the ID18 ladder heading into today. He'll soar, but it's likely he'd still have to produce another handy win prior to the final round of rankings to crack into a competitive top-36 to contest the series.
Meanwhile, Andy Gath-trained Burnaholeinmypocket (ranked No.40) proved too strong for Bad Billy (ranked No.30) at Swan Hill earlier this week and will have done his ID18 chances no harm. He will likely get a spike, but must jump at least four slots to make the cut.
Several horses at the edge of qualification risk a drop, too, if they're not performing on track while others trend in the right direction.
An interesting runner could be Maximan, whose trainers Shane and Lauren Tritton are murmured to be looking at making the late payment fee of $20,000 to contest the series.
Maximan has been airborne of late, with back-to-back wins at Menangle in early October followed by two placings in fast-class races.
Two starts ago Maximan was second beaten 2.1m behind Majordan in 1:50.4 when he beat home Franco Nelson (ranked No.8), Let It Ride (ranked No.2), Real Stride (ranked No.47), Match In Heaven (ranked No.20) and Our Triple Play (ranked No.57)
Last time out Maximan was again runner-up but in an electric 1:49.3, beaten 1.3m by Joes Star Of Mia (currently ranked No.25 but will likely climb), and beating Mach Doro (ranked No.16), Aztec Bromac (ranked No.33), My Alpha Rock (ranked No.15) and Major Crocker (ranked No.29).
This weekend will answer more questions, including just where is Buster Brady positioned? He's currently ranked No.56 on the ID18 charts and makes his Australian debut for Kima Frenning in the Weir's Supa IGA St Arnaud Pacing Cup.
Meanwhile, Michael Stanley's stable is firing on all cylinders and his ID18 bound trotter, Sky Petite (ranked No.8) was an ultra-impressive winner in the De Bortoli Yarra Valley Trotters Cup.
Driven a treat by Ryan Duffy, Sky Petite had 6.8m to spare over runner-up Cruisin Around in the 2650m standing start feature, rating 2:04.6, with Our Twentyten in third.