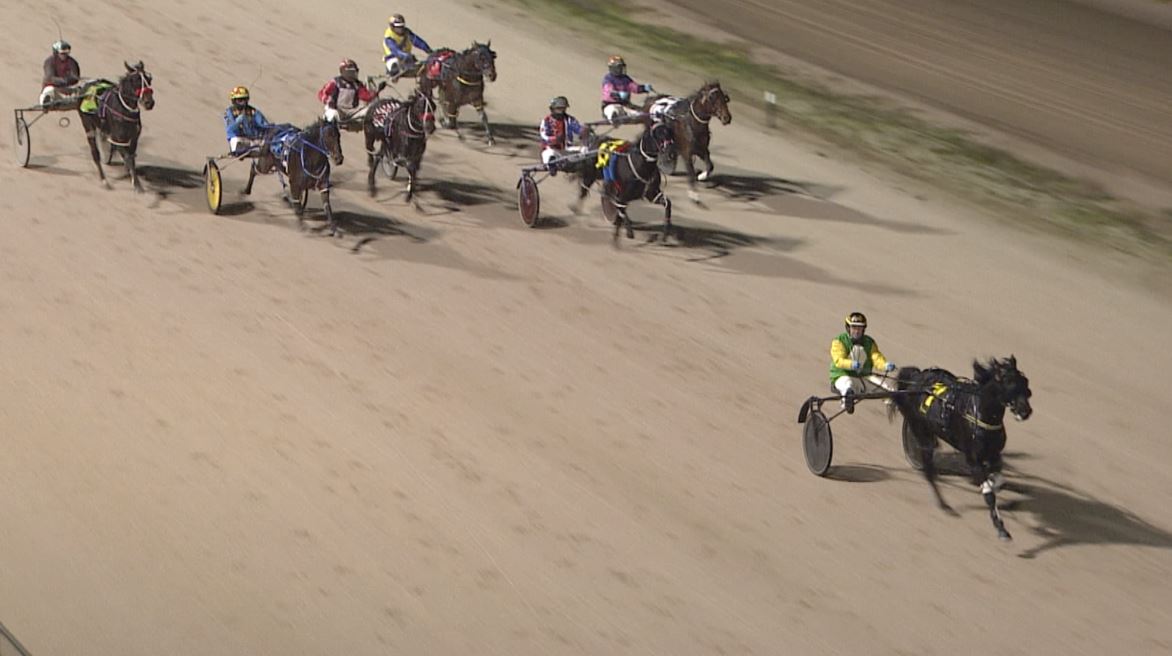 Emotions will bubble beneath Jason Lee's cool exterior again at Tabcorp Park Melton this Saturday night when he takes the reins of another horse who symbolises much more than just an equine athlete.
Lee will steer Batman Barry in the Benstud Standardbreds Youthful Stakes for two-year-old colts and geldings for Camperdown trainer Tony Chisholm, who's battling throat cancer. The drive comes just seven days after Lee guided Lucky Lombo to an emotional victory for the Stokie family, which is mourning the loss of Paul.
Lee said Chisholm, a long-time trots owner who has trained in his own right since 2011-12, was a close friend who his family and the wider Terang and trots community had rallied around.
"He's had it pretty tough," Lee said. "From the word go you wouldn't say life's been very easy for him.
"I have always known of him a bit but the last six or so years, since he started training horses himself, I've got to know him a lot better. He's always been a bloke who's worked hard and enjoyed his horses.
"He's pretty tough. The number of times they've told him he's got a certain amount of time to live and every time he's outstayed the time given."
Lee said that Chisholm had "a lot of good people around him, including in the racing industry".
"Dean Braun and Pauline (McColgan) visited him the other day for about three hours and just chatted and watched video replays, Bec East has taken some of his slower horses to help out and just every time I go to the races people are asking me how Tony is."
And that goodwill goes even further for Lee and his extended family, which has offered Chisholm significant support on and off the track.
"The last four or five years we've been really close with him, particularly since we started to drive for him. We've become good friends," Lee said.
"He's become like another uncle, he is pretty close with all the family and comes and celebrates family occasions."
There was plenty to celebrate at Ararat last Wednesday when Batman Barry broke his maiden status with a commanding 14-metre win in the Brooke Hansen 2YO Pace.
"I went and visited Tony in hospital beforehand to discuss what he thought of the race and he said he didn't want to be unlucky, he wanted it to be a truly run race."
Lee pressed forward early, settling for the breeze when Grant Campbell kicked up to lead on Bettor Romance. Despite the testing trip outside the leader Batman Barry was the strongest runner in the straight and careered away to produce a comfortable win.
"Batman Barry, he had some wraps on him and because he bred him, Tony said all he wanted before he passes was to see Barry win a race and so that was pretty special."
The result also gave the team confidence to test Batman Barry in Saturday night's $24,000 Youthful Stakes, where he has landed gate one owing to the preferential barrier draw.
"There are a couple of really smart ones in it, but I expect him to run a good race and if he can run a place I'd be over the moon," Lee said.
Batman Barry's not the only promising western Victoria-trained type who's stepping up in class and will be driven by Lee on Saturday night. Courtney Slater's Loveyoubabe will contest the Alabar Silver Chalice, where she will also start from gate one.
"She's a lovely mare," Lee said. "Courtney has done a really good job with her. It is a good gate before the race and hopefully it will still be a good gate after the race.
"It's a good step up in class, she will have to run a big race to beat them. There are definitely some quality mares in there and probably in that grade she may be taking cover. Sometimes you've got to throw them in the deep end and see where they are at."