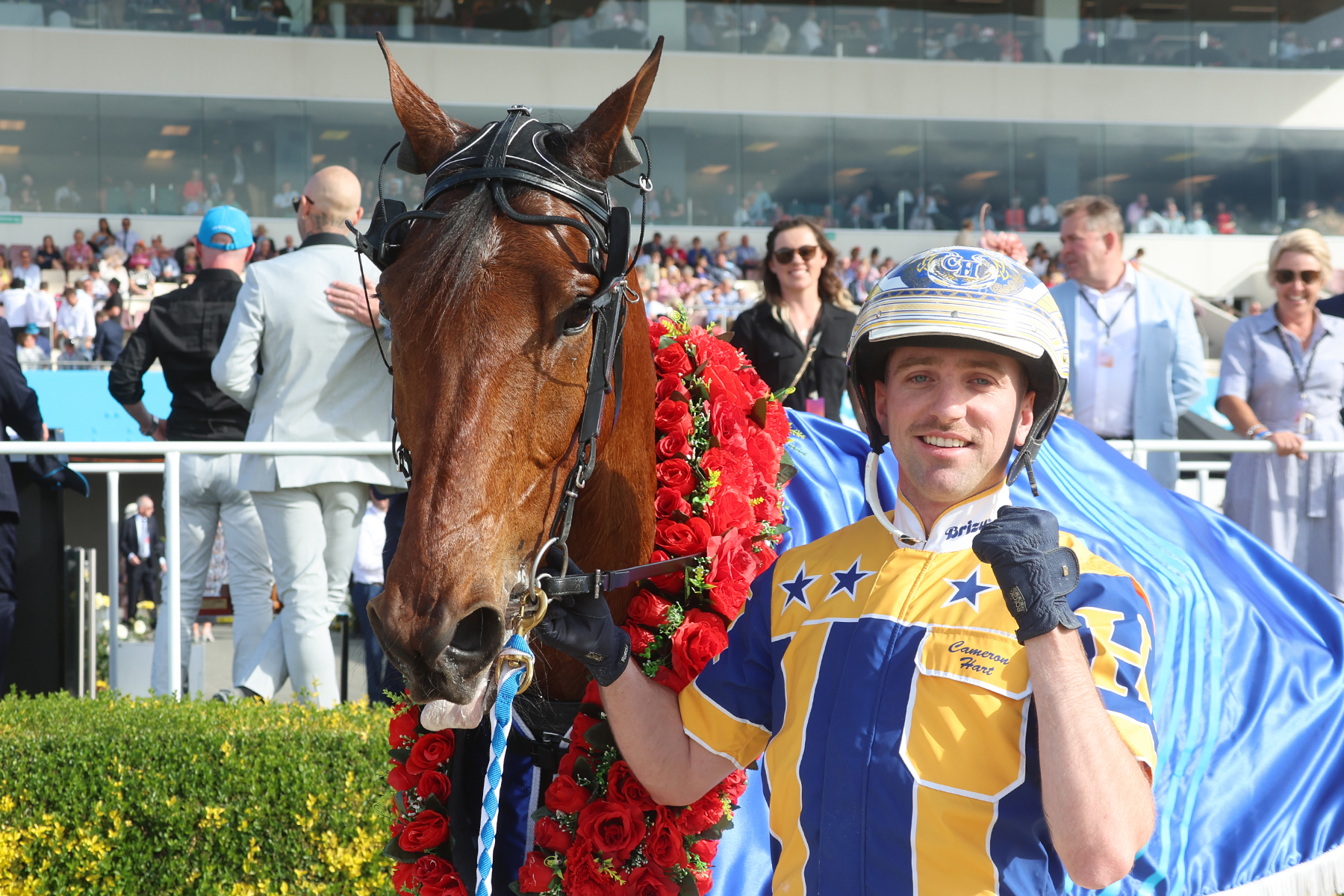 New Zealand's most important and historic harness race got a shot of Aussie adrenalin at maybe the perfect time when Swayzee smashed the locals in the $750,000 IRT New Zealand Cup at Addington on Tuesday.
The New South Wales pacer won the tactical early battle over Canterbury favourite Akuta and was able to stroll to the lead after a lap, from where he never looked like being beaten.
While Akuta moved to park outside him with a lap to go and even secured the trail at the 600m as the pace took its toll on tiring rivals, he couldn't close the gap and Swayzee was going away at the line to win by two and a half lengths from Akuta and Beach Ball.
It was a commanding, don't argue performance from the five-year-old who is now unbeaten in nine starts since joining trainer Jason Grimson, who was all but unknown three years ago and has now won the biggest races in Australia and the greatest pacing race here.
Swayzee was driven by Grimson's close friend Cameron Hart who has emerged as the bright young face of Australian harness driving, jockey-like in stature and polish and with the harness world at his feet.
Swayzee's victory surely opens a doorway for future Australian raids and that could be the enthusiasm injection harness racing needs and deserves.
When Australia's best pacers and trotters race here at New Zealand Cup and Race By Grins time they bring with them turnover, media coverage and eyeballs and give the code an edge the local thoroughbred industry find hard to replicate.
So while an Australian victory on the second Tuesday in November may dent the nationalistic pride of Kiwi harness racing people, if it means more Aussies chance their arms here that can only be good for the industry.
Also good for the industry is flying filly Millwood Nike, who rivalled Swayzee for performance of the day as she remained unbeaten at her 16th start in the Nevele R Fillies Final.
She was never closer to the inside than three wide the entire race and must have covered 50m more than some of her opponents yet seems impervious to lactic acid build-up and cruised clear to win by six lengths in national record time.
Her former stablemate Adore Me may be the greatest pacing filly New Zealand has produced by there is now no evidence to suggest Millwood Nike is inferior and she is a $1.10 favourite to win next month's New Zealand Oaks.
Millwood Nike's younger stablemate Chase A Dream was the other freak show on a stunning Canterbury day when he came from last to win the Sires' Stakes Final for juvenile pacing boys.
He never looked like winning but made up eight lengths in the last 600m, much of that in the last 300m, to cement himself as our best freshman pacer.
On any normal day he would have been all anybody was talking about but at Addington on this Tuesday he had to settle for the bronze medal in the race for performance of the day.
Because most people were talking about Swayzee or Millwood Nike.
Except the Australians. They weren't talking, they were yelling.
Harness racing should hope those yells were heard all the way across the Tasman and they, and others, come back for more.