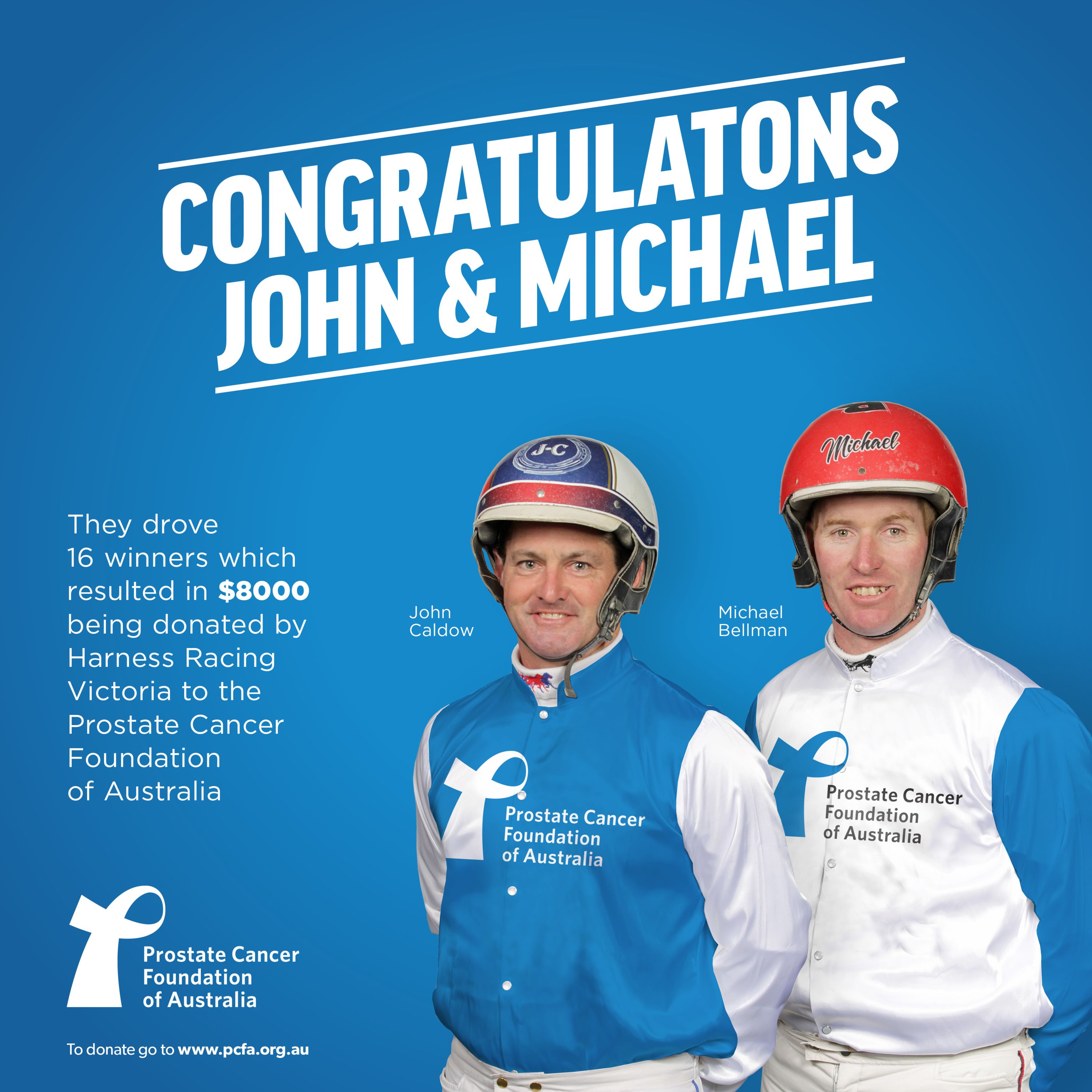 The winning ways of Mick Bellman and John Caldow will see Harness Racing Victoria (HRV) pledge $8000 to the Prostate Cancer Foundation of Australia (PCFA), while the trots generous community has poured in almost $3000 more.
The outstanding initiative saw Bellman and Caldow wear commemorative PCFA silks throughout September, raising awareness about the cancer that affects about one in six men by the age of 85.
But the partnership also raises critical funds, with HRV donating $500 every time either Bellman or Caldow won in September, when the pair combined for 16 victories.
A further $2900 will also be donated to the PCFA after a groundswell of support.
Ararat Harness Racing Club and its supporters raised $1840, including $760 from Carissa Ward, who donated $20 ever time Bellman had a first three placing, and $300 from Luke Ralph, who donated $20 for every second placing.
Other fantastic contributors in that total were Phil and Sharon Ralph, H. A. Syndicate, Rick Ryan, Daryl and Erin Bertram, Gary and Tracey Hull, Clare Payne, Rod Carberry and Katrina Fitzpatrick.
A further $660 was pledged by Stawell Harness Racing Club and Lisa McIlvride.
And Horsham Harness Racing Club donated $250, with a further $50 pledged by Robbie Connolly, Darryl Edwards and Aaron Dunn.
Bendigo Harness Racing Club also partnered with Garrards Horse and Hound to offer a $500 voucher, with was won via a trainers' draw. Katrina Fitzpatrick was the winning trainer, with trainers getting a ticket into the draw every time Bellman or Caldow steered one of their horses at Bendigo.
The partnership will help the PCFA to improve awareness of the disease and raise understanding of options for early detection and treatment, while supporting Australian men and families with the long-term impacts of their illness.