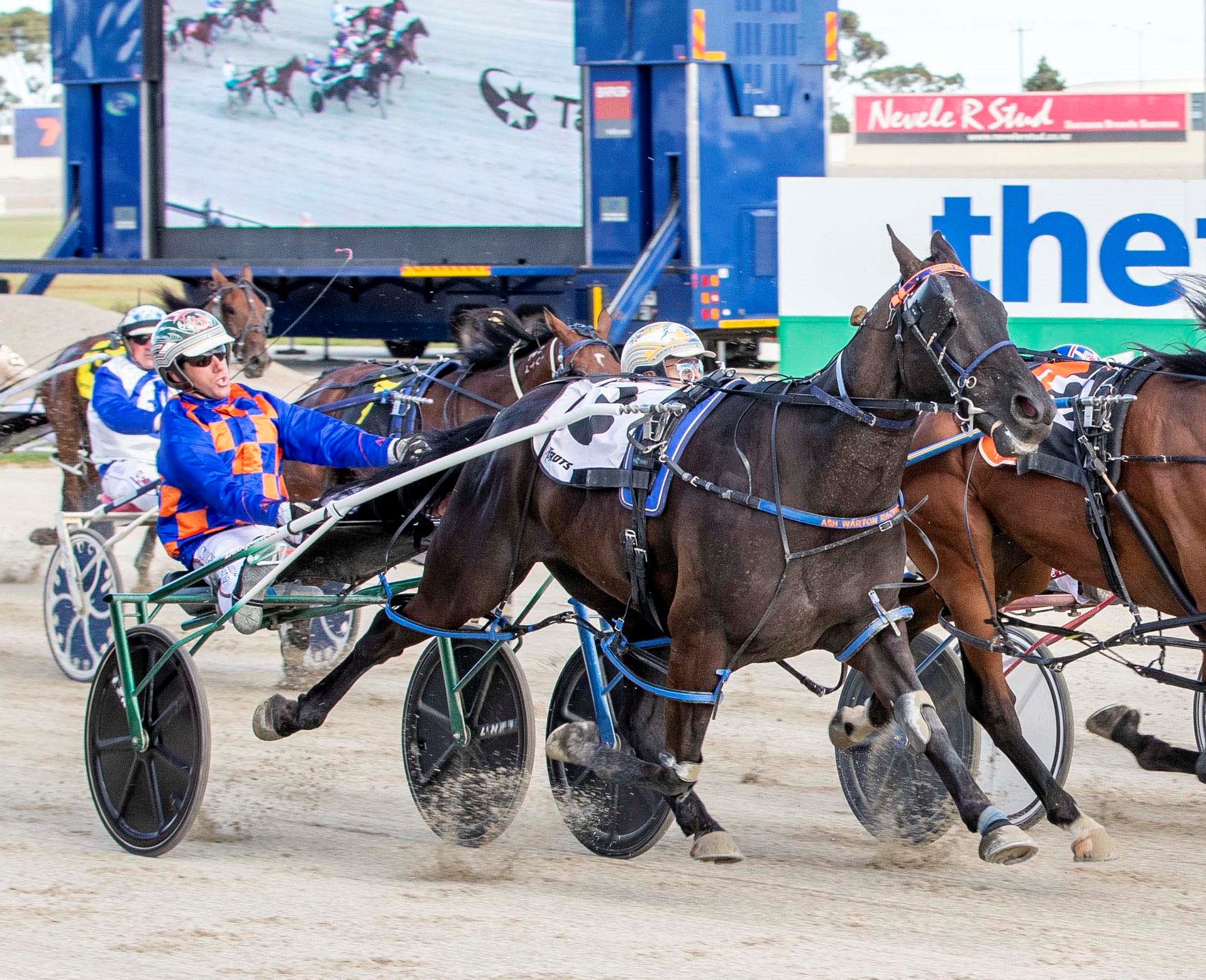 You can be guaranteed one thing on a visit to the Drysdale stable of Ash Warton, wherever veteran pacer Modern Bliss is, stablemate Trent From Punchy will be close by.
They're best mates and never too far from each other, including sharing the same paddock.
And it will be the same story on Sunday when Modern Bliss travels to the heart of Western Victoria to tackle the $35,000 Matthews Petroleum Hamilton Pacing Cup.
'Punchy' will start the day alongside Modern Bliss for a visit to the beach and then join the 10-year-old for the float trip of more than three hours to Hamilton, even though he's not racing.
The only time they'll be separated will be when Greg Sugars takes Modern Bliss on to the track for a second consecutive start in the Group 3 feature.
This is all part of Warton's strategy to ensure Modern Bliss is in his best frame of mind for the assignment.
While the son of Modern Art is a veteran of 10 wins in 76 starts, race days have not always been best experience for him.
Warton admits it took him a while to sort out Modern Bliss and now it is just a matter of keeping him calm and focused when he gets to the track.
The gelding spent his formative years with Alison and Chris Alford, but unfortunately at the start of his third season of racing as a four-year-old he broke down.
He wouldn't be seen at the races for more than three years, with the Alfords getting him back in early 2020. Midway through the year Modern Bliss found his way into Warton's care and he said the gelding was a "bit funny" early days.
"He'd be in a lather of sweat and shaking when we went to the races."
Warton would leave it as late as possible to arrive on track to calm him down as well as having him wear a compression suit - a rare sight in either horse racing code that raised eyebrows.
However, Warton was not deterred.
"I used it for about six months. I believe it turned him around."
Modern Bliss took more than 20 starts to get his first win for Warton, but then in the space of nine days he strung together three wins.
It was at that point Warton decided it was time to contest the country cups circuit and Hamiton was first up in January last year.
Warton acknowledged it was a tough assignment, but he was pleased with the run (he finished seventh) given he had a difficult draw in a classy line-up.
From there he ran third in the Wedderburn Cup and then won on Hunter Cup night at Melton.
Disappointingly, in his next start in the Ararat Cup though, he again broke down, a setback, but not the end of a racing career.
Now 12 months down the track and after an extended period off the scene, Warton has Modern Bliss back in winning form and entrenched in another country cups campaign.
Hamilton will be the fifth start of his comeback after unplaced runs in the Gunbower and Stawell cups, a trip to Mildura and a last-start win at Echuca in the Frank and Carmel Ryan Memorial on New Year's Day.
He said he copped some criticism for putting Modern Bliss back in work as a rising 10-year-old and then racing him over 2630m and 2600m at Gunbower and Stawell in his first starts after such a long break.
"There was a reason behind it and the Echuca win quietened the critics. I know the horse."
While Modern Bliss might be getting on in years, Warton said he worked as hard as any of the horses in the stable.
"He has no problem handling it. There's no short cuts. There's no substitute for hard work."
He said the track work was copmplemented by a couple of visits to the beach - a five-minute walk from his property - each week.
With the worst of his race-day nerves behind him, Warton is looking forward to returning to Hamilton.
"He's good these days. He just stands there, but for peace of mind I'll take Punchy with him to make him feel completely comfortable."
Whatever Modern Bliss does at Hamilton, it will like last year be a stepping stone to the Wedderburn Cup - a race Warton believes will particularly suit his charge.
The Hamilton Cup has attracted a field of nine, with Terang trainers Marg Lee and Matthew Craven dominating the line-up.
Lee has Batman Barry, Highway To Heaven and Jilliby Silvester engaged, while Craven is sending around Kimble and October Reign.
The 10-race program also features the Group 3 $20,000 Alexandra House Hamilton Trotters Cup headlined by Inter Dominion finalist Lotamuscles and Group 1-winning mare Queen Of Crime from the Craven stable.
Reigning Maori's Idol Trotting Championship holder Well Defined is the backmarker on 40 metres.

TUNE IN
at

HAMILTON on Sunday
First Race: 12.32pm Last Race: 5.49pm
Racecaller: Luke Humphreys will be joined by Toby McKinnon.
TrotsVision: WATCH LIVE
SEN Track: LISTEN LIVE
RSN 927: LISTEN LIVE

CRAIG RAIL ON HAMILTON
RACE 7: WALKERS EARTHWORKS HAMILTON PACE
EARLY SPEED: 6 (likely leader), 3,5,7
SELECTIONS: HEAVENLY CHARM (3), EVA MATEO (6), JILLIBY SELWOOD (7), ROYAL SPEECH (2)
RATINGS: 3, 6 / 7 / 2 / 8 / 9
SUGGESTED BET: HEAVENLY CHARM (3) to win
OVERVIEW: HEAVENLY CHARM (3) ran home solidly from three back on the markers and finished third in a semi-final of the Super Series prior to a seventh in the Final. She finished quickly for third behind Radius at Terang last outing so she must be considered as a winning chance. EVA MATEO (6) is a fast mare and is a very good front runner. She attempted to lead throughout when second behind Morrisons Dream at Maryborough last outing and she ran a last half of 55.3 seconds when she led throughout on November 26. JILLIBY SELWOOD (7) will appreciate a drop back in class on his latest efforts in the Super Series and is worth an investment. He worked hard early before gaining a trail when sixth behind Honolua Bay in the Super Series Final last outing. ROYAL SPEECH (2) finished fourth in the Southern Cross Final at Globe Derby prior to enduring a tough run and finishing third (2m) behind Sweet American at Mount Gambier. He is perfectly drawn and is a definite place possibility. FLYING ART (8) is awkwardly drawn but has the ability to show up.

Winner of the Week
SPIRIT OF ST LOUIS, by Sweet Lou out of Spirit Of Art, a winner of the Garrards Horse & Hound Bendigo Pacing Cup on January 8.