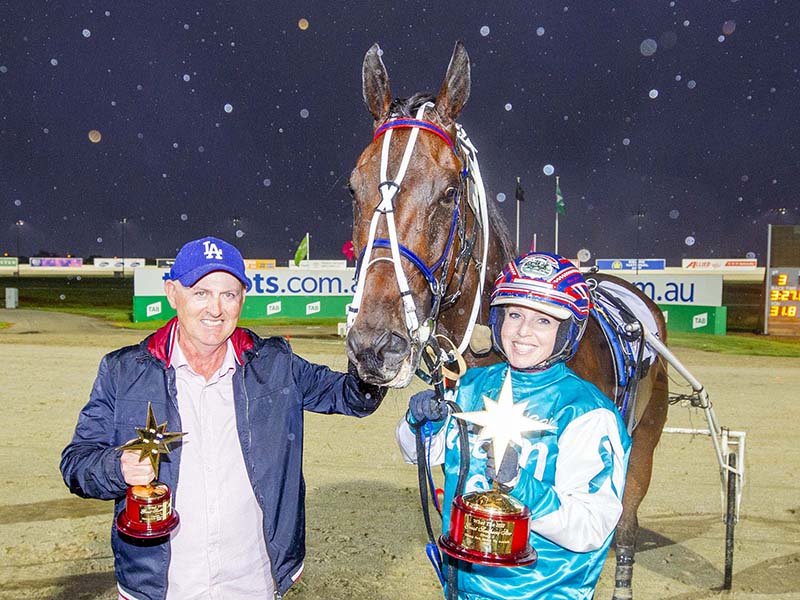 Tonight marks the beginning of a glorious two months of trotting called the Aurora Australis, when the bright lights shine on Victorian squaregaiting.
The series unites the rich Group 1s that headline the summer's racing program, beginning with tonight's Aldebaran Park Maori Mile at Bendigo and continuing until the February 27 Australian Trotting Grand Prix at Tabcorp Park Melton.
A lure to Australasia's best trotters, the Aurora Australis will also evolve into a magnet to international markets featuring seven Group 1 races and one Group 2 across seven weeks, headlined by the February 5 Woodlands Stud Great Southern Star, which this year returns to a heats into $300,000 final format.
The Aurora Australis also encompasses the Group 2 E B Cochran Trotters Cup at Ballarat on January 23, the Group 1 V L Dullard Trotters Cup at Melton on January 30 and the Group 1 Aldebaran Park The Knight Pistol at Tabcorp Park Melton on February 13.
Harness Racing Victoria (HRV) CEO Dayle Brown said uniting the rich summer of trotting under the Aurora Australis would provide a valuable vehicle to take Victorian squaregaiting to the world.
"We have a terrific two months of racing that we are eager to share across the globe and under the Aurora Australis banner we will do so loudly and proudly," Brown said.
"Tonight's outstanding Aldebaran Park Maori Mile field is a clear reminder of the incredible talent we have in Victorian trotting, both horse and participant, and we are eager to shine the bright lights on our southern championships."
Part of tonight's Garrards Horse & Hounds Bendigo Pacing Cup card, the Maori Mile sprint is an opportunity for Victorian horses to register a lightning time that will make jaws drop the world over, with Sparkling Success's stunning track record 1:53.7 mile rate in the 2018 edition of the race earning a ticket to the Yonkers Invitational Trot.
Tonight's field is positioned to challenge that, with the first five horses on the front line all Group 1 winners and six of the field of seven having won at that elite level.
The Aldebaran Park Maori Mile is race five on tonight's program, featuring at 8.35pm, with wall-to-wall coverage on Trots Vision at thetrots.com.au from the first to last.
Picture: Trainer Andy Gath, driver Kate Gath and the 2020 Great Southern Star champion Tornado Valley. By Stuart McCormick.