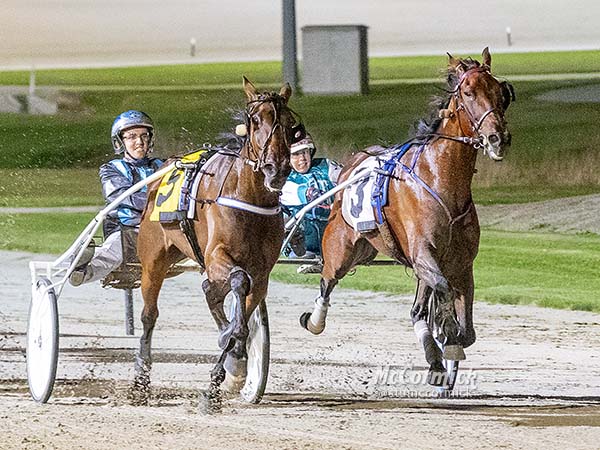 Australasia's best trotters will not only be competing for Group 1 glory but a bonus $50,000 carrot when the world's most prestigious trotting carnival gets under way at Bendigo on Saturday night.
This year's Aurora Australis series, which carries race prizemoney of $680,000, has received a further $50,000 boost, to be distributed to connections of the trotter which accumulates the most points throughout the eight-race series.
In addition to winning the lucrative prizemoney on offer for each individual race within the series, points will be awarded to contestants of all Aurora Australis legs as follows:
1st: 8 points
2nd: 5 points
3rd: 3 points
4th: 2 points
5th: 1 point
The Aurora Australis kicks off at Bendigo on Saturday night with a stellar field to contest the $50,000 Group 1 Aldebaran Park Maori Mile.
Ballarat will host the second leg of the Aurora Australis on January 22, the E.B. Cochran Trotters Cup, before action heads to Tabcorp Park Melton for the TAB V.L. Dullard Trotters Cup (January 29), What The Hill Great Southern Star heats and Final (February 4), the Aldebaran Park Knight Pistol (February 12), and the TAB Australian Trotting Grand Prix (February 26).
"The $50,000 bonus on top of the $680,000 prizemoney for the Aurora Australis is the first step in the exciting development of the Aurora Australis series, a carnival which will draw the global trotting spotlight to Victoria at the height of our major summer carnival," HRV CEO Dayle Brown said.
"The second phase of the Aurora Australis development will be announced ahead of 2023, to take this series to the next level with the objective to attract strong international participation during Victoria's carnival.
"Trotting is very much the global gait and HRV is committed to expanding the Victorian industry's reach abroad to maximise returns to industry and increase engagement in line with our international growth strategy."
For more details on the Aurora Australis series click here
Picture: Kate Gath drives Tornado Valley up on the sprint lane to capture the 2021 What The Hill Great Southern Star Group 1 Final at Tabcorp Park Melton. By Stuart McCormick