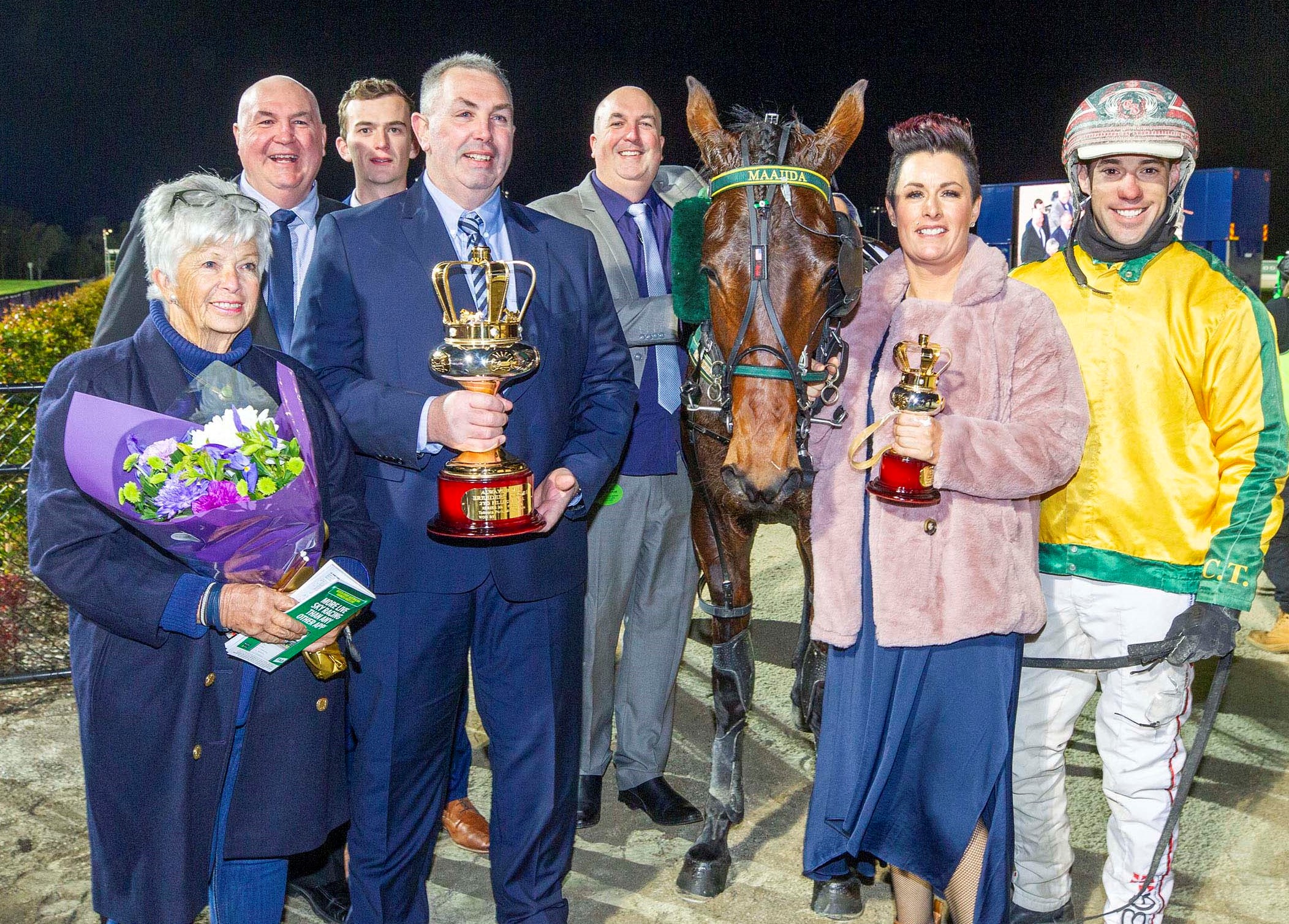 Kings, queens, princes and princesses will assemble from Thursday as the Race to Royalty ramps up with TAB Breeders Crown finals qualification for trotters and pacers.
Maryborough will host the trotting heats for two and three-year-olds on Thursday, when the squaregaiters will scrap for a place in the elite 12, while an extraordinary 11-race card has assembled for Saturday's pacing semi-finals at Tabcorp Park Melton.
The latter will feature eight semi-finals for two and three-year-olds as well as three outstanding free-for-alls, including the return of Pryde's EasiFeed Victoria Cup champion Lochinvar Art.
David Moran's four-year-old star will contest the TAB Preux Chevalier Free For All at 7.27pm, where he'll have to overcome gate 13 and chase down the likes of Cruz Bromac, who Chris Alford will guide from gate five.
And Saturday night will finish with the Aldebaran Park Lenin Trotters Free For All, where Dance Craze has drawn inside Red Hot Tooth in gates six and seven while Wobelee and McLovin will start from the second row, and the Allied Express Breeders Crown Graduate Mares FFA, where Our Princess Tiffany looms large.
In the midst of those free-for-alls are the TAB Breeders Crown semi-finals, which will kick off in explosive fashion as Emma Stewart's outstanding quartet Treachery, Rogue Wave, Ladies In Red and Joanna box for finals qualification in the Captain Crunch 2YO fillies class.
Heat two sees Tough Tilly (gate 2) finally get a good draw for her big group of devoted owners, though Soho Almasi (gate 4) looms ominously, and then it's over to the Pryde's EasiFeed three-year-old fillies for race three, when Maajida will attempt to add a 14th win from her 19th start off a tricky gate 11 draw.
Loorim Lake will attempt continue his extraordinary streak in the first of the IRT Australia three-year-old boys heats at 8pm, with stablemate Mach Dan certain to make his presence felt, while the sixth looks set to be an even affair with Santa Casa Beach and Willie Go West installed as $2.60 co-favourites with TAB.com.au.
The VHRC Caduceus two-year-old colts and geldings first semi-final may well deliver the race of the night, with Beyond Delight (gate 4) and Bar Room Banta (gate 6) to duel, and then in the second semi-final pole marker Jacks Hawk is a $2 favourite with TAB.com.au.
Fortunately trots fans won't have to wait until Saturday night to dip into the TAB Breeders Crown, with the Aldebaran Park two-year-old trotting heats and Catanach's Jewellers three-year-old trotting heats at Maryborough on Thursday.
Competition will be particularly willing in the two-year-old fillies and three-year-old colts and geldings' classes, with only the first four past the post securing places in the Group 1 finals.
Hearts will be in mouths from the outset, with the two-year-old fillies gifting us the first three races, where Queen Elida ($1.95), Keayang Xena ($2.60) and Redwood Classic winner Mexicana ($1.75) are the respective favourites.
Emma Stewart's Cover Of Darkness, who's unbeaten in four starts, is a $1.33 favourite to keep the good times rolling in the first three-year-old colts and geldings' heat, while Elite Stride ($1.55) is also well into the red in the second. The last of the class, which races at 1.53pm, has two-year-old Vicbred Super Series winner Powderkeg on top at $2.60 in an open affair.
Then for races seven (2.33pm) and eight (3.08pm) at Maryborough on Thursday it's over to the three-year-old trotting fillies, with Matt Craven's Queen Of Crime favoured in the first heat and backmarkers Im Ready Jet and Illawong Stardust shortest in an open second heat.
The spotlight then settles on the two-year-old boys for races 10 (4.18pm) and 11 (4.53pm), where Jodi Quinlan (Illawong Barmah) and Anthony Butt (Have No Fear) have the respective favourites.
It all promises to be a terrific day and night's racing, with every race to be streamed live and free on Trots Vision at thetrots.com.au.
Coverage will be ramped up for the occasions, with Lachie McIntosh to call at Maryborough on Thursday as the trotters strive for finals places.
And then on Saturday night Jason Bonnington will join Rob Auber and Dan Mielicki for wall-to-wall Trots Vision coverage, which will celebrate the night's racing and feature the all-important barrier draws for the eight Group 1s, which will be held on November 21 at Tabcorp Park Melton.