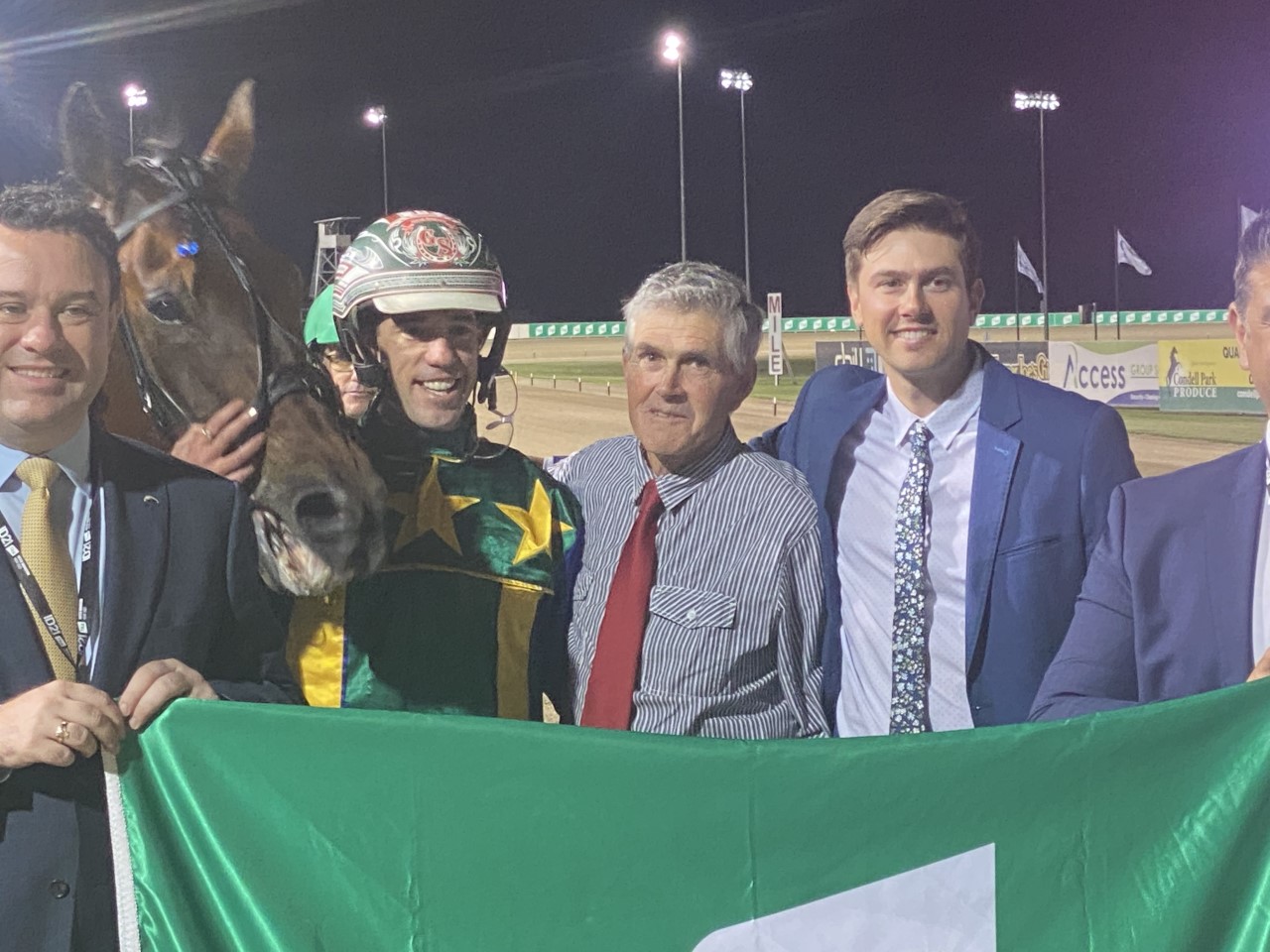 "Where's Dad?"
Those were the words that first came to mind for Emmett Brosnan when Maori Law crossed the line to win the Inter Dominion Trotting Grand Final at Menangle in mid-December.
While the emotion of claiming one of Australasia's greatest races had clearly taken control, the 34-year-old made sure he shared the moment with the man that had helped him realise a lifelong dream.
There was nothing over the top, just a quick fist bump to acknowledge a job well done, but it showed a special bond between father and son.
"Everything we do, we're doing together," Emmett said.
"Dad and I are doing everything together and it has been a hard push, not just with getting a horse like Maori Law up to that, but the whole process of getting the property (in Meredith) going and the whole set-up. It's really been us together, so of course he was going to be the first person I wanted to get to after the race."
Emmett and his father Richard, a legend of New Zealand harness racing, took up a training partnership during the 2018-19 season and reached the pinnacle with a horse that only came into their care about 12 months earlier.
And for the 73-year-old veteran horseman, the success came more than four decades after winning the same race as a trainer-driver with No Response at Addington in 1979.
WATCH THE FEATURE INTERVIEW BELOW:
"Back then I was probably about Emmett's age when I won it and because we came from a small area, it was massive to South Canterbury, especially around Timaru way where I came from. And to bring something like that into your own area meant so much to the local people," Richard said.
"This was also equally as big in so much as doing it with Emmett, working along and getting there together, getting this horse to that stage and being able to win it.
"As I said to Emmett, it's something they can never take away from him."
Maori Law, a nine-year-old raced by prominent owner Fred Crews, will return to the races for the first time since his Inter Dominion triumph in Saturday night's Group 2 E B Cochran Trotters Cup at Ballarat, with the race serving as leg two of the new Aurora Australis initiative.
The Group 1 Maori Mile at Bendigo earlier this month kicked off the series, which takes in the Cochran as well as the V.L. Dullard Trotters Cup (January 29), Great Southern Star heats and Final (February 4), The Knight Pistol (February 12) and Australian Trotting Grand Prix (February 26).
A $50,000 bonus will be won by connections of the trotter who accumulates the most points (1st: 8, 2nd: 5, 3rd: 3, 4th: 2, 5th: 1) throughout the eight races.