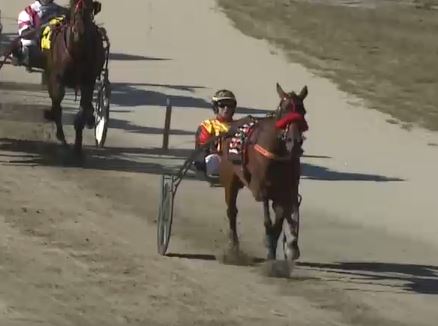 Harness Racing Victoria form analysts Jason Bonnington and Nikkita Ross are tipping a big Saturday night for Terang trainer Margaret Lee at Tabcorp Park Melton.
Bonnington and Ross think that Lee's stars Code Bailey and Keayang Livana will win their respective races, the TAB Italian Cup and the Hygain La Coocaracha Trotters Free For All.
And if you want to back them in, the current fixed odds double with the TAB sits around $13.
Ross liked Code Bailey's first-up effort in the TAB Bold David Free For All on May 29, and believes he can record his 18th career win despite the tricky barrier eight draw.
"A little bit of luck required, but I think he showed enough in that first-up run that he could win this second-up," she said during the Friday Form Panel edition of Trots Life on SEN Track.
Bonnington described Keayang Livana, a Group 1 Vicbred Super Series winner at her last start on December 31, as "very, very, very good".
"I have got concerns about what (driver) Jason Lee said to us that she was sort of ready to race but not ready to be driven aggressively, but she just might have too much class," he said.
Ross and Bonnington worked through all 10 races on the Melton card during the show, which can be heard in full below:
SELECTIONS
JASON BONNINGTON
Race 1: COOL WATER PADDY (1), HIGHWAY TO HEAVEN (4), MAJOR MANBAR (8), HAYDEN BROMAC (2)
Race 2: ITZAMAJOR SURPRISE (10), SOHO BROADWAY (1), SHES A HOVERCRAFT (7), ITS BEAUJOLAIS (11)
Race 3: TRAVEL BUG (2), NEPHEW OF SONOKO (9), BEEFOUR BACARDI (7), DELS DESTINY (10)
Race 4: ELEGANT (4), UHURA (1), MITZI SAID (6), OZZIE JOY (5)
Race 5: CRIME WRITER (8), SANTA CASA BEACH (1), TORRID SAINT (6), LOVE INA CHEVY (10)
Race 6: PATSBEACHSTORM (11), BAR ROOM BANTA (5), JEMSOMS PET (6), TANGO TARA (7)
Race 7: CODE BAILEY (8), MAX DELIGHT (12), IDEALSOMEMAGIC (5), MALCOLMS RHYTHM (9)
Race 8: KEAYANG LIVANA (9), MONARO MARO (11), ALDEBARAN CRESCENT (8), PANTZUP (10)
Race 9: LAMANDIER (5), PLATINUM STRIDE (8), ONE TWO MANY (6), CAPTAIN BELLASARIO (2)
Race 10: DOT THE EYE (4), HEAVEN IN LOCKSLEY (7), MESSERATI (5), THE DUDE (9)
NIKKITA ROSS
Race 1: COOL WATER PADDY (1), HIGHWAY TO HEAVEN (4), MAJOR MANBAR (8), AROCKNATTHEPARK (7)
Race 2: ITZAMAJORSURPRISE (10), ROCKINGWITHSIERRA (2), ITS BEAUJOLAIS (11), SOHO BROAWAY (1)
Race 3: NEPHEW OF SONOKO (9), DELS DESTINY (10), TRAVEL BUG (2), BEEFOUR BACARDI (7)
Race 4: UHURA (1), ELEGANY (4), NIKITA (2), OZZIE JOY (5)
Race 5: SANTA CASA BEACH (1), CRIME WRITER (8), TORRID SAINT (6), LOVE INA CHEVY (10)
Race 6: BAR ROOM BANTA (5), PATSBEACHSTORM (11), TANGO TARA (7), JEMSOMS PET (6)
Race 7: CODE BAILEY (8), MAX DELIGHT (12), MALCOLMS RHYTHM (9), RUPERT OF LINCOLN (2)
Race 8: KEAYANG LIVANA (9), ALDEBARAN CRESCENT (8), MONARO MARO (11), SWISS MISS (4)
Race 9: LAMANDIER (5), PLATINUM STRIDE (8), CAPTAIN BELLASARIO (2), ONE TOO MANY (6)
Race 10: DOT THE EYE (4), HEAVEN IN LOCKSLEY (7), MESSERATI (5), TOBY OGARA (3)