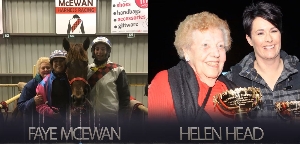 The Pearl Kelly Award has evolved into the most prestigious award for female participants in Victorian harness racing.
The Pearl Kelly Award recognises the outstanding contribution to, or achievement within, the sport by a woman.
It was struck in acknowledgement of the woman who was Australia's first licensed reinswoman in 1916 and once finished third on the Melbourne drivers' premiership.
| | | |
| --- | --- | --- |
| 1999 - Dianne Davies | 2008 -Tanya McDermott | 2017 - Emma Stewart |
| 2000 - Kaye Mathews & Roma Pocock | 2009 - D'Arne Bellman | 2018 - Kate Gath |
| 2001 - Kerryn Manning | 2010 - Not Held | 2019 - Kath Ford |
| 2002 - Jayne Davies | 2011 - Natalie Rasmussen | |
| 2003 - Elizabeth Clarke | 2012 - Maree Caldow | |
| 2004 - Debbie Quinlan | 2013 - Lisa Miles | |
| 2005 - Kylie Harrison | 2014 - Lisa McIlvride | |
| 2006 - Jodi Quinlan | 2015 - Pam Wilson | |
| 2007 - Lorraine Duffy | 2016 - Faye McEwan & Helen Head | |
| | | |
| | | |
| | | |
| | | |
| | | |
| | | |
| | | |
| | | |
| | | |
| | | |
| | | |