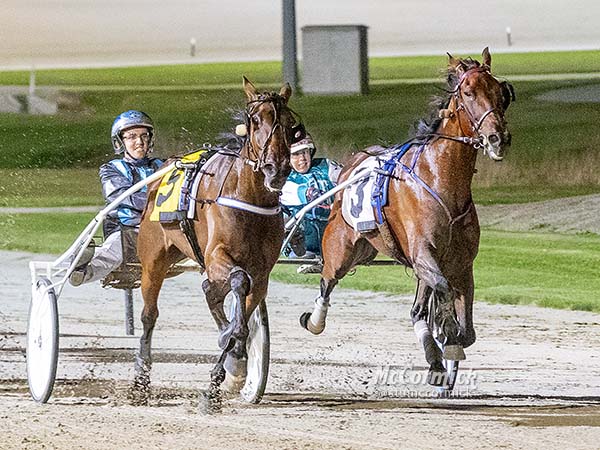 Tornado Valley became the first successive What The Hill Great Southern Star champion tonight at Tabcorp Park Melton.
The nine-year-old gelding, trained by Andy Gath and driven by wife Kate, took his earnings to over $975,000, winning both the Great Southern Star elimination in track record time (1:53.1) and the $300,000 Final about two and a half hours later.
It didn't go as planned, though, the prolific leader not able to hold out an audacious early challenge from Magicool and Zac Phillips, who took up the running.
This left Tornado Valley on the leader's back with race favourite Majestic Man in the breeze.
Magicool was $51 into $9 late – and almost pulled off the plunge.
After the early burn, Phillips was able to pinch a 32.8secs breather in the second quarter following the 28.7 opener.
It provided Magicool the buffer he needed to rip through a slick last half, making life tough for the chasers. But Tornado Valley was stalking throughout, and then stormed along the sprint lane – a part of the racetrack largely unfamiliar to him – to notch a famous win.
The last half-mile was covered in 56.4. The mile rate was 1:57.1.
Tornado Valley, a son of Skyvalley, has 37 career wins from 101 starts. His trophy cabinet includes two Great Southern Stars, an Inter Dominion in 2018, two Knight Pistols, two Maori Miles, a Bill Collins Trot, three Inter Dominion heats and a Trotting Grand Prix.