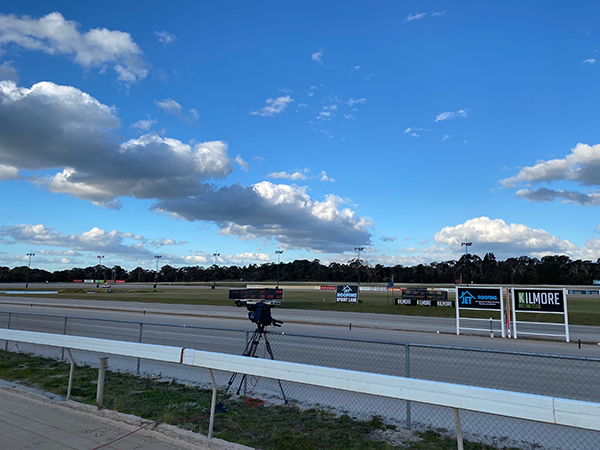 The road to glory begins tonight with the AFL Grand Final long weekend to kick off with a superb Jet Roofing Kilmore Pacing Cup meeting, for which a premiership-worthy TrotsVision team has been assembled.
Racecaller Luke Humphreys will be joined by co-hosts Jason Bonnington and Nikkita Ross, while Josh Jenkins will take on an around-the-grounds role, chatting with key participants and sharing the big moments.
And TrotsVision viewers will also get all the latest market movers and punting insights via Mitch Sidebottom on the eve of each race, including the headline Group 2 cup at 9.24pm when General Dodge will attempt to hold out the likes of Triple Eight and Amazing Dream.
Once again there will be plenty of ways for TrotsVision viewers to win, with the night featuring a 'More Than A Game' quiz, where winning drivers will read quotes from famous AFL speeches.
Viewers just need to answer who said which quote and email their entries along with their details to competitions@hrv.org.au. The first correct entry receives a special AFL-themed hamper, which they could enjoy while tuning in for next Saturday's super night of racing featuring the TAB Smoken Up Sprint and the Victoria Oaks and Derby heats.
There will also be terrific coverage on the airwaves, with Tim O'Connor joining Damo Watson from 7-11pm on SEN 1116AM and SEN Track, while RSN 927AM will as always bring all the racing live and free.
So settle in and enjoy one of the great night's racing, which bodes as a crucial precursor to the October 9 Pryde's EasiFeed Victoria Cup.
CLICK HERE TO ENJOY A GREAT NIGHT'S TROTSVISION
There are plenty of ways you can be fully prepared for tonight's racing courtesy of thetrots.com.au.
Jason Bonnington's GoodForm game plan has just dropped and his confidence is high for a couple. CLICK HERE
Nikkita Ross, Luke Humphreys, Jason Bonnington and Dan Mielicki all served up their best bets for tonight's racing in Friday selections. GET AT THEM HERE
There will be plenty hoping for something special from Nathan Purdon's Amazing Dream in tonight's Kilmore Cup. ADAM HAMILTON TOOK A CLOSER LOOK
And it was great to hear from two of the key players, Andy Gath and Anthony Butt, who joined Jason Bonnington and Nikkita Ross. WATCH BURNING QUESTIONS HERE