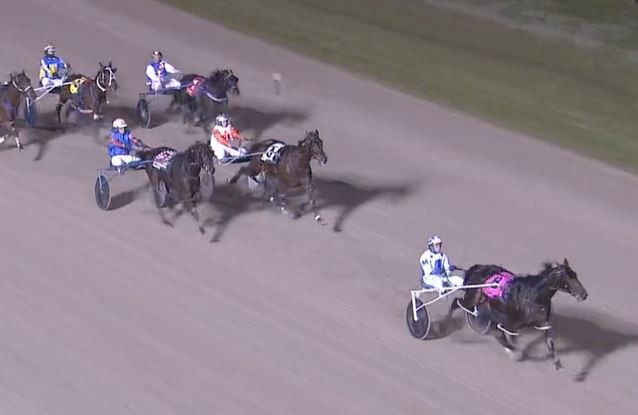 Lochinvar Art didn't miss a beat at Shepparton tonight as a little more pepper's sprinkled on the steak of a potential showdown with Ride High.
Well fancied pacers San Carlo and Sirletic couldn't trouble Lochinvar Art as the 4YO Bonanza and Chariots Of Fire winner returned from a seven-week absence with a nine-metre victory, getting home in 28.4 and 27.1-second third and fourth quarters in a hit-out that thrilled his trainer-driver.
"He was really good tonight. He's done what he had to do. He keeps surprising me all of the time," Moran told Trots Vision co-host Daniel Hibberd.
"He was a bit underdone and he always takes that run or two, always has a trial before his first start, but he was really good tonight. Bit scary really."
Moran said he scrapped his initial plan to trial on Thursday and race next week, which would have pitted Lochinvar Art first-up against a race fit Ride High at Bendigo, deciding instead to race tonight against his local fast-class rivals, because any trial "probably wouldn't be worthwhile".
There would have been no regrets after Lochinvar Art's convincing win in the TAB Long May We Play Pace, which headlined tonight's Shepparton card.
"He felt super. That's the best he's ever felt first up. He generally feels a little bit doughy first-up, but tonight he was unbelievable really," he said.
"He was cruising pretty much. You've always got to keep him concentrating. He's just doing it very easy. I know the times weren't too quick tonight and the lead time and first half were only moderate, and he did get around their pretty cheap. I think the best part about it is whatever he did tonight he will be five metres better next week."
Amid present pandemic restrictions there remains a fair bit of uncertainty around Lochinvar Art's path, including any match-up against Clayton Tonkin's brilliant Ride High, against whom a Match Race had been mooted.
"Victoria Cup's the main one, Kilmore Cup before that," Moran said. "We'll just let him tell us how he's feeling, and if he's all good we will find another metropolitan race in a fortnight and just go from there."
Which means the spotlight will likely return to Ride High next week, with Tonkin commiting his pacer to competing at Bendigo on August 1.