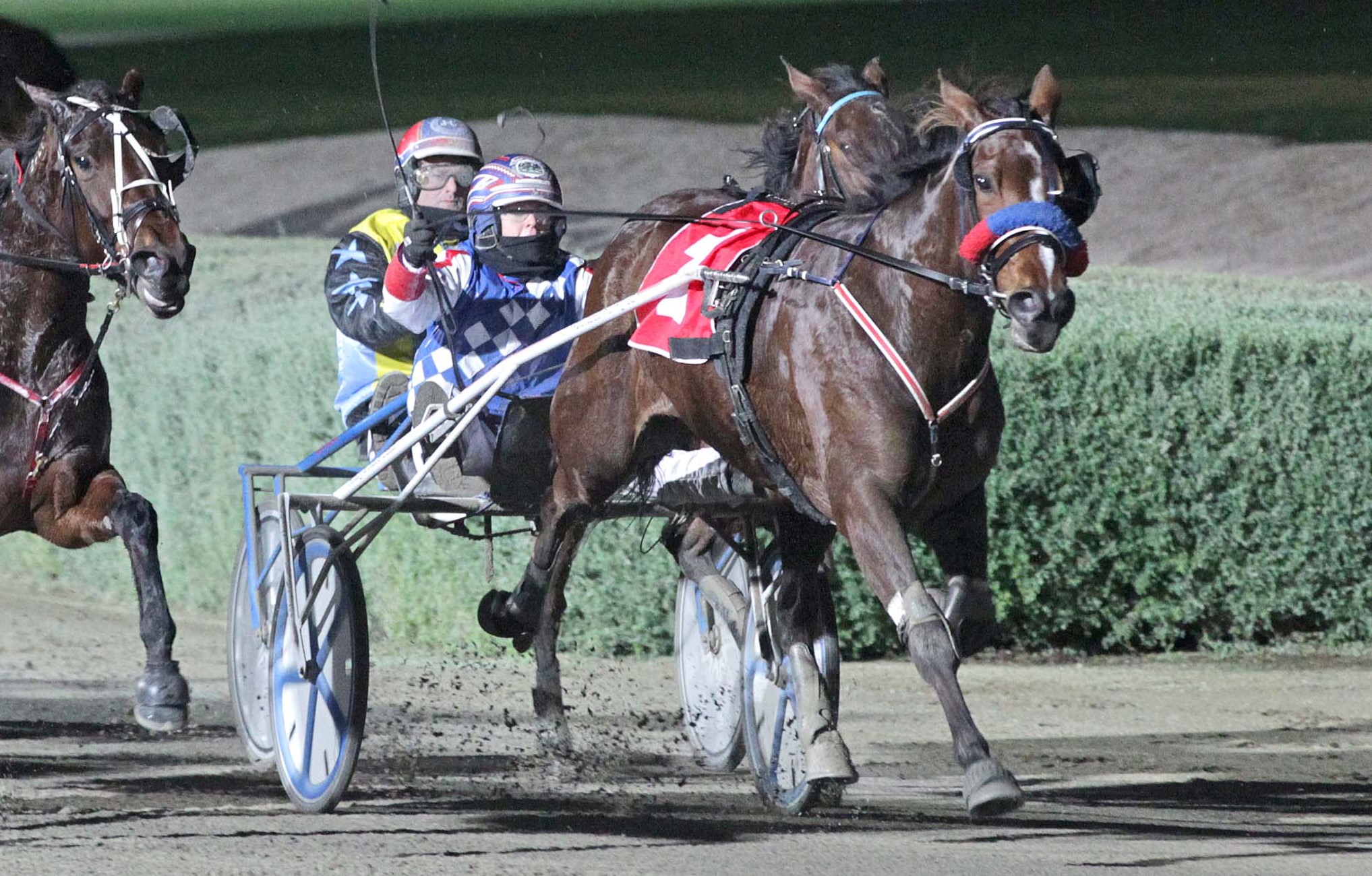 Many of the leading breeders from both sides of the Tasman have thrown their weight behind the Australasian Premier Trotting Sale to be held at Oaklands Junction on Sunday, February 7.
Aldebaran Park, Australia's 'home of the trotters', has the largest draft with 10 entries including four colts and three fillies from the second crop of the deceased Muscle Hill import Aldebaran Eagle.
There's a colt from the dual Vicbred champion Endsino 1:58.1 ($185,202, pictured), a colt from the Group One placegetter Naked Majesty, a colt from Yankee Sister, a half-sister to the multiple Group winner Cold Sister and fillies out of the good racemares Zhenya ($108,499), Aldebaran Daisy and Aldebaran Breeze.
The Aldebaran Park draft also includes a Father Patrick half-brother to Hotjane Bling 1:53.9 ($132,230), a Love You half-brother to three winners and a filly from the first crop of USA 2YO Trotter of the Year Southwind Frank.
Keith Gibson, the owner of Roydon Lodge stud, Christchurch, one of New Zealand's leading nurseries, is offering a Majestic Son filly of a half-sister by Monarchy to the Dominion Handicap winner Mountbatten 1:54.2 ($287,476).
Leading NSW breeder Michael Taylor, trading as Trotters Australia, has nominated six fillies including a Creatine half-sister to Empire Bay 1:55.7 ($228,321), a Father Patrick half-sister to two $100,000 earners and Majestic Son half-sisters to the Group One winner Viksun 1:57.2 ($95,440) and the Abrahams Classic winner My Little Comet.
The highlight of the four-pronged entry of Goulburn Valley breeders Russ and Pauleen Thomson is a half-sister by the USA 3YO Trotting Colt of the Year What The Hill to the Vicbred and Breeders Crown champion Cruisin Around 1:56.1 ($287,192). The couple has also nominated a What The Hill colt out of the Vicbred Platinum victor Midnightatpinevale, a Sebastian K half-sister to Duchess Ella 1:57.2 ($126,933) and four other winners and a Sebastian K filly out of Prettylilangeleyes 1:55.8 ($114,625).
Finley breeder Ash Haynes and partners, whose horses carry the 'Phoenix' moniker, have nominated two fillies, one an Aldebaran Eagle half-sister to the 2YO Trotting Colt of the Year Eljaykay Phoenix and Peregrine Phoenix and the other a Majestic Son from a half-sister to the Vicbred and Home Grown Classic winner Princess Phoenix.
Harness Breeders Victoria president Nick Hooper and Paul Graydon's three strong consignment includes a chestnut colt by Bacardi Lindy from the thrice Oaks placegetter Gluteus Maximus 1:59.6 ($104,855), the dam of the brilliant but ill-fated Derrie Aire, and a Trixton filly from Broadacrossthebeam, a successful half-sister to Gluteus Maximus.
Balmain Lodge, conducted by Geoff and Lorraine Barnes, have nominated an Aldebaran Eagle half-brother to the dual NSW Breeders Challenge winner Iona Grinner 1:55.1($257,623), a What The Hill half-brother to Kyvalley Boomerang 1:57.4 ($176,863) and a Skyvalley half-sister to the Listed winner Barefoot Sally 1:56.9 ($110,520).
Cranbourne identity David Scott is represented by two superbly bred fillies including a Majestic Son half-sister to the Vicbred and Home Grown Classic 2YO winner Is That A Bid 1:58 ($130,030).
Other well known breeders with dual entries are Peter and David Goudie and Macray Lodge's Ian Kitchin.
To order a sale catalogue or to view the catalogue online simply click on the links on the website www.apgold.com.au