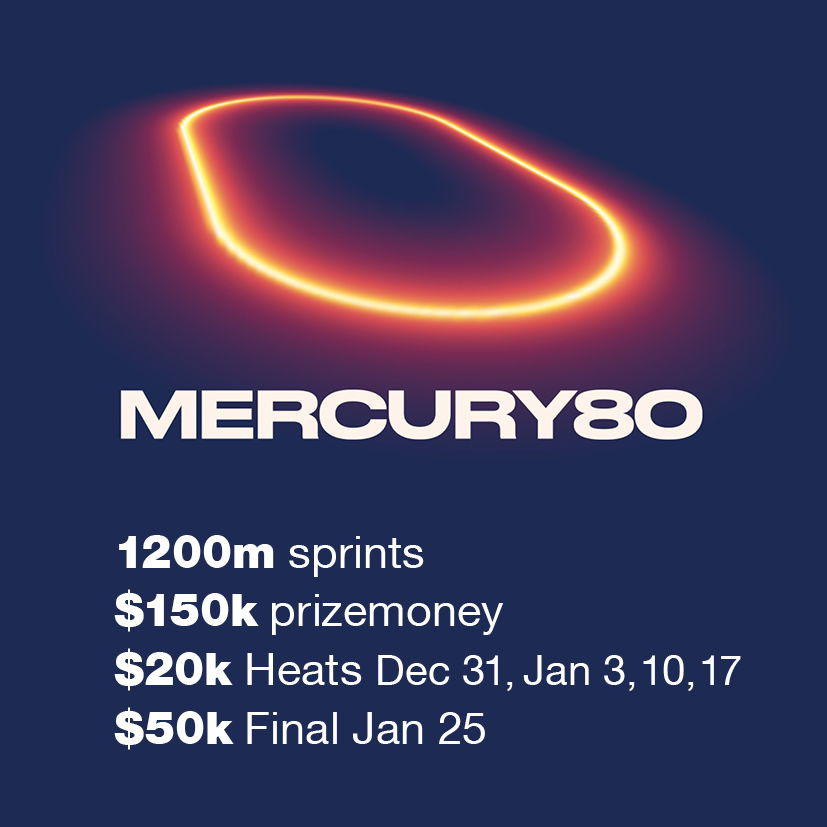 The Mercury is rising this summer at Tabcorp Park Melton.
Harness Racing Victoria (HRV) has unveiled a five-race sprint series titled the Mercury80, consisting of four $20,000 heats and a $50,000 Group 2 final – all over 1200 metres.
The first heat will be held at Melton's New Year's Eve race night in front of an expected crowd of about 7000 people.
Each Mercury80 race will consist of eight runners, all starting across the front line.
The first two horses in each of the heats will make the Final.
The fastest winner in the series will pick up a $20,000 cash bonus – $10,000 to the owner(s) and $5000 each to the trainer and driver – and if a horse breaks 80 seconds in winning during the series an additional $8000 bonus ($4000 to owner(s) and $2000 each to trainer and driver) will be won.
Following the New Year's Eve series opener, Mercury80 heats will be run at Melton on January 4, 10 and 17 before the Final features alongside the Victoria Derby and Victoria Oaks on Saturday night, January 25 – TAB Summer of Glory Night 2.
"It's really significant the prizemoney and those cash bonuses. I'm sure it will make people set horses for the series," Victorian Trainers and Drivers Association president Lance Justice said.
Justice should know – he's trained more winners of the annual 1200m Stampede at Melton than any other with four (Coastal in 2010 and '11, The Smiler 2012 and Toulouse Lautrec in 2014).
"Coastal just had sheer high speed and was so strong for 1200 metres that he wouldn't waver," Justice said.
And Justice, a noted aggressive reinsman, said the key to setting the fastest winning time in a sprint race – and potentially breaking 80 seconds – from a driver's perspective was "to not think twice".
"You can't hesitate. As soon as you hesitate for half a second … you've lost a length and a half. You have to have a forward mindset."
HRV Racing General Manager Stephen Bell said it was important harness racing moved with the times and found new ways to innovate.
"It is no secret faster racing appeals to a range of punters and we're going to pull out all stops to ensure everyone has a great experience during the Mercury80 series," Bell said.
"People want to have fun while attending a sporting event. Racing needs to be engaging, entertaining and ultra-competitive. The Mercury80 series is exciting and we think it will produce some fireworks."
HRV recently announced a revamped TAB Summer of Glory carnival, which now carries more than $2million in stakemoney with eight Group 1s alongside the Mercury80 Final.
Justice said he would have "a couple of fast horses" for the Mercury80.
"It's a great concept and these are the things the industry needs to get behind and try moving forward," he said.
Classes for the the Mercury80 heats will vary, with an NR 80 to 89, NR 70 to 79, No Metro Wins and NR 75 to 84 scheduled.
Media enquiries to cwinnell@hrv.org.au or 03 8378 0288.