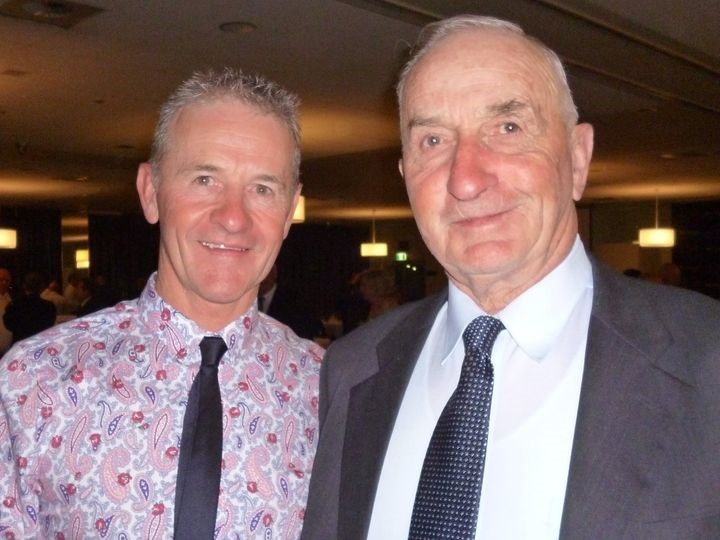 The Lang dynasty will be celebrated with a special tribute night's racing at Bendigo on Friday, including the introduction of two Group 3 sprints amid an all-trotting card.
Two-year-old trotting colts and geldings will contest The Gavin Lang Aldebaran Park Trotting Mile, while their female equivalents will compete for The Graeme Lang Aldebaran Park Trotting Mile.
The new prestigious $20,000 crowns honour the two greats of the trots, who sadly passed in April and May of this year.
The father-and-son, along with their wider families, enriched harness racing with their training and driving genius, which will be saluted across Bendigo's 11-race program.
Picture by Tony Logan
The night will feature race names that honour great Lang horses Wagon Apollo, Sumthingaboutmaori, True Roman, Scotch Notch and Save Our Pennys, as well as the great horsemen in two 'Lang Family Dynasty' two-year-old maiden trots.
Bendigo Harness Racing Club general manager Erik Hendrix said the club was thrilled to have the opportunity to celebrate the Lang family.
"It will be a special night," Hendrix said. "Both Gavin and Graeme were regular visitors to the winners' circle at Lords Raceway and to be able to honour their legacies in the sport is an important opportunity.
"To have two new feature races in their names will be greatly valued by the club and the participants, and with the support of Aldebaran Park we look forward to some of the leading two-year-olds setting blistering times to reaffirm the great strength of trotting in Victoria.
"Aldebaran Park principal Duncan McPherson has been particularly instrumental in driving this celebration of both the Lang family and Victorian squaregaiting, and we looked forward to sharing with him what promises to be a special occasion."
McPherson said the two-year-old flying miles represented a chance for the young trotters to produce world-class times, "strengthening our Australian stud book and globalising our racing product, while acknowledging the lifelong contributions of these two legends of our sport".
The night will be celebrated by the Langs' friends and family as well as trots fans, with Bendigo welcoming patrons back on track in line with COVID protocols, which adhere to the State Government's Public Events Framework.
"While initially the race day experience will be different to what race goers have enjoyed previously, we are committed to ensuring the best experience is delivered trackside within a COVIDSafe environment," Hendrix said.
There will be no on-course TAB facilities and restrictions on movement, but spots remain inside and in grandstand seats.
"It will be a great night out at the trots, which we have all missed," Hendrix said.
All guests must pre-book and pay prior to the evening. To do so call the club on 5449 3205.