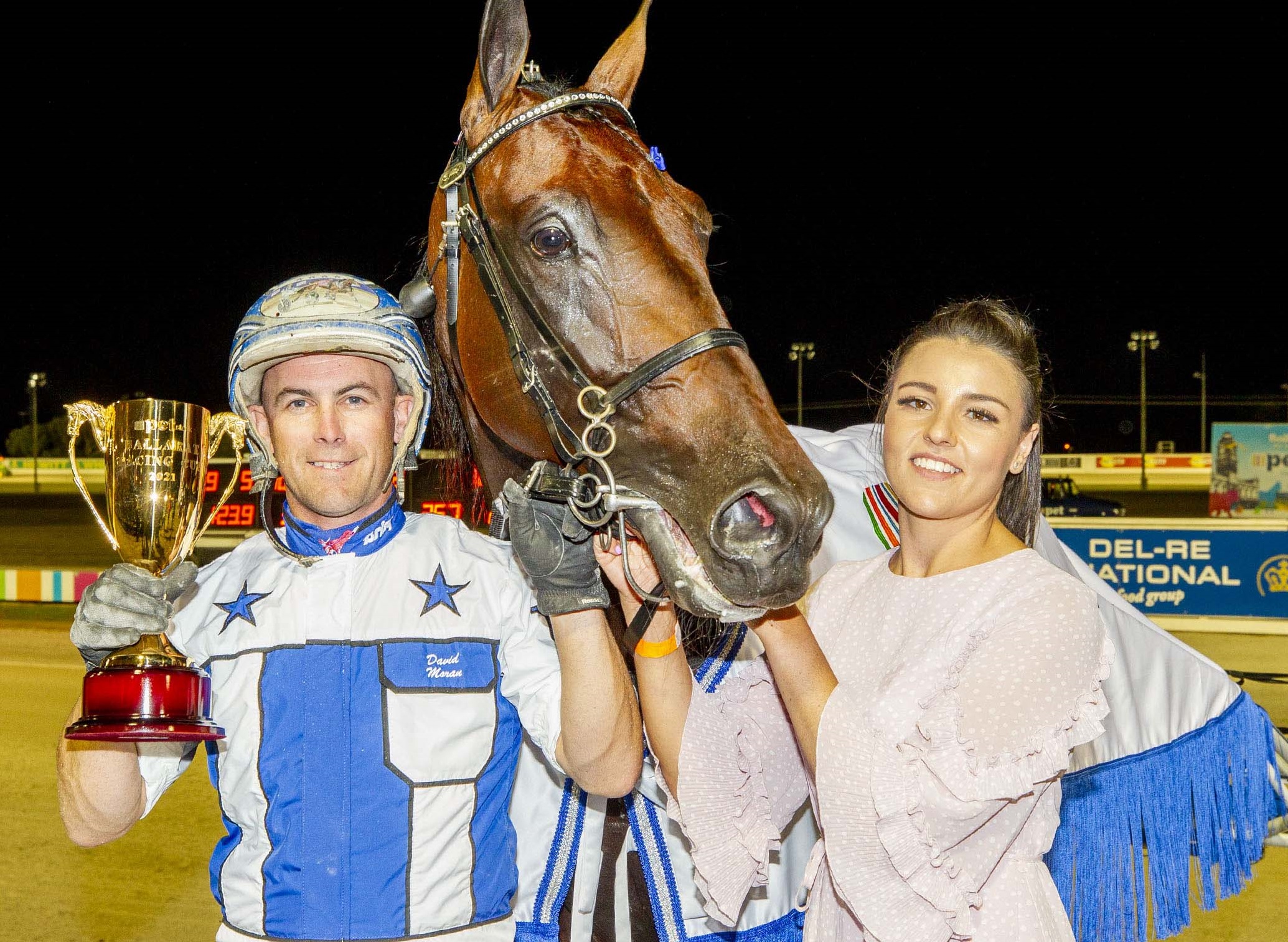 Luke McCarthy was a driving force behind Lochinvar Art's comeback, but that'll be the last thing on his mind in tonight's Group 1 Ballarat Pacing Cup.
McCarthy and his wife, Belinda, have two of their stable stars in the vintage Cup field and beating David Moran's champion pacer is the goal.
"I'm as happy as anybody to see 'Arty' back, we need as many stars as we can in the big races. I'm so pleased we were able to help 'Sal' (Moran) get him back, but that job's done now and we've got him in our sights this week," McCarthy said.
"We've got two horses at their top (Expensive Ego and Spirit Of St Louis) and I can't wait for the race.
"Sure, 'Arty' was terrific and he's drawn well, but Spirit Of St Louis has really come on since the Inter Dominion, as his form shows, and Expensive Ego is primed. Don't worry about him being first-up, he's right at his top. He went to Menangle for a private trial last Sunday and felt fantastic.
"Expensive Ego's owners were leaning towards keeping him in Sydney to focus on the Miracle Mile, but Spirit Of St Louis winning the past two Cups in Victoria really buoyed them, they wanted to be part of it.
"Realistically, as much as Spirit Of St Louis is improving, Expensive Ego and King Of Swing are that length or two better than him. They're just on a different level."
But barrier draws are a great leveller and Spirit Of St Louis has the coveted pole position, while Expensive Ego will start from the back row (nine). McCarthy is aboard Expensive Ego, while young gun Jack Callaghan is staying aboard Spirit Of St Louis.
"Jack's really clicked with him, and as soon as he drew the pole he said he wanted to drive him again this week," McCarthy said.
Lochinvar Art was returning from almost a year out with injury when he did plenty of mid-race work and was gunned down late by Spirit Of St Louis, courtesy of a glorious Callaghan drive, at Shepparton last weekend.
"It was a great return. The run has definitely brought him on and I've opted to back him up quickly because it's a random draw. Thankfully he drew really well," Moran said.
"It's not an ideal preparation to trial him twice and race him twice in the space of a month, but I don't have many options with the timing of the Hunter Cup so close.
"Whatever he does this week, he'll improve on it again. But if he can find the front, which I think he can, it'll take something special to run him down."
Moran and McCarthy are mates and the mutual respect is obvious, but it's all business now they're racing against each other.
"We'll be forever indebted to Luke and Belinda for the great work they did getting 'Arty' back. I didn't see him for three months and he looked amazing when I did. He was so fit, almost ready to go," Moran said.
"But when we get on the track, all you're thinking about is winning."
Lochinvar Art won last year's Ballarat Pacing Cup and has been backed into an odds-on quote to make it back-to-back triumphs in the race this evening.

TUNE IN
at

BALLARAT on Saturday night
First Race: 6.24pm Last Race: 10.33pm
Racecaller: Dan Mielicki will be joined by Nikkita Ross, Rob Auber, Steve Cleave and Gareth Hall.
TrotsVision: WATCH LIVE
SEN Track: LISTEN LIVE
RSN 927: LISTEN LIVE

JASON BONNINGTON ON BALLARAT
RACE 8: PETMARKET BREAKTHROUGH PACE
EARLY SPEED: 4 (Potential Leader) + 2, 3? + 1, 5, 7?
SELECTIONS: IDEALSOMEMAGIC (7), KIMBLE (4), BERNIE WINKLE (9), SWEET LOUISE (5)
RATINGS: 7/ 4/ 9/ 5/ 2/ 6/ 1/ 8/ 3
SUGGESTED BET: IDEALSOMEMAGIC (7) Each Way

Winner of the Week
SPIRIT OF ST LOUIS, by Sweet Lou out of Spirit Of Art, a winner of the Neatline Homes Shepparton Gold Cup on January 15.