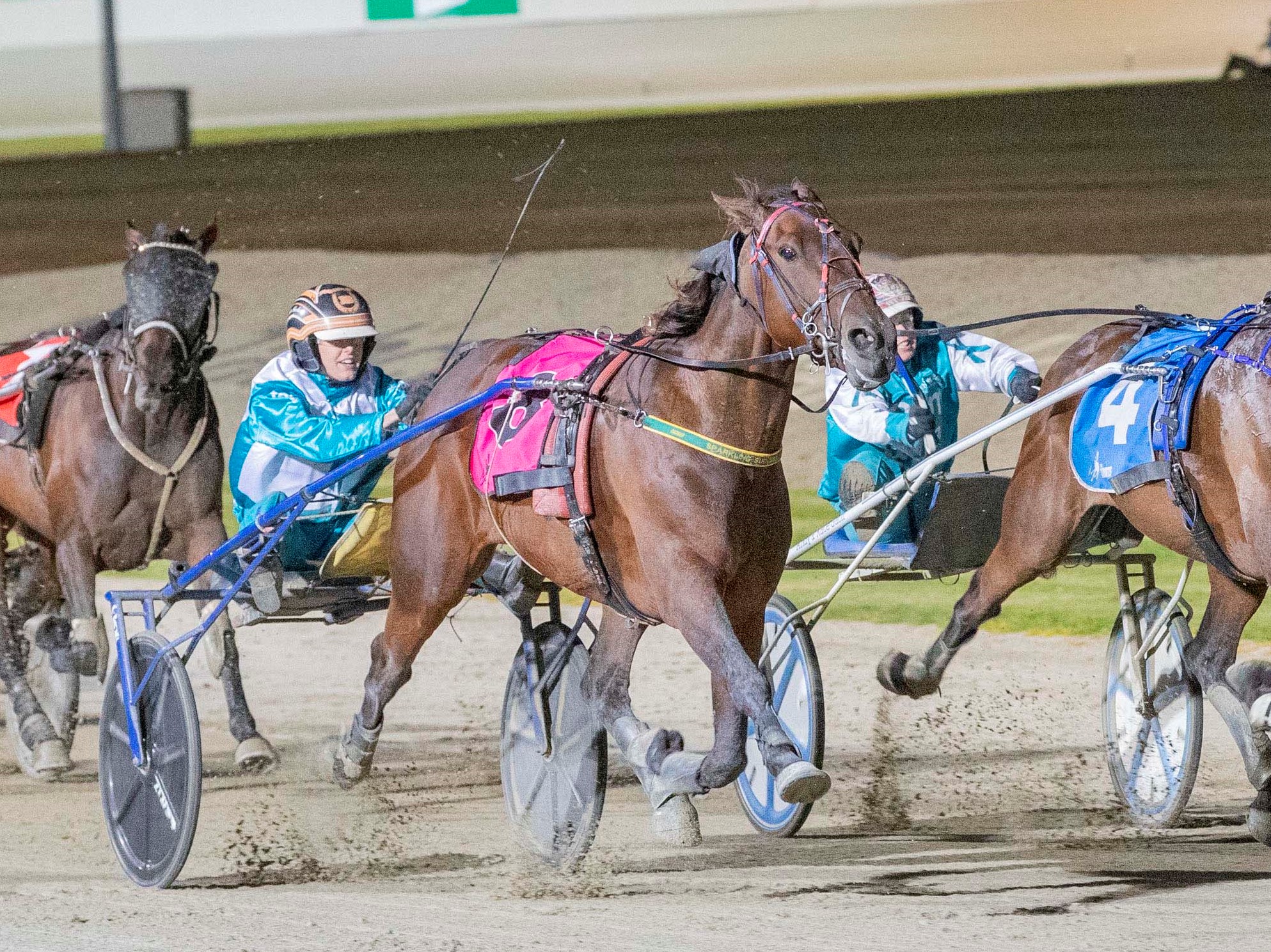 The sparkle is back in John Meade's eye with his stable star having seemingly turned the corner.
Sparkling Success has been outstanding at his last two runs and the Great Southern Star winner, who seemed to have the world at his feet before injury struck in 2018, looks well placed to make some noise in Saturday's Resimax Scotch Notch Memorial at Tabcorp Park Melton.
The nine-year-old is four starts back after a four-month spell, which Meade said was prompted by a minor injury to his tendon sheath, a break that's proven to be just what the doctor ordered.
"I tell people I'm going to be a great trainer the day I die," Meade said of the ever-lasting learning experience. "I'm very confident now he just needed a spell in the paddock for a few months."
Though Sparkling Success was unraced for almost 18 months after injuring a front suspensory ligament in 2018, he had little respite.
"He had a lot of work and was three-quarter fit when he finished his rehab," Meade said. "You have to make the ligament work so it heals better, so all the experts tell me."
His return to racing last March returned modest results for a horse of his standing, with his 10 starts producing three placings and no wins.
Then came the more minor tendon sheath injury to his back leg in October, which led to his most recent spell.
"I brought him back and he's working like he was two-and-a-half years ago," Meade said.
And he's racing well to, returning with a first-up fourth placing in the Terang Cup, then breaking gait but recovering to finish with the pack in the Australian Trotting Grand Prix before a break-through win at Melton on March 6, his first in 910 days.
"I was standing just past the post and thought he lost and was waiting for the judges," Meade said.
"It was pretty special. There had been a lot of dreaming. I was fairly confident if I could get him back (he could win), I wouldn't take him if I didn't think he had any hope."
Sparkling Success then validated his form on Sunday with a stirring performance in the Charlton Trotters Cup when he ran McLovin to within 1.5 metres from the breeze.
"I'm confident that if he had have drawn inside McLovin he would have beaten him," Meade said. "My horse was still coming. I was at the post at Charlton and in the last 10 metres he went from behind the number to in front of the number."
He gets another chance in Saturday night's Group 3, with Sparkling Success drawn between Red Hot Tooth and McLovin, while Tornado Valley's scratching means Meade only has to contend with one star from Andy Gath's stable.
"I'd really love to beat Andy's horses, because he's the benchmark. If you can beat Andy's you can win anything, it's like if you beat Richmond you can win the AFL flag.
"We'd like to see Red Hot Tooth lead and park McLovin. The one-one is where I would hope to be. There's every chance we will get stuck in the death, but I'm not saying even then he can't win because he still ran really well at Charlton.
"I'm just happy. You can think of a million things that could happen, and there's probably a million and one, and that one thing that happens is that thing that you didn't even think about."
The Resimax Scotch Notch Memorial is race eight of an 11-race program at Tabcorp Park Melton, which also takes in Group 1s the Aldebaran Park Vicbred Platinum Home Grown Classic trotting finals for three-year-old colts and geldings and fillies.
The program also features the Group 2 City Of Melton Plate XXXII, featuring the likes of Wolf Stride, Max Delight and Fourbigmen, and the 1200m Citywide Stampede.