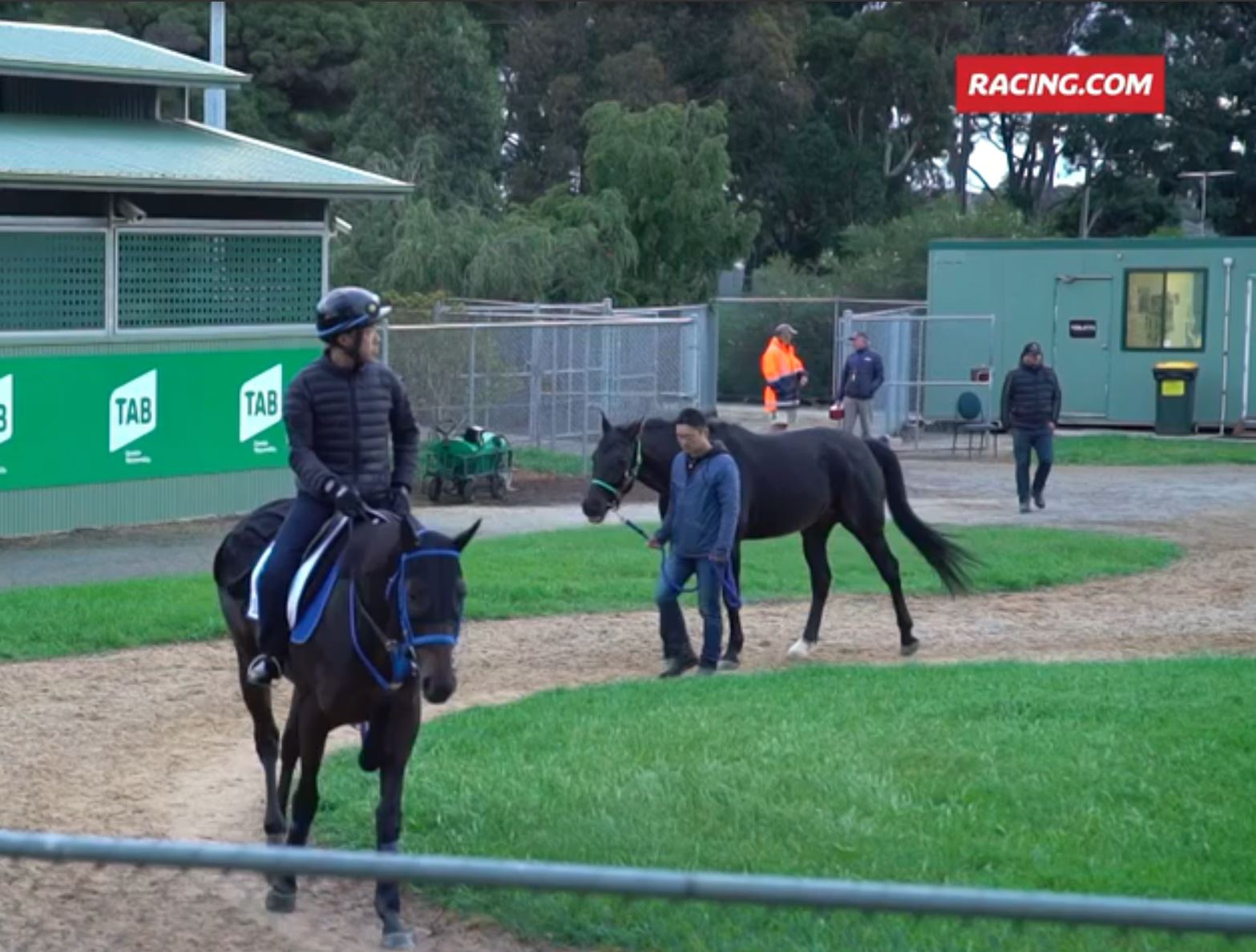 The odds are stacked against him but a strong showing by Japanese galloper Suzuka Devious may well be considered a HEROic performance.
The $71-shot in tomorrow's Ladbrokes Stakes at Caulfield has found his feet Down Under thanks to the friendship of Group 2 winning retired trotter Waikare Aristocrat.
The HRV HERO ambassador has shadowed thoroughbred Suzuka Devious, a winner of more than $2.8 million, at Werribee's International Horse Centre, having been called in as a late babysitter after the visitor's Japanese friends stayed at home.
Picture: Waikare Aristrocrat trails Suzuka Devious at Werribee. Courtesy of Racing.com
HRV HERO manager Tanya McDermott said Racing Victoria's welfare officer Sam Davison requested a "quality standardbred gelding" to be a companion. The next morning Waikare Aristocrat, aka Toff, was taken to Oaklands Junction in isolation ahead of being moved to Werribee for Suzuka Devious's September 24 arrival.
"The feedback I'm getting is he's doing beautifully. They just love him," Ms McDermott said. "He's settled into the role perfectly and been a complete star.
"He's getting shampooed, the full star treatment. Whatever the Japanese horses does he does too, he is being spoilt rotten."
Ms McDermott said Waikare Aristocrat's help enabling the rich thoroughbred competitor to find his feet was "a first for HERO", which she's hopeful would provide another pathway for standardbreds in their lives after racing.
"They are very well suited to this type of role, they are laid back, easy going and buddy up to other horses," she said.
"This is a first to be asked by Racing Victoria to help out. I would like to think this opens the doors. It is great exposure for the program and the horses are well suited to it.
"We are always looking for different activities and trying to build different opportunities for the horses. Having these opportunities available, where they serve a key role but it's not so physical, is really important."
Waikare Aristocrat, who returns home tomorrow as Suzuka Devious exits the quarantine centre to continue his racing season from Ballarat, is one of many former trots horses making new friends.
Country Cups winner El Paco is a nanny at Alabar looking after foals, pacer Stealing Life helps his human friends through equine assisted learning and metropolitan-level winning trotter Armed Guard is involved in riding for the disabled.