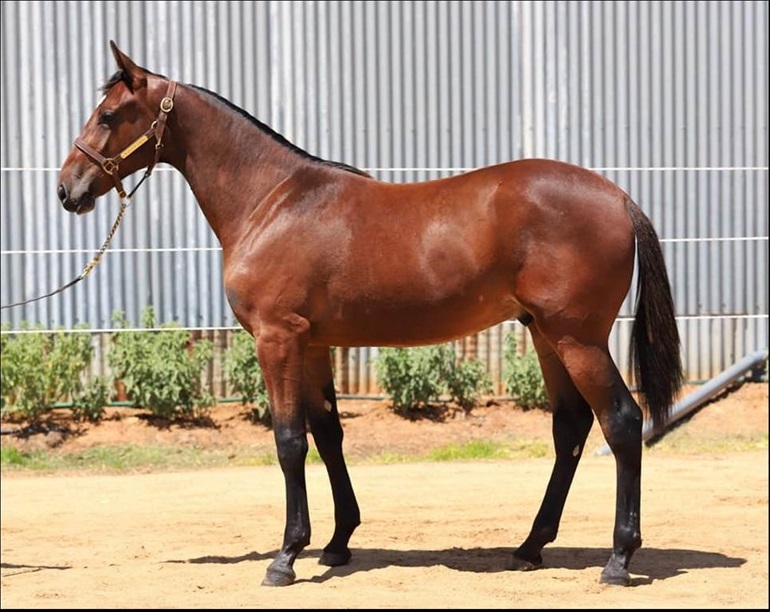 It's hard to imagine that a champion sire born back in 1925 that passed away in February of 1956 could be responsible for 21 of the 46 lots listed for the Australasian Premier Trotting Sales at Oaklands Junction on Sunday, February 7.
The horse pictured is Scotland, who's line has now descended through 10 successive generations, and particularly through the branch of recent trotting champion Muscle Yankee, who is the sire of the horse regarded as the greatest trotter of the modern era, Muscle Hill.
Before we look at the stallions from this branch that will be playing a major role in the APTS sale in February, below is a quick reminder of this legend and his descendants.
Muscles Yankee
Was inducted into the Harness Racing Hall of Fame in 2009. He was inducted as both an outstanding racehorse and a stand-out stallion.
Muscles Yankee was born in North American back in 1995, however, it didn't stop his progeny chalking up over $135-million in offspring earnings
Muscles Yankee was trained by Hall of Famer Chuck Sylvester during his career and driven by Hall of Famer John Campbell.
"He was a dominant horse in his two years of racing," Sylvester said. "He had a foot that bothered him some, but when it didn't, they couldn't beat him."
At two, Muscles Yankee won the Bluegrass, Breeders Crown elimination, Champlain, International Stallion Stakes, Standardbred elimination and Valley Victory elimination. He won six of nine starts and equaled the two-year-old record of 1:56.3 in his Valley Victory elimination.
"He was a pleasure to deal with training and racing. He did everything you wanted," Sylvester said.
At three, Muscles Yankee won the Beacon Course elimination and Final, Bluegrass, Breeders Crown elimination and Final, Yonkers Trot and Hambletonian elimination and Final.
His Hambletonian winning time of 1:52.2 was the fastest record of a three-year-old trotter in 1998. For his winning efforts, Muscles Yankee was awarded the USHWA Three-Year-Old Colt Trotter of the Year award. With $1.25 Million earned, he was the richest performer of that year.
Once retired from racing, Muscles Yankee went on to a productive stud career.
Aldebaran Eagle (Sire of APTS lots 107, 109, 110, 115, 124, 129, 131, 136, 141, 145)
The first son of former champion trotter and premier sire Muscle Hill USA (grandson of Muscles Yankee) to be imported to Australia. Aldebaran Eagle USA was a top racehorse in his own right, winning almost $240,000 in North America.
As a two-year-old he finished in the money in seven of his 11 starts and took his record of 1:55.2 winning a division of the Group 1 International Stallion Stakes at Lexington, in which he defeated the Peter Haughton Memorial winner Centurion ATM. He was also placed in divisions of the Arden Downs, Kindergarten and Champion Stakes and eliminations of the William Wellwood Memorial and Valley Victory.
Aldebaran Eagle USA competed against and held his own against the best male trotters in America as a three-year-old. He finished runner-up in a heat of the Hambletonian (6th in Final), second in the Colonial Trot and third in the New Jersey Sire Stakes Championship at The Meadowlands.
He took his lifetime mark of 1:52.2 as a three-year-old winning at The Meadowlands.
Returning as a four-year-old, Aldebaran Eagle USA won a further four races at The Meadowlands and Lexington in 1:52.4, 1:52.6, 1:53 and 1:54.
Cardigan Boko (Sire of APTS lot 104)
The first son of former champion Italian trotter Varenne (Tr 1:51.2), holder of a string of world records, imported to Australia.
Cardigan Boko, who was bred in Sweden and sold as a weanling to Leviathan Perth owner Neven Botica, raced in top company in Victoria and Western Australia.
He was a top racehorse, winning 22 of his 38 starts and $141,027 in an injury-interrupted career and at one stage held five track records at Gloucester Park, Bunbury and Pinjarra. He took his record of 1:57.4 winning by an amazing 58 metres over 2130m at Gloucester Park half-mile track, a record which still stands, and won inside 2:00 on eight occasions.
Cardigan Boko also holds the record at Gloucester Park over 2503 metres from the stand and he won over all distances from 1720 to 2690 metres.
Clive Dalton, who trained him in his record-breaking WA campaign, said: "Had he been sound he could have been something special. He had speed to burn. I clocked him to run a quarter in 26.8 at Pinjarra one day."
Father Patrick (Sire of APTS lots 106,116)
Another shining example of the power and success of the Scotland sire line. Not only was he a champion and $2.5-million winner on the racetrack, but early in his siring career he has become one of the sport's elite trotting stallions.
His racing legacy is perhaps best defined by his Hall of Fame trainer Jimmy Takter, who told the trade media on more than one occasion, "This is the greatest horse I have ever trained."
His nearly-unblemished 2YO campaign, which garnered him unanimous selection as 2-Year-Old Trotting Colt of the Year, included victories in what could be regarded as the Triple Crown of two-year-old trotting: the Peter Haughton Memorial, William Wellwood Memorial, and Breeders Crown. His Canadian record score in the Wellwood (1:53.4) would be followed by his 1:52.1 World Record in his Breeders Crown elim.
Expectations were clearly off the chart as he began his three-year-old campaign, and more often than not, they were exceeded. He continued his resounding classic victories, established another World Record, led all trotters with almost $1.7-million in seasonal earnings, and was again voted divisional champion as 3-Year-Old Trotting Colt of the Year.
He completed his 3YO campaign with his second Breeders Crown win, adding an exclamation point and further emphasizing that he was indeed the greatest of his generation.
His siring career launched like a rocket. His first crop was led by 2019 "Trotter of the Year" Greenshoe and his second with classics winners Amigo Volo and Sister Sledge. He became the first sire in harness racing history to produce a $1million yearling (Maverick, at $1,100,000), and with his market appeal on full display, his first two crops of foals have averaged $93,567 and $111,000 at the select yearling sales.
Muscle Hill (Sire of APTS lot 126)
Widely regarded as the greatest trotter of the modern era. The winner of 20 consecutive races, Muscle Hill was the world's champion three-year-old trotter at which age he took a record of 1:50.2 and established the highest ever single year's earnings for a Standardbred.
He only raced as a two and three-year-old and was the champion trotter of his era. Possessed of brilliant speed, great stamina and a magnificent flowing gait, Muscle Hill soon became the idol of all American trotting fans.
As a two-year-old he won eight of his nine starts for $817,301, including the $700,000 Breeders Crown in a world record 1:53.6, $500,000 Peter Haughton Memorial, New Jersey Sire Stakes, Bluegrass Stakes, International Stallion Stakes and the Simpson Memorial and was named USA 2YO Trotter of the Year.
He took his record of 1:50.2 at three years, winning the $1.5-million Hambletonian at The Meadowlands by six lengths. He also captured the $617,000 Breeders Crown at Woodbine, $540,000 World Trotting Derby, $1-million Canadian Trotting Classic and Kentucky Futurity, netting $2,456,041 – a season's record for a trotter or pacer.
Undefeated in 12 starts at 3, Muscle Hill was the unanimous choice for Horse of the Year and 3YO Trotter of the Year in both USA and Canada. The fastest son of thrice premier sire and champion sire of sires Muscles Yankee 3, 1:52.4, Muscle Hill belongs to a family replete with champion trotters. Muscle Hill's progeny has won every major trotting classic in the USA and Canada; several of them twice.
Muscle Mass (Sire of APTS lot 142)
Retired to stud duty as the fastest two-year-old son of super-sire Muscles Yankee, having established his world-record mark of 1:53.4 in only his second career start. He won five major stakes in an undefeated season at 2 winning all seven of his starts, including back-to-back wins in Lexington and a 10-length, track and stakes record in the American-National.
Muscle Mass has established himself as a leading trotting sire in Ontario. Muscle Mass was the leading first crop sire of Ontario Sire Stakes winners in 2012 and followed it up with spectacular years in 2013 and 2014 as the leading Ontario sire of two-year-old trotters in overall earnings, also being the overall leading trotting sire in 2014. He is the sire of multiple Ontario Sire Stakes Gold Champions including RIVETING ROSIE 4,1:52.4 ($903,520), MUSCLE MATTERS 4,1:53.1 ($481,535), MOTOWN MUSCLE 3,1:53.4 ($447,945), MUSCLE BABY DOLL 3,1:52.0 ($471,470) and ON A SUNNY DAY 3,1:53.3 ($431,387).
Skyvalley (sire of APTS lots 108, 123, 144)
Australia's leading colonial bred trotting sire and the sire of champion trotter Tornado Valley winner of $775,617. Skyvalley who, like all mentioned stallions is also from her Scotland line . He has sired 67 individual winners in Australia and New Zealand, and with average earnings per starter at $35,640 yearling buyers are sure to take notice of his 3 lots in the sale.
Skyvalley has been promoted as "one of the best bred and best performed trotters ever to stand at stud in this country".
A dual winner as a two-year-old, he announced himself as the next big thing in Australian trotting when he trounced his rivals by 15 metres in the final of the $102,000 Breeders Crown for three-year-olds at Bendigo, rating a brilliant 1:59 for the 2150 metres - an all age Australian record.
Skyvalley really came into his own as a four-year-old winning 14 races, the most by any standardbred in Australia that season. His wins included the 4YO Breeders Crown (by 32 metres), demolishing his opposition with Dan Mielicki describing it as the best win by any horse that season and drawing comparisons to the great Maori's Idol. He also won the Melton Trotters Cup on Tabcorp Park opening day beating the best open age free-for-allers over 2760 metres, running his last mile in 2:01, the Cobram Trotters Cup and several metropolitan Free-for-alls.
Not only is Skyvalley a son of Muscles Yankee, but on his dam side he can claim equal distinctions. He is a half-brother to a champion trotting mare in Allegro Agitato NZ Tr 1:57.8 ($529,854), a multiple winner at Group 1 level in New Zealand and Australia.
Southwind Frank (Sire of APTS lot 138)
2015 USA and Canadian 2YO Trotting Colt of the Year and a former world champion juvenile, Southwind Frank raced only as a two and three-year-old and from 26 starts only finished out of the top three twice.
As a two-year-old he won 11 of his 12 starts and $786,419 in stakes money and was the richest and fastest 2yo trotter of his year.
Southwind Frank established a new world record for two-year-old trotters on a mile track and a fresh stakes record of 1:52.4 winning the $264,000 International Stallion Stakes at The Red Mile by open lengths. He also set a stakes record of 1:53.8 capturing the $100,000 New Jersey Sire Stakes Final at The Meadowlands and capped his first campaign with a two lengths win in the $778,440 final of the Breeders Crown in 1:54.4 over a rain-soaked Woodbine oval.
He took his lifetime record of 1:52.2 at three years winning a leg of the New Jersey Sire Stakes at The Meadowlands before effortlessly winning the $100,000 final in 1:52.6. He also finished runner-up in the Hambletonian, the Breeders Crown and Kentucky Futurity.
Champion trainer Ron Burke, who prepared the colt throughout his career, said: "I've trained a lot of horses, but none have had Frank's package of speed, power and smarts. I truly believe he is one of the all-time greats."
Trixton (Sire of APTS lot 139)
The winner of the $1-million Hambletonian and the joint fastest progeny of former champion trotter Muscle Hill.
Being out of a champion filly full sister to three star stallions in Conway Hall, Andover Hall and Angus Hall will certainly excite yearling buyers and breeders. Stallions Australasia principal Peter O'Rourke said " I don't know of a better bred stallion,".
As a three-year-old he won eight of 11 starts and from 19 lifetime starts he won 12 and was four times placed. He won in 1:54.8 as a two-year-old.
The 2014 USA Trainer of the Year Jimmy Takter, who trained Trixton throughout his career, said: "He is so nice, a real pleasure to drive. He's a (perfect) 10 in every category."
The top priced yearling of 2012 at $360,000, Trixton carries an impeccable pedigree made up of champion sires, champion racehorses and champion broodmares.
What The Hill (Sire of APTS lots 111, 118, 137, 140)
On the race track, What The Hill was a star. As one of the fastest sons of Muscle Hill he took a career equalling record of 1.51.4 at his last start and accumulated $1,345,999 in stakes. His racetrack accomplishments included:
As a 2YO he took a 1.54.4 mark and banked $335,397. He won the prestigious Peter Haughton Memorial and the final of the New Jersey Sires Stakes.
At 3, he banked $1,010,602 in purses and was the clear stand out trotter of his year. He won the $684,000 Canadian Trotting Classic in a Stakes record 1:51.4, he won his elimination and final of the Breeders Crown and he defeated the open class trotters in the final of the TVG, defeating 2015 Trotter of The Year Pinkman ($2,791,114) and Crazy Wow ($2,269,135) - this was his career equaling best time - 1.51.4!
He also won the $1 million Hambletonian in 1.52.3 before getting disqualified for apparent interference up the straight.
Please note, we will have online and telephone bidding options available if you are unable to attend. John Coffey will be inspecting all of the Melbourne yearlings on sales weekend, and will be pleased to answer any questions that you may have on the individuals featuring in the sale, or to bid on your behalf. John can be contacted on 0418 500 211.
It's also important to note that the APTS will commences at noon at Oaklands Junction, Sunday, 7 February 2021
Please phone Kathleen Harris (0429 066 663) or email her at kathleen@apgold.com.au and she'll be pleased to assist you with your online registrations, pre-sale bidding approvals or to answer any other questions that you may have on your travel and accommodation needs.