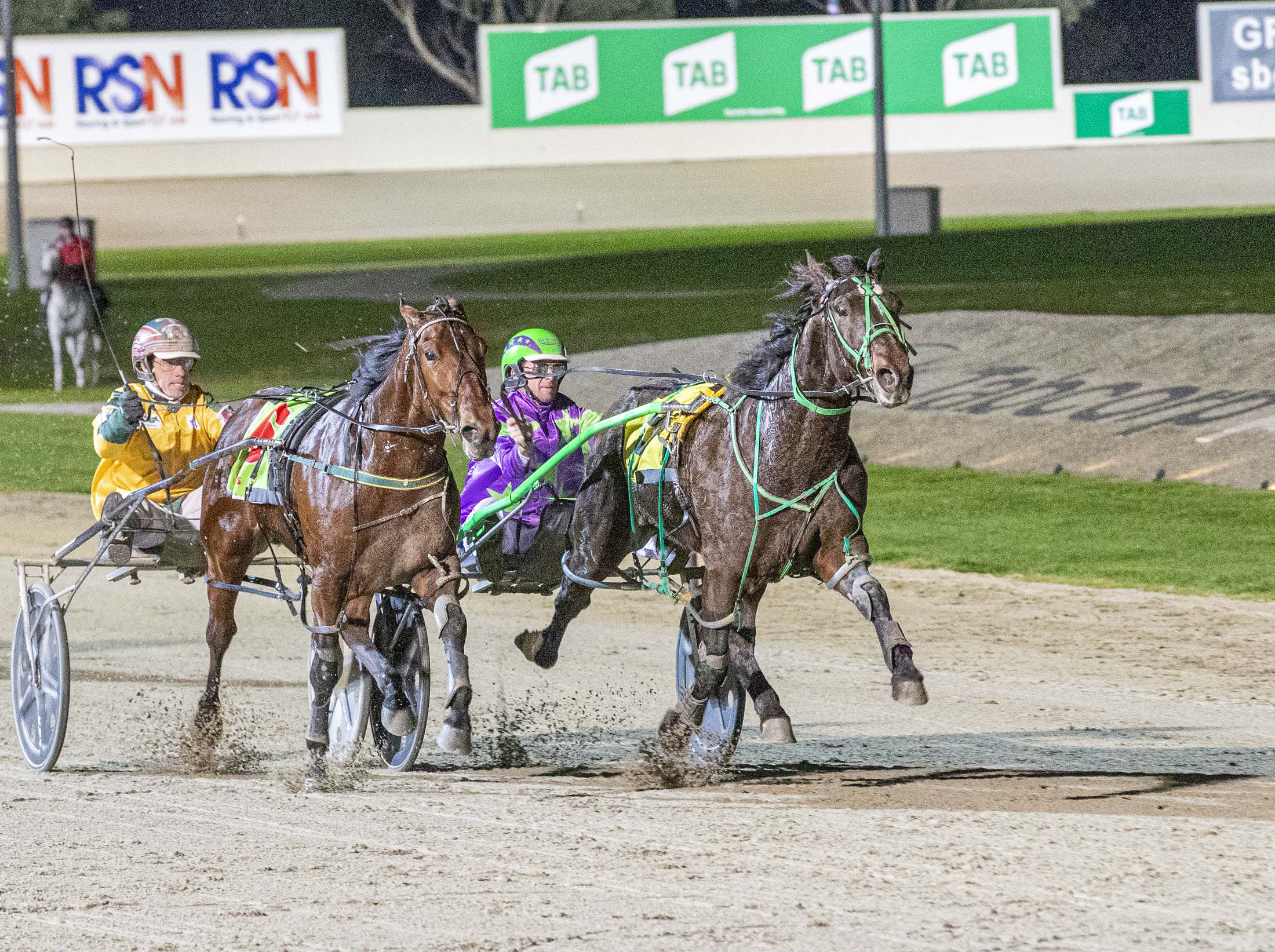 A bright flash of Sunshine has fuelled hopes of a mighty Vicbred Super Series campaign for Damien Burns after his two-year-old colt stamped himself as a contender on Saturday night.
The camp thought it may have a good one but nominating for next Tuesday night's Always B Miki Vicbred Super Series heat wasn't assured until Youaremy Sunshine's eye-catching win in the Benstud Standardbreds Youthful Stakes at Tabcorp Park.
"That's probably the main reason I drove him on Saturday night, I thought I needed to get the feel myself whether he's got what it takes to compete against the top class horses," Burns told RSN 927's One Out One Back.
Stepping out against a field that included Emma Stewart's Mirragon, winner of the Vicbred Platinum Home Grown Classic in May, ensured Youaremy Sunshine would be tested by some of the class's best.
"Reading the form, I thought, as good as he's going, how are we going to win this race?" Burns said, but his confidence was boosted by reinsman Michael Bellman, who steered Youaremy Sunshine to his previous wins at Geelong and Stawell.
"He said I wouldn't worry, this horse has got a bit of x-factor about him. I said, 'I hope you're right'. He obviously thought a little bit more of him than me and he certainly showed he's got a little bit there for sure."
The pace was on from the outset in the $24,000 Youthful Stakes when Ozzie Battler fought over Batman Barry for the early lead and then was attacked by Wotdidusaay, leading to 28.2 and 28.4 first and second quarters.
"I was thinking am I going to be able to keep up with these couple in front at any stage, they were burning. Not till probably half way down the back straight I thought I better get a wriggle on otherwise I might not even catch the two in front.
"It was a bit of a shock the way the race was run but it did suit our bloke for sure."
Youaremy Sunshine led the second half of the pack with Mirragon on his tail and as the leaders tired before the turn Burns shot to the front with his colt, setting up a final straight stand-off against Mirragon.
"When we pulled out and tried to skip away, I looked over my shoulder and thought, 'oh, oh, here we go again'," Burns said. "But to the horse's credit he really knuckled down up the straight.
"Early on in his first couple of starts that fight probably wasn't there, but he's a bit of a funny horse. He only really races the other horse when it gets right up close to him. There's was no way he was going to let that horse past, where as I thought halfway up the straight it may have been all over."
Youaremy Sunshine fought all the way to the line to hold off Mirragon by a half-neck, getting home in a 29.5 third quarter and 28.5 final quarter to register a 1:53.8 mile rate, only 0.1 outside Dont Hold Back's age/sex track record for Tabcorp Park.
And with that dreams of a Vicbred Super Series campaign became reality. Youaremy Sunshine will start from gate in the second two-year-old boys heat at Bendigo on Tuesday, directly behind Ahmed Taiba's Aishabeach (one win from one start) and sharing the back row with Star Hunter and Mirragon.
"This is what it's all about," Burns said. "We've had a long preparation with this horse. In November 2017 we started on him and he hasn't left the stable. It's been a slow process, you couldn't put a dollar value on the time we've spent on this horse, but this is why we've done it. I think we've got him right at the right time of year.
"Going into this series there are some nice horses and things might have to go right for him to win something like this, but at least probably after Saturday night if things go our way we are a chance and that's nice to know."
CLICK BELOW TO TUNE IN TO ONE OUT ONE BACK: