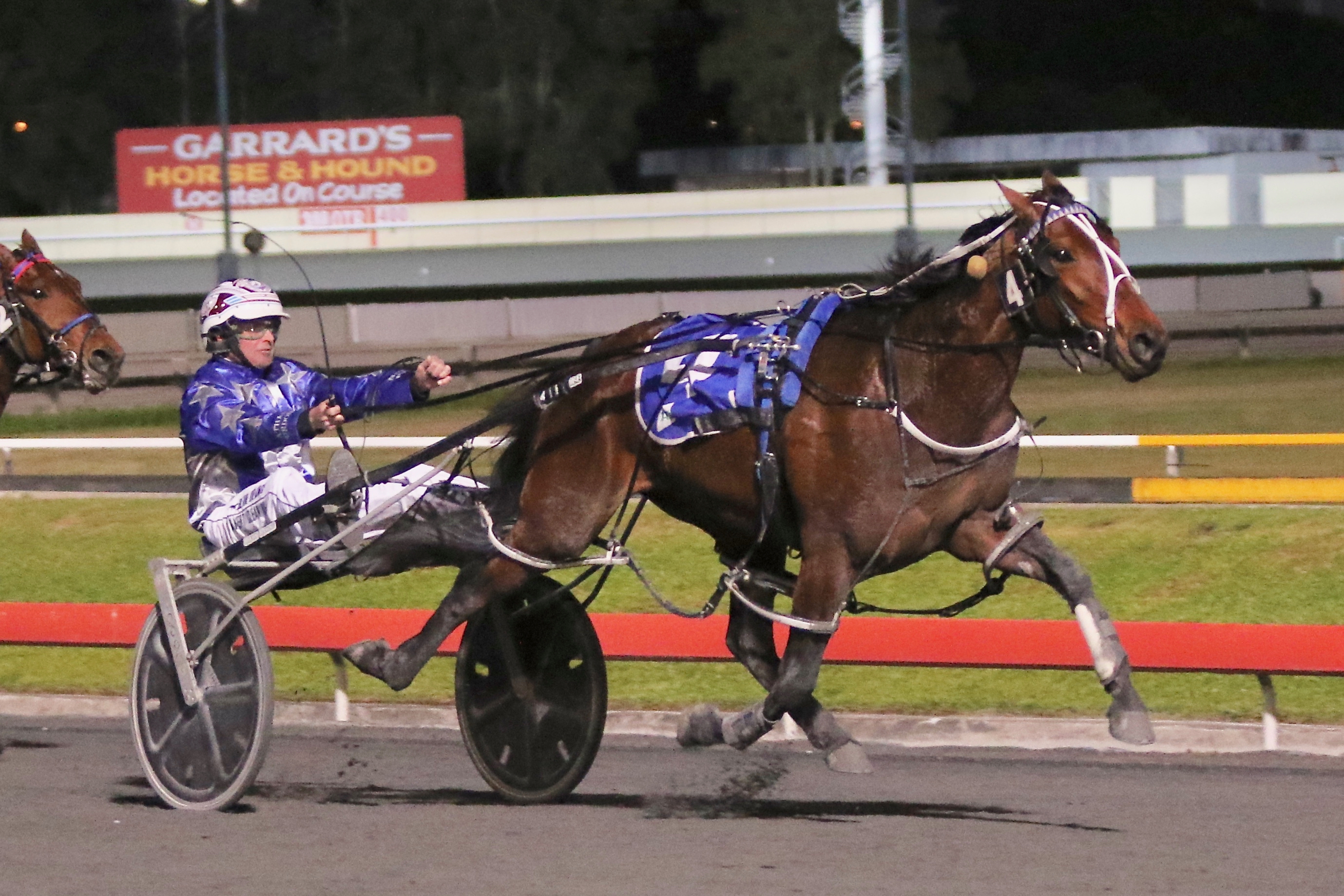 Amazing Dream will have to overcome a back row draw if she is to beat the boys in a stunning edition of the Jet Roofing Kilmore Pacing Cup (2690m).
The Nathan Purdon-trained four-year-old mare won both The Rising Sun and Blacks A Fake in a brilliant Queensland campaign through July, with the former Kiwi mare to have her first Victorian run in this Friday night's Group 2 feature.
She has drawn barrier 10 for the first-up assignment, where she meets a quality field of pacers.
Mick Chircop's speed machine General Dodge has drawn barrier one and will likely start as one of the key fancies in the market, while Emma Stewart-trained Out To Play is next door in gate two. Malcolms Rhythm (David Aiken), Tango Tara (Andy Gath), Mach Dan (Stewart), last-start VHRC Caduceus Classic winner Triple Eight (Jess Tubbs) and I Cast No Shadow (Brent Lilley) make up the front row, with Western Sonador (Rebecca Bartley/Stephen O'Donohue), Perfect Stride (Russell Jack), Torrid Saint (Julie Douglas) and Saturday's long odds victor Bulletproof Boy (Scott Ewen) off the back.
Kasey Kent-trained Major Roll has been named emergency for the race.
The MC Labour Kilmore Trotters Cup is the other key feature on the card, with the Group 3 contest to be held over the marathon 3150m trip from the standing start.
Last-start Group 1 winner Maori Law (Emmett and Richard Brosnan) will come off the 30m handicap, where he will be joined by veteran top level performers Mclovin (Andy Gath) and Red Hot Tooth (Kari Males).
A massive night of TrotsVision coverage is planned, with Jason Bonnington, Nikkita Ross and Josh Jenkins all trackside with caller Luke Humphreys.
KILMORE PACING CUP
1 s11s2 GENERAL DODGE (Mick Chircop/Jason Lee)
2 12s23 OUT TO PLAY (Emma Stewart)
3 64241 MALCOLMS RHYTHM (David Aiken/Josh Aiken)
4 14213 TANGO TARA NZ (Andy Gath/Kate Gath)
5 113s4 MACH DAN (Emma Stewart/David Moran)
6 21131 TRIPLE EIGHT NZ (Jess Tubbs/Greg Sugars)
7 02512 I CAST NO SHADOW NZ (Brent Lilley/Chris Alford)
------------------------------ Second Row ------------------------------
8 s1417 WESTERN SONADOR (S J O'Donoghue, R K Bartley/Rebecca Bartley)
9 12s65 PERFECT STRIDE NZ (Russell Jack/Leigh Sutton)
10 4131s AMAZING DREAM NZ (Nathan Purdon/Anthony Butt)
11 87442 MAJOR ROLL (Em 1) (Kasey Kent/Daryl Douglas)
12 63146 TORRID SAINT (Julie Douglas)
13 25731 BULLETPROOF BOY (Scott Ewen/Scott Ewen)
KILMORE TROTTERS CUP
1 01570 IMPERIAL WHIZ NZ (Danny Mullan) FT
2 637s0 KHEIRON (Em 1) (Peter Lane/Peter Lane) FT-
3 52600 STRESS FACTOR NZ (Brent Lilley/Chris Alford) FT
4 81s93 THE PENNY DROPS (Ray Harvey/Grant Campbell) FT
5 96509 MARGARET RUTH (Anne-Maree Conroy/Anne-Maree Conroy) 10m
6 04514 BRANDLO PRINCE (Chris Svanosio/Chris Svanosio) 10m
7 47308 PANTZUP (Maree Caldow/John Caldow) 10m
8 11146 KYVALLEY CHIEF NZ (Brent Lilley/Greg Sugars) 10m
9 21340 ROBBIE ROYALE NZ (Brent Lilley/Chris Alford) 10m
10 21s07 WELL DEFINED NZ (Kate Hargreaves/Ellen Tormey) 20m
11 49729 RED HOT TOOTH (Kari Males/Zac Phillips) 30m
12 2s387 MCLOVIN NZ (Andy Gath/Kate Gath) 30m
13 51341 MAORI LAW (E Brosnan, R J Brosnan/Anthony Butt) 30m
CLICK HERE FOR THE FULL KILMORE FIELDS
CLICK HERE FOR KILMORE TAB MARKETS
THE WEEK AHEAD
TUESDAY
Bendigo (night)
Caller: Dan Mielicki
WEDNESDAY
Geelong (night)
Caller: Luke Humphreys
THURSDAY
Cobram (day)
Caller: Rob Auber
Melton (night)
Caller: Dan Mielicki
FRIDAY
Horsham (day)
Caller: Rob Auber
Kilmore (night)
Caller: Luke Humphreys
SATURDAY
Mildura (night)
Caller: Luke Humphreys
SUNDAY
Cranbourne (day)
Caller: Rob Auber
MONDAY
Charlton (day)
Caller: Brendan Delaney