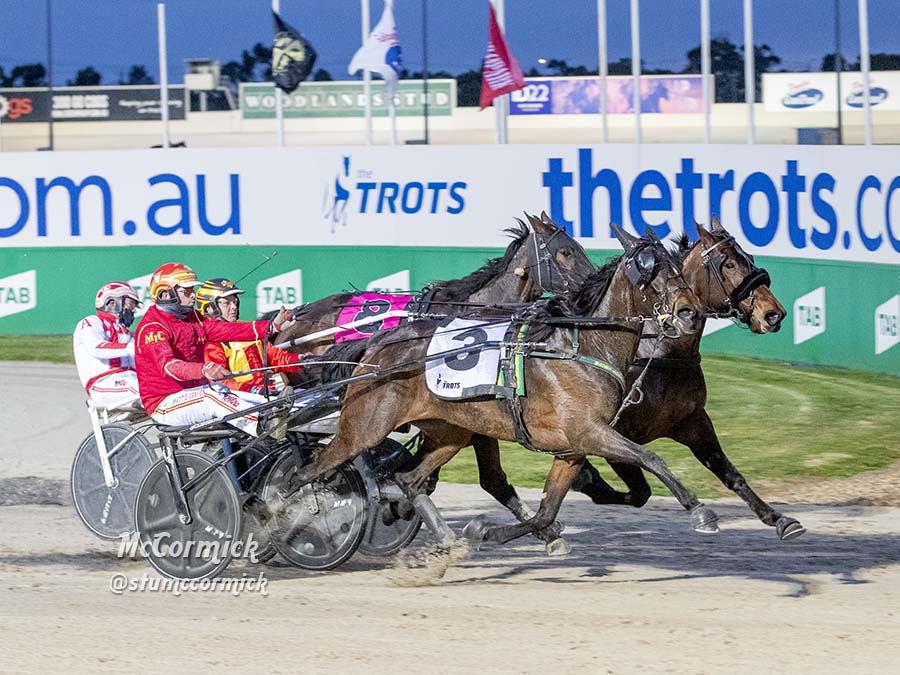 The after glow is magnificent for Matt Craven, but the trainer-driver of flying filly Pink Galahs will have little time to bask as another Group 1 opportunity presents.
The Terang tearaway who last week changed the trotting landscape will start from gate five in Saturday night's TAB Victoria Trotters Oaks, to stream on Trots Vision at 8.32pm.
It's the first of three Group 1s on an 11-race card that also includes the Benstud Make Mine Cullen, leg one of the Elizabeth Clarke Mares Triple Crown, when Amelia Rose will lead the Emma Stewart stable's attack against the likes of Goodtime Heaven and Our Princess Tiffany.
But it's Craven's three-year-old filly that may well outshine them all in the starpower stakes after her stunning victory in last Saturday's Aldebaran Park Bill Collins Trotters Sprint.
"It's a feeling I'd love for many people in the sport to have the chance to experience," Craven told Trots Talk of the Group 1 win. "It's something you can't describe when you win a race like that. Definitely wasn't expected, it was a huge, huge thrill. I was so proud of my little girl.
"Through the run, with a lap to go she relaxed beautifully and you think to yourself, have we got any tickets tonight? How are we travelling little girl? But she really picked up off the back straight and travelled super.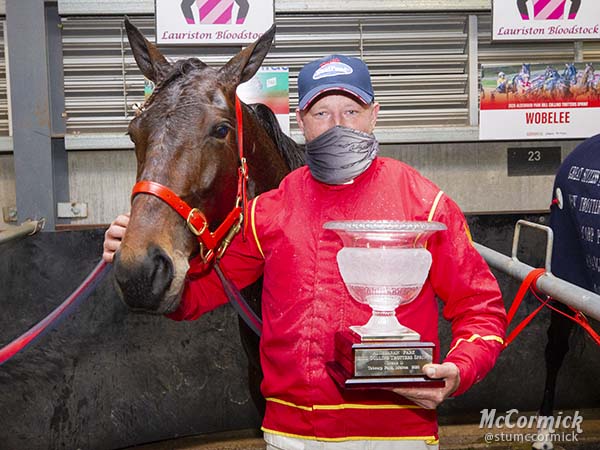 "To be able to run down Dance Craze, I don't think I can believe it. When Jason Lee told me I beat him I still could not believe it. Even now speaking about it I'm still quite emotional, I don't know why, I think I'm just so proud of my little girl.
"It's not something we expected. We knew that she was good enough, not maybe to win, but be competitive. Something that will stay with us for a long time."
But there's a need to get back down to business as she leaves behind the cut and thrust of open class racing to stoush with three-year-old fillies for the first time since running fourth in the IRT Australia Need For Speed Princess Final at Melton on February 29.
On that occasion she finished behind Anton Golino's pair Im Ready Jet and Imamaorijet, both of whom share the front row with her in the Oaks. Add in Tailored Elegance, Illawong Stardust, Sultan Sass and Chevron Action to name a few and it's a high-class race, which has been front of mind for Craven for some time.
"It's not something to be taken lightly. One of the reasons why we have taken the (free-for-all) path that we have is we know this three-year-old crop's very special," he said.
"We've seen some of these compete at a very high level and produce very, very good results. We know it's not going to be easy and all her own way on Saturday night.
"Take into account (Tailored Elegance) to our outside, she defeated free-for-all horses in New Zealand before she arrived in Australia. That's very, very good form for a race like this. If she's anywhere near right she will be super hard to beat.
"Im Ready Jet has already shown she has had my filly's measure in the past, so those two are going to make life very tough for her. All the runners in the race, you see the form is quite strong and it won't be a walk in the park by any means and we are not expecting an easy race on Saturday night."
TALKING TROTS ON SENTRACK: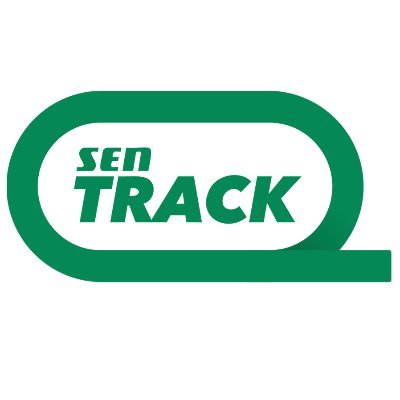 Join Tim O'Connor from 6pm to 10pm on SENTrack, which airs on 1593AM in Melbourne, 1539AM in Sydney, 657AM in Perth, 801AM in Gosford, 96.9FM in Ingham, 99.1FM in Atherton and 1575AM in Wollongong.
Click here to listen live and for links to download the SEN app.

TUNE IN
at
TABCORP PARK MELTON
First Race: 6.05pm Last Race: 11pm
Host/Racecaller: Dan Mielicki.
Trots Vision: WATCH LIVE
SEN Track: WATCH LIVE
RSN 927: LISTEN LIVE


This week's winners sired by Woodlands Stud stallions
Krug by Bettor's Delight out of Champagne Princess at Addington
Stingray Tara by Bettor's Delight out of Tara Gold at Geelong
Doc Holliday by Bettor's Delight out of First Western at Auckland
Taipo by American Ideal out of Haylin Express at Auckland
Kango by American Ideal out of Dana Maguire at Auckland
Copy That by American Ideal out of Lively Nights at Auckland
Im Quite American by American Ideal out of Viva El Ray at Devonport
JB Mauney by American Ideal out of Shorty's Girl at Gloucester Park
Im Anothermasterpiece by Bettor's Delight out of Elegant Art at Melton
Spankem by Bettor's Delight out of Crushem at Methven
Kardesler by American Ideal out of Kusadasi at Hobart
Denstown by Bettor's Delight out of Touch Of Grace at Hobart