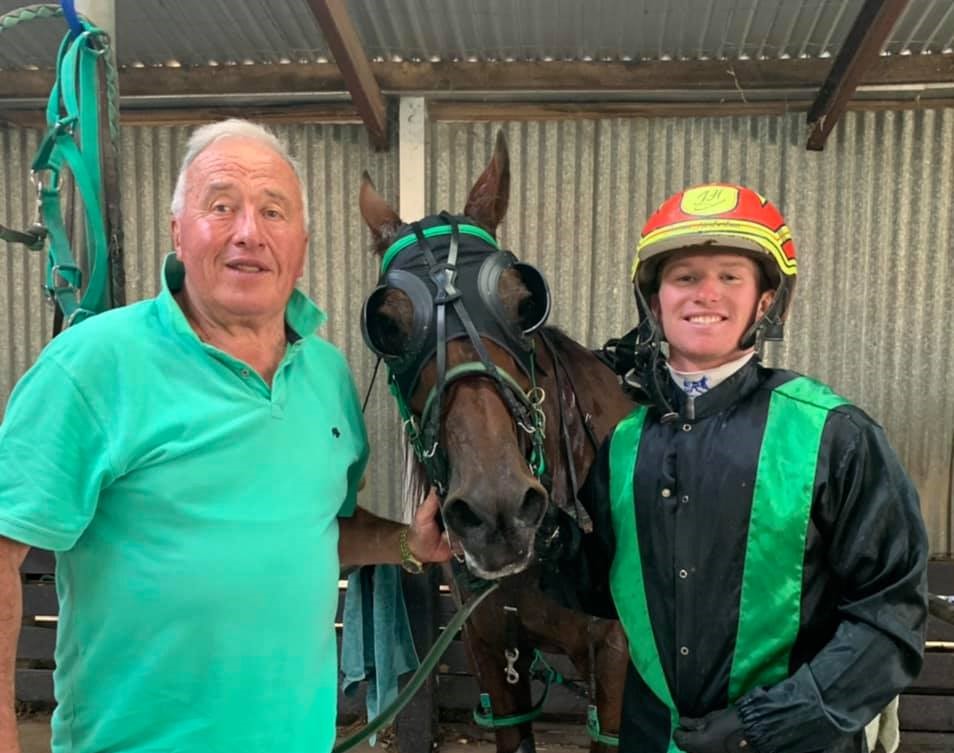 Noel Hill is happy to admit he's a bit of a bragger, but when you've only ever trained one horse and he's just chalked up $100,000 in prizemoney, then you should have a little swagger in your step.
The 73-year-old Haddon local is the man behind Chief Safari, a loveable veteran that reached the six-figure mark in earnings with his victory at Maryborough on May 31.
Hill bred the son of Safari using his mare Podium Princess, and after stints with Michael Stanley and Emma Stewart early in his career, the hobby horseman eventually decided to take the plunge and do the training himself.
In all, Hill has prepared his mate for all but 16 of his 133 starts – he also had a short time with Michael Munro - and knows him better than anyone.
Hill has had his health battles over the years, but still takes the bay gelding to nearby Bray Raceway in Ballarat just about every day for morning work, and it's a routine that both horse and trainer enjoy.
"He hasn't had many holidays, I'll give you the mail. He's probably had a couple of weeks off here and there," Hill said.
"The old fella is still going around and someone said to me: 'how many years left have you got in him?' Hopefully he's got two or three. He's tough as nails.
"You have your heartaches and you have you good times when your horse is going well."
The nine-year-old will go in search of his 19th victory when he steps out on Friday night at Geelong in the Jack Rabbit Winery Pace (2100m).
He will have to come up against the in-form Blue Chip Delight (Anthony Butt/Sonya Smith) who looks set to run a well-fancied favourite, but after winning his last two races while leading, a front row draw looks favourable for Chief Safari.
Jason Lee has been in the sulky for the horse's last three starts and with Hill full of praise for his driving efforts so far, he's trusted to take the reins once again.
"People have got to be lucky with horses. They go and spend big money and the big syndicates, they buy the best ones, but I'm glad I bred this bloke and I could never give him away," Hill said.
The Trots Vision coverage will ramp up at Friday night's meeting, with the Geelong Harness Racing Club's general manager John Dunne joining Paul Campbell to host the nine-race card, which kicks off with the first event at 5.34pm.
* picture courtesy Geelong Harness Racing Club


CRAIG RAIL ON GEELONG
RACE 4: VOLSTEAD @ HARAS DES TROTTEURS TROT
EARLY SPEED:
2 (possible early leader), 1,3,5
SELECTIONS:
WINGMAN FLING (8), CLAUDYS ICEMAN (6), ILLAWONG LUNA (5), SAINT CALDER (1)
RATINGS:
6,8/ 5/ 1,3/ 9
SUGGESTED BET:
WINGMAN FLING (8) each way

This week's winners sired by Woodlands Stud stallions
Akuta by Bettors Delight out of Adore To Our Dreams at Addington
Bettor Twist by Bettor's Delight out of Twist And Twirl at Addington
Amazing Dream by Bettor's Delight out of Christian Dreamer at Auckland
Seb's Choice by Bettor's Delight out of Alta Calypso at Kilmore
Ideal Dan by American Ideal out of Jodila at Kilmore
Newsy by Bettor's Delight out of Ultimate Art at Gloucester Park
Louie The Horse by Sweet Lou out of Bettorkeepthefaith at Gloucester Park
Ideal BB by American Ideal out of Tartan BB at Invercargill
Dress Code by American Ideal out of Dress To Impress at Invercargill
Woodlea Beaver by Sweet Lou out of Ace Of Delight at Rangiora
Smooth Deal by Bettor's Delight out of Linda Grace at Shepparton
Dessie Gee by Sweet Lou out of Genazzano at Shepparton