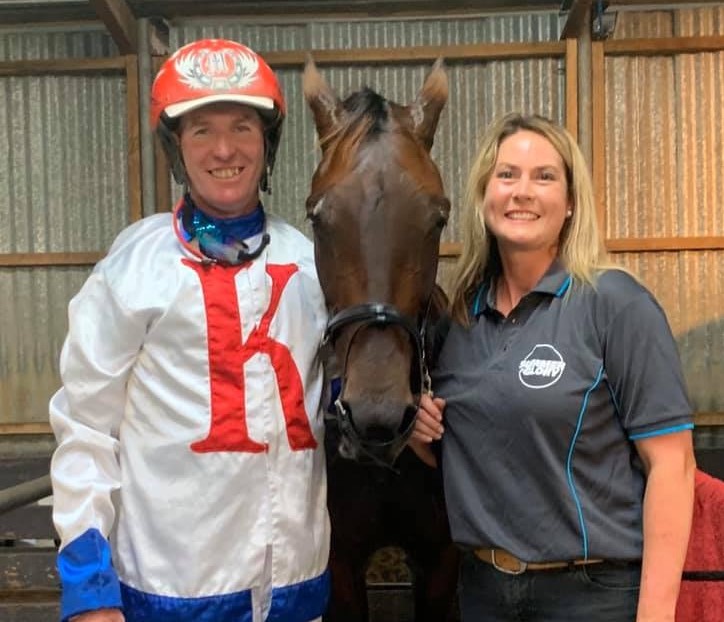 Fingers will be crossed that tonight's racing at Shepparton will bring breakthrough number two for the little gelding whose run of near things sparked something of a cult following.
Lion Heart, Rebecca Morrissey's five-year-old who gradually grew into his own name, chases his second win in tonight's JDC Contractors Trot, which will stream on Trots Vision at 7.33pm.
Tonight marks start number 73 for Lion Heart, who's produced 25 placings to date and one magical moment at Geelong on March 11, which was victory number one at start 67. It was all the more significant for being the first victory in trainer Morrissey's own name, with her previous successes having come in partnership with husband Paul.
"The fact that he went so many starts before winning, I think everyone was hoping the little bugger would get over the line and win a race for me," Morrissey said.
"He didn't show anything as a two-year-old and did a lot wrong. It wasn't until he was a late three-year-old that he showed a little bit and we persevered. He had so many placings in the lead-up to that first win."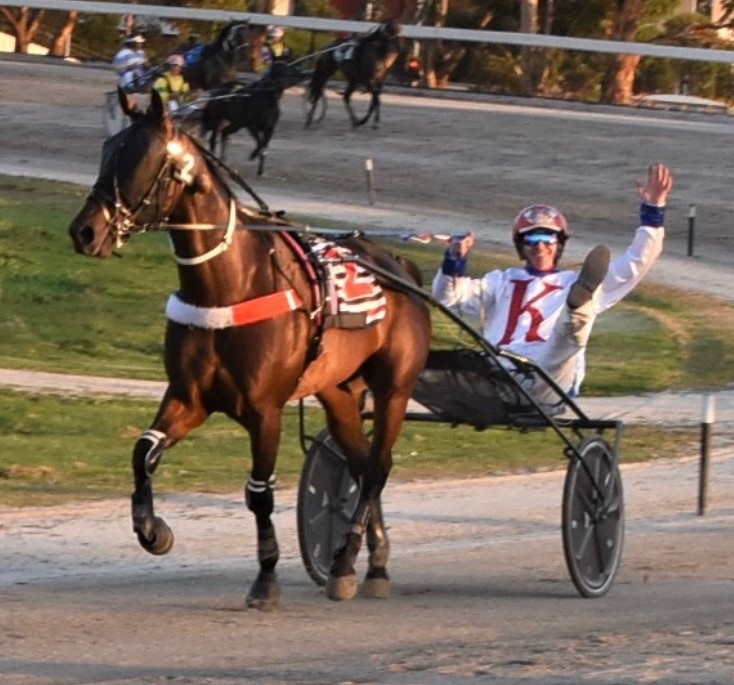 It was the sweetest of victories for Morrissey and reward for patience and persistence, both from the trainer and her horse, who was named as such in "the hope he would have the heart of a lion".
"I didn't actually like the name to start with, but you have to give options and it was not my first choice, but the name has really suited him and he has got a bit of a following too," she said.
And while not a regular winner, Lion Heart has been a regular earner, securing $33,490 in stakes.
"To have him running placings every 10 days goes a long way for the bank balance, but it's more about having fun and sharing it with other people.
"I am breeding a few mares and Lion Heart has helped them go to a bit better stallions."
In fact Morrissey has five trotting mares she is breeding to in Vienna Noon, Butterfly Noon, Canadian Dream, Six Appeal and Livingonadream, the latter a half-sister to Just Like Jack ($112,381) and Barneys Invasion ($81,199) and the dam of Lion Heart.
"They have been a great family," Morrissey said. "We have ended up with some nice horses and have little Lion Heart, who tries his heart out and is competitive."
And the expectation is he will do so again in race 4 at 7.33pm, when Lion Heart has his first start in the hands of reinsman Darryl Douglas, with regular driver Mick Bellman having a big haul at Horsham earlier in the day but credited for doing "a fantastic job educating (Lion Heart) in races".
Lion Heart will start from inside the back row, and if he can overcome his poor starts Morrissey said he should be well placed for a bold showing.
"The only issue is at the start. He's certainly better tucked away behind the leaders and hopefully he can get a good run into the race at the finish."

TALKING TROTS ON SENTRACK: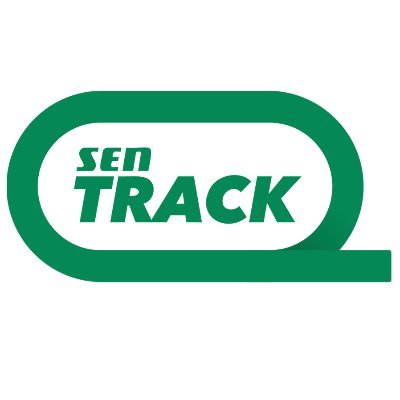 Join Jason Bonnington and Blake Redden from 11am to 1pm on SENTrack, which airs on 1593AM in Melbourne, 1539AM in Sydney, 657AM in Perth, 801AM in Gosford, 96.9FM in Ingham, 99.1FM in Atherton and 1575AM in Wollongong.
Click here to listen live and for links to download the SEN app.

TUNE IN
at
HORSHAM
First Race: 1.37pm Last Race: 5.49pm
Host/Racecaller: Luke Humphreys.
Trots Vision: WATCH LIVE
SEN Track: WATCH LIVE
RSN 927: LISTEN LIVE
TUNE IN
at
SHEPPARTON
First Race: 5.59pm Last Race: 10.04pm
Host/Racecaller: Lachie McIntosh.
Trots Vision: WATCH LIVE
SEN Track: WATCH LIVE
RSN 927: LISTEN LIVE

CRAIG RAIL ON HORSHAM
R8: DECRON HORSE CARE PACE
EARLY SPEED:
1 (possible leader), 2, 3, 4, 7
SELECTIONS:
KOWALSKI ANALYSIS (10), DUTY BOUND (9), PREMONITION (7), JULIUSTIGRES (1)
RATINGS:
10 / 9 / 1, 7 / 3, 5 / 8
SUGGESTED BET:
KOWALSKI ANALYSIS (10) each way

ROB AUBER ON SHEPPARTON
R4: BALLARAT MAZDA TROTTERS HANDICAP
EARLY SPEED:
1 (Potential leader) + 2
SELECTIONS:
BULLION LADY (8), DOWN UNDER EARL (5), MADENA SKY (7), ARGYLE MELODY (1).
RATINGS:
8/ 5/ 7/ 1/ 3/ 4/ 6/ 2
SUGGESTED BET:
Flexi Trifecta 8/5/1,7 for $20 gets 1000%.
For tips and speedmaps for all races visit Good Form at thetrots.com.au

This week's winners sired by Woodlands Stud stallions
Meetmeinsorrento by Bettor's Delight out of Pocket Mateo at Cambridge
Classie Brigade by Bettor's Delight out of Trigirl Brigade at Addington
My Carbon Copy by American Ideal out of Readallaboutit at Gloucester Park
Typhoon Tiff by Bettor's Delight out of Tiffany Twisted at Gloucester Park
Intheskyrocket by American Ideal out of Sienna at Gloucessster Park
Soho Bollinger by Bettor's Delight out of Soho Champagne at Terang
Lord Rosco by Bettor's Delight out of American Grace at Bunbury
Chief Joseph by American Ideal out of Splendid Bet at Bunbury
Lilac Flash by Bettor's Delight out of Lilac Splash at Albion Park
Tuakana by Bettor's Delight out of Whenua at Shepparton
Test The Boundaries by Pegasus Spur out of Day Of Reckoning at Methven
Midfrew Luisiabelle by American Ideal out of Lulabelle Midfrew