The Bendigo Jockey Club Open handicap is the longest running grass track harness race in Australian racing history.
For 80 years, from 1867 to 1947, trotters and pacers raced on the same program as thoroughbreds at meetings conducted by the Bendigo Jockey Club on the grass tracks at the Epsom Racecourse, Bendigo.
Harness horses raced for significant prize money, some ridden, others driven, with 201 editions of the Bendigo Jockey Club Open conducted.
The results were recorded in newspapers of the day and in a huge digital data base, The Trotting Annals of Bendigo and Environs by John Peck, available at the Goldfields Library in Bendigo. In addition, the results are listed on www.classicfamiles.net.
Click here to read Part 1 of the four-part series, Gold, which reported the first 20 years of the race, when the Bendigo Jockey Club Open became the richest harness race in Victoria, with the 1876 edition worth 64 sovereigns and a 20-guinea gold cup (in 2020 dollars this would equate to a total of over $21,000).
Part 2: Boom Times for Victoria's Economy, Population and Racing (1888 to 1908)
By 1870, through gold mining and the pastoral expansion, Victoria's economy was booming. The alluvial gold rushes of the 1850s and 1860s had been replaced by highly capitalised deep-lead mining operated by entrepreneurial companies, often with their share-holding in Britain.
In the Bendigo area, there was a mining revival in the 1870s, with a resulting stock market boom. This was the heyday of the Bendigo Stock Exchange in Pall Mall.
Special trains brought investors from Melbourne to buy mining company shares. In November 1871, the exchange had over 1300 listed companies, with a total capitalisation around £10,000,000. It is recorded that the Bendigo Stock Exchange had a bigger daily turnover than the New York Stock Exchange.
Huge fortunes were made on share holdings. George Lansell, Latham and Watson, the Lazarus brothers (their claim on the Saxby reef was reported to have produced £136,000 net profit), Mueller and the Hunter Brothers became millionaires by establishing and owning gold mining companies and speculating in mining shares.
The Hunter brothers: William, Joseph, John and Robert left potato-famine blighted Ireland and travelled to Australia to find their fortune. They did, in Bendigo.
In 1865 William and Joseph were successful in tendering for the right to puddle the Pall Mall reserve from Bull to Mundy streets.
This speculation proved to be very rewarding, but it was the Garden Gully mine in Ironbark (site now of the Bendigo hockey complex) that laid the foundation of the fortunes of the Hunter family.
Joseph Hunter was one of the originators of the Garden Gully company, and soon after coming to the colony William purchased shares at a small price. John and Robert followed their brothers and became major shareholders.
After some unsuccessful years, the mine was thoroughly prospected at depths of over 3000 ft. A new reef was found to be immensely rich, producing 444,336 ounces of gold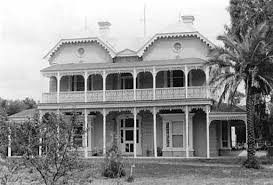 In 1883, William, in conjunction with his brother Robert, purchased the Burnewang Park Estate near Elmore (30,000 acres) for £95,000.
William Hunter was well known in racing circles and was amongst the oldest members of the Bendigo Jockey Club, taking a lively interest in the sport. It was, however, his brother Robert that took a fancy to trotting and established a lasting harness racing legacy.
Robert and his son Alex's legacies were established through the ownership of racehorses and sires including Honest Harry, Harry Rose, Willie Whips (USA), Siam, Admiral Wood, (NZ) and Globe Derby (bought as a 12yo in 1922). Top class producing mares owned by Robert and Alex Hunter included Miss Stockham, Honest Rose, Honest Kate and Victoria.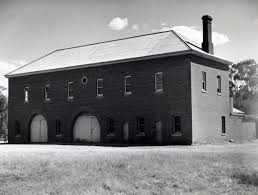 Robert Hunters and his son Alex had the Burnewang Park homestead and 60 horse stables west of Elmore
The gold mining towns of Ballarat, Bendigo boomed. Melbourne grew quickly and extravagant public buildings were built.
Sandhurst (re-named Bendigo in 1891) was declared a city in 1871 only 20 years on from the first gold-rush and had a population of more than 25,000.
An enormous school on Camp Hill was built and opened in 1877 for 1290 students. The Post office building with its Big Ben like tower and clock was opened in 1887, and a superb two-storey Bendigo Law Courts was erected next door in Pall Mall soon after.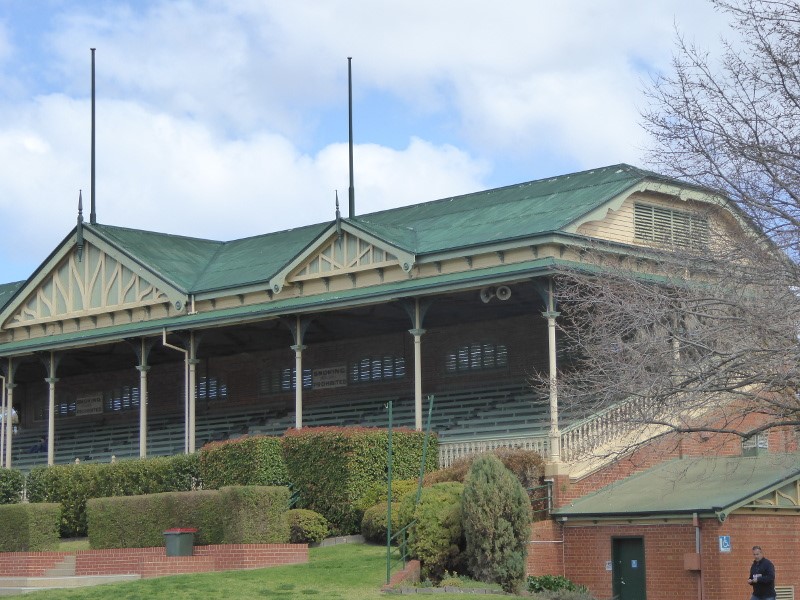 In "Marvellous Melbourne" between 1883 and 1889 there was an extraordinary boom in real estate prices and land speculation. Market gardens just beyond the edge of Melbourne's central grid were swallowed up for new housing developments.
At the Epsom Racecourse, the Bendigo Jockey Club erected a brand-new Grandstand.
Pictured: The historic grandstand at the Bendigo Jockey Club course in Epsom.
Harness racing in Central Victoria takes off
By 1888, harness racing was conducted on at least eight tracks, including the one mile Marong racecourse, Raywood, Strathfieldsaye, Goornong, Runnymede and Axedale (now the golf course).
Both the Bendigo Jockey Club and the Miners' Race Club raced at Epsom, and for some years the Sandhurst Trotting Club raced on the one-mile dirt trotting track built in 1883 in the centre of the Epsom racecourse.
By 1898 there was harness racing at Sebastian, Fosterville, Raywood, Knowsley, Kamarooka, Lockwood, Muskerry, Myers Creek, Goornong, Elmore and the BJC racecourse at Epsom.
There were six dates at the Myer's Flat racecourse and four at neighbouring Marong. Special trains for patrons and horses with their trainers and drivers ran to these venues as they were both adjacent to railway stations.
A brand new track in Junortoun opened
A big event was the opening of a new race-track for gallops, trots and pony racing, three miles from central Bendigo on the road to Heathcote (now McIvor Highway) at the South Atlas Hotel.
Initially named the South Atlas Racecourse, it was re-named Jubilee Park, to celebrate Queen Victoria's Diamond Jubilee. It was a seven-furlong track with a straight of over 100 yards and a grandstand. It was located just to the west of where Lord's Raceway was built in 1954, opposite the present-day stables of Val and Bruce Morgan.
There were a number of clubs that conducted harness racing at the Jubilee Park track including the short lived Golden City Racing Club.
SOUTH ATLAS RACECOURSE
The inaugural race meeting of the Golden City Racing Club at the South Atlas course, McIvor Rd 09-06-1897
TRADESMANS TROT – 7 sovs – Two miles
H Reeds grm FLORA T, 5secs in front (Reed) 1
AE Boldts bg5 Jumbo, 10secs in front (Boldt) 2
R Wearnes bma Tassy Girl, scr (Kenny) 3
Others: Topsy (10secs), Alice (10secs), Toby (10secs), Jerry (10secs), Young Robin (7secs in front), Rubicon (scr), Jim (5secs), Orcus (5secs), Johnny (10secs), Darkie (13secs), RD (20secs)
Time: 5m 38 1/2s
Time Tests at the Show
In addition, the annual Bendigo Agricultural Show staged every October catered for harness horses.
The show society included them in judging rings, scheduled Time Tests (one mile against the clock) and programmed non-betting harness races.
These were in such demand that in October 1898 the champion racehorse and sire Osterley came from the Truganina Stud at Werribee and was driven by his wealthy owner, John Robertson.
It's hard to imagine the horse and high wheel sulky racing around the tiny track at what is now the Tom Flood Sports Centre, with four laps for the mile.
BENDIGO SHOW (NON-BETTING) 12-10-1898
TROT (TIME TRIAL-BEST AVERAGE) – 11 guineas – Four times round (abt. one mile)
J Robertson's Osterley 2m35s
J Robertson's Granger Junior 2m 39 1/4s
In addition to all of these opportunities to race, the Bendigo Jockey continued to schedule an Open Handicap for harness horses on their programs twice a year.
The BJC Open was raced on the grass in June and November.
The Sandhurst and later Bendigo Cup (for thoroughbreds) was a fixture of the November meeting of the Bendigo Jockey Club, which was usually a two-day affair.
The club's mid-winter meeting in June accommodated another BJC Open allowing at least two harness races to be run on the grass track each year.
THE THIRD DECADE of The Bendigo Jockey Club Open
Year

Date

Stakes

Winner

Sire

Mile Rate

Owner

Rider/Driver

1888

June 6

Nov 29

50 sov

70 sov

Maude S

Maude S

Snowden t/bred

Snowden t/bred

NTT

NTT

D McLeod

D McLeod

D McLeod

D McLeod

1889

June 26

Nov 28

50 sov

60 sov

Wallaby

Sarsfield 11

untraced

General Sarsfield t/bred

T2:38.0

T2:52.8

E Humphries

C Carolan

Yates

McLeod

1890

June 25

Nov 27

60 sov

50 sov

Donald

Wallaby

untraced

untraced

T2:54.6

T2:38.0

C Wilks Jnr

E Humphries

T Allen snr

Yates

1891

July 1

Nov 26

20 sov

60 sov

Micky Free

Kilby

untraced

untraced

T2:55.2

T2:47.0

D Boyd

J Watson

Wall

T W Price

1892

June 29

Nov 24

35 sov

40 sov

Prince Edward

Larry

Berlin USA

Contractor USA

T2:40.0

T2:42.0

R P Crowe

J Heffermeyer

T W Price

T W Price

1893

June 28

Nov 24

40 sov

45 sov

Sarsfield 11

Master Crichton

General Sarsfield thor

Planet thor

T2.52.8

T2.42.0

P Byrne

T M Hambling

R Agel

W Hambling

1894

June 27

Nov 29

40 sov

45 sov

Katie M

Gwen

Vancleve USA

Hambletonian Bell Boy USA

2:20.0

T2:57.5

J Mallon

T M Hambling

Jones

T W Price

1895

June 5

40 sov

Ginger

untraced

T2:43.6

D Boyd

J Wall

1896

June 3

30 sov

Waterlily

untraced

T2:43.0

C Olson

T W Price

1897

June 2

Nov 24

25 sov

20 sov

Nora

Honor Bright

Untraced

Honesty (USA)

T2:45.5

2:32.0

Henry/Monaghan

H Ruedin

Kerr

Mathieson
Maud S won both 1888 editions
Among Maud S's wins were the two editions of the BJC Open conducted in 1888.
In 1889 she won the Maryborough and Carisbrook Racing Club Trot at the 12-furlong Tullaroop Racecourse that opened in 1855.
Despite being sired by a thoroughbred stallion, Maud S was the ancestress of Jacks Dalla by Dalla Derby that won a 1933 BJC Open, and Princess Doria, who counted among her wins the 1942 Gloucester Cup in WA.
Imported American stallions start to have an influence
Of the first 21 winners of the Bendigo Jockey Club Open in the period 1868 to 1887, only four: Sir William Don, Leithamstead, Stonewall Jackson and Derby had tabulated pedigrees.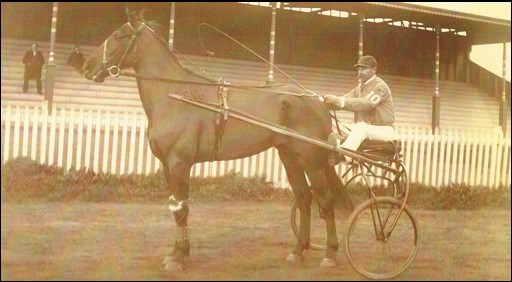 Three were by thoroughbreds and one by a Cleveland Bay, imported from England. The remaining 17 are listed as by an un-named sire from an unknown dam, and will probably remain as mysteries.
The booming economy in Victoria enabled wealthy owners to import stallions from the USA to improve their trotting stock.
For the first time, progeny of imported American stallions appeared as winners of the BJC Open. In the period 1888-1897 there were five imported stallions represented, with four being grandsons of the Immortal foundation sire Hambletonian which was foaled in 1849.
Pictured: Prince Edward with Tom Price driving, won in 1892.
The first winner sired by an imported stallion was in 1892
Prince Edward was a New Zealand bred son of the imported Berlin.
Berlin (USA) 1870, was by Woodeford Mambrino, and was imported into New Zealand from Kentucky via Scotland in 1882. Berlin sired 84 winners, seven of them in Australia.
Prince Edward was foaled in New Zealand in 1887 from the mare Princess, and bought to Victoria, together with his dam by the Price brothers, Newton, Dave and Tom. Princess raced at Elsternwick, but due to erratic performances, was disqualified for life.
The second was Larry sired by Contractor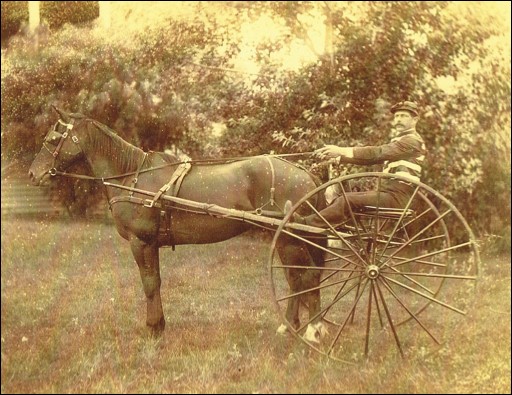 Contractor (USA) 1873 2:43, by Ajax, another son of Hambletonian. He was imported from Massachusetts by JJ Miller, Melbourne, founder of Miller's Guide.
Contractor was the sire of only eight winners. Larry won a BJC Open and also won at Moonee Valley. Another son Bayswater won six races at the Elsternwick track.
Pictured: Larry won a BJC Open in 1892 winner (Driver Newton Price NZ).
Katie M was the third winner sired by an imported stallion
She was by Vancleve (USA) 1881, TR TT 2:28 by Harold, another son of Hambletonian. Vancleve was imported from Kentucky by J Buckland of the Wonbobbie Stud in NSW and sired 101 winners.
Among Vancleve's winners was the famous trotter Fritz T2:13.0 TT. In 1896, at the Moonee Valley Racecourse, a three-heat series named the Inter Colonial Free-For-All was staged, bringing together the best four trotters and best pacer in Australasia.
This was described at the time as the finest exhibition of trotting ever seen in Australasia. Fritz won in straight heats slashing more than ten seconds from the Australasian Mile Record.
In 1894, Gwen gave local stallion Hambletonian Bell Boy the first of his four BJC Open winners
Hambletonian Bell Boy (USA) 1886, by Ulster Chief, a son of Hambletonian, was imported from California and sold to Bridgewater farmer and trotting enthusiast T. Hambling. It was the sire of 23 winners and four BJC Open winners.
Hambletonian Bell Boy can be found in thousands of standardbred pedigrees, as he is the sire of the remarkable New Zealand stallion Prince Imperial.
Prince Imperial, foaled in Bendigo before being taken back to New Zealand by the Price brothers, was a son of the previously mentioned Princess, making him a half-brother to BJC Open winner Prince Edward.
Prince Imperial mares, when bred from in New Zealand proved to be remarkable. The New Zealand Cup winners Haughty, Bronze Eagle, Mobile Globe, Gold Bar, Integrity and Lord Module all trace to Price Imperial mares.
In Australia, the champion New Derby was bred by Alex Hunter from New Zealand Greta, one of the family N126 founded by a Prince Imperial mare. Gold Bar 1:59.6TT, the first New Zealand two-minute pacer, was from the N8 family of imperial Polly, a Prince Imperial mare.
The Inter Dominion winners Blacks A Fake, Smooth Satin, Jodies Babe, Rondel, Delft and Scotch Notch all trace to Prince Imperial mares.
Princess, the dam of Prince Imperial and Prince Edward, was disqualified for life by stewards at the Elsternwick trotting track for inconsistent performances. Prior to being bred to Hambletonian Bell Boy, she was used by her owner/trainer/rider Dave Price for exhibitions.
BENDIGO (Pall Mall) 26-07-1890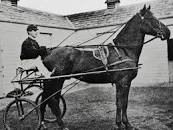 "An exhibition of trotting was given in the Mall on Saturday by the celebrated mare Princess, lately disqualified at Elstemwick. She was ridden by her owner, Dave Price, the crack New Zealand jockey, who gave an admiring crowd a sample of his skill, jumping off and on to the saddle while the mare was going at full speed. Princess is undoubtedly the fastest trotter in the Australian colonies. It is we believe intended to exhibit her at the Sandhurst Agricultural Show when Lord Hopetoun will be present
Pictured: Prince Imperial, with Dave Price in the sulky.
Honor Bright, a local Huntly mare, was the fifth winner to be sired by an imported stallion.
She was sired by Honesty (USA), 1877 TR2:30 by Priam, another son of Hambletonian. Honesty was imported from California, and stood at Scoresby, Richmond NSW and later at Oaklands Junction.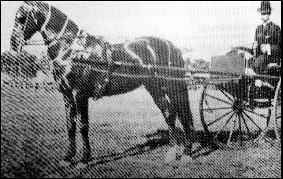 Honesty was a champion race-horse, with an imposing record. He won seven races at Elsternwick Park in Melbourne, set a NSW Trotters Mile Record (1885 - TT2:34.5), set an Australian Trotters Stallion Mile record (1883 - TT2:30¾) and also set a Victorian Trotters Mile record (1883 - TT2:30¾).
Honesty was the sire of 40 winners. Honesty mares bred good winners, including Honest Meg, the dam of the champion and Victorian Harness Racing Hall of Famer Happy Voyage 2:4.2. Top class pacers to trace back to Honesty mares are Sheffield Globe, Bold Alabar, Mark Radium, King Frost and Chief Guy.
Pictured: Honor Bright, winner in 1897.
The first sulky in Victoria with bike wheels and tyres was used at the 1892 Bendigo races
The Bendigo Advertiser of November 24, 1892 reported a "new-fangled sulky":
A NEW TROTTING SULKY, THE FIRST IN THE COLONY
J DONNELLAN, CITY COACHBUILDERS, HIGH STREET
A novelty in trotting sulkies has just been manufactured by Mr. J. Donnellan, coachbuilder, etc., of High street. It is described as a "pneumatic tyre sulky," built somewhat similarly to the one in which Nancy Hanks broke the world's record for a mile, in America recently by registering 2 min. 4 sec.
The sulky is very lightly built and a striking feature is that it is fitted with small wheels and pneumatic tyres. It is claimed that the new sulky has fully 100 yards advantage over the ordinary high wheel sulky in a mile. The latter class of sulky is now almost completely off the track in America.
The present sulky, whilst on the American principle, has been specially designed by Mr. Donnellan and is neater and lighter than the one of American pattern.
The new sulky has been purchased by Mr. H. F. Smith, and will be used in the trotting race at the Bendigo Races to-day (24th November 1892). It is the first sulky of the kind built in the colony.
Note: The sulky was used on Donald, driven by Tom Allen. Donald finished last of the 16 starters. The winner, Larry, won by 70 yards.
Two years earlier Tom Allen had driven Donald to win the June edition of the BJC Open. Tom Allen Snr, or Pop as he was known to his family, was originally from Glentloth, just north of Charlton. He later had stables in Charlton, and raced at the Ascot track in Melbourne. When the Royal Melbourne Showgrounds opened in 1947, his family moved their training base to Ascot Vale.
Tom Allen had high class horses. Among them were Turfmaster, Straight Away, Tear Away, Gay Venture and Main Derby. He headed a family of trainers and drivers, including sons Clarrie (Victorian Harness Racing Hall of Fame) and Tom Jnr, grandsons Valden, Lewis and Kevin Allen, who all trained and drove successfully.
Katie M 1894 and her grand-daughter Honest Kate 1916
After making a fortune with his three brothers as a share-holder in the highly productive Garden Gully mine, Robert Hunter bought over 36,000 acres of faming land west of Elmore.
Named Burnewang Park, it had a magnificent two-storey homestead and huge brick stables that could accommodate over 60 horses. With his son Alex (A G) Hunter) they looked out for bloodstock from stud farms that were closing down.
One source of horses was John Robertson's "Truganina Stud" on Derrimut Road in the area west of where Tabcorp Park Melton is situated. The area in 2020 is the site of a massive housing development, the new suburb of Tarneit.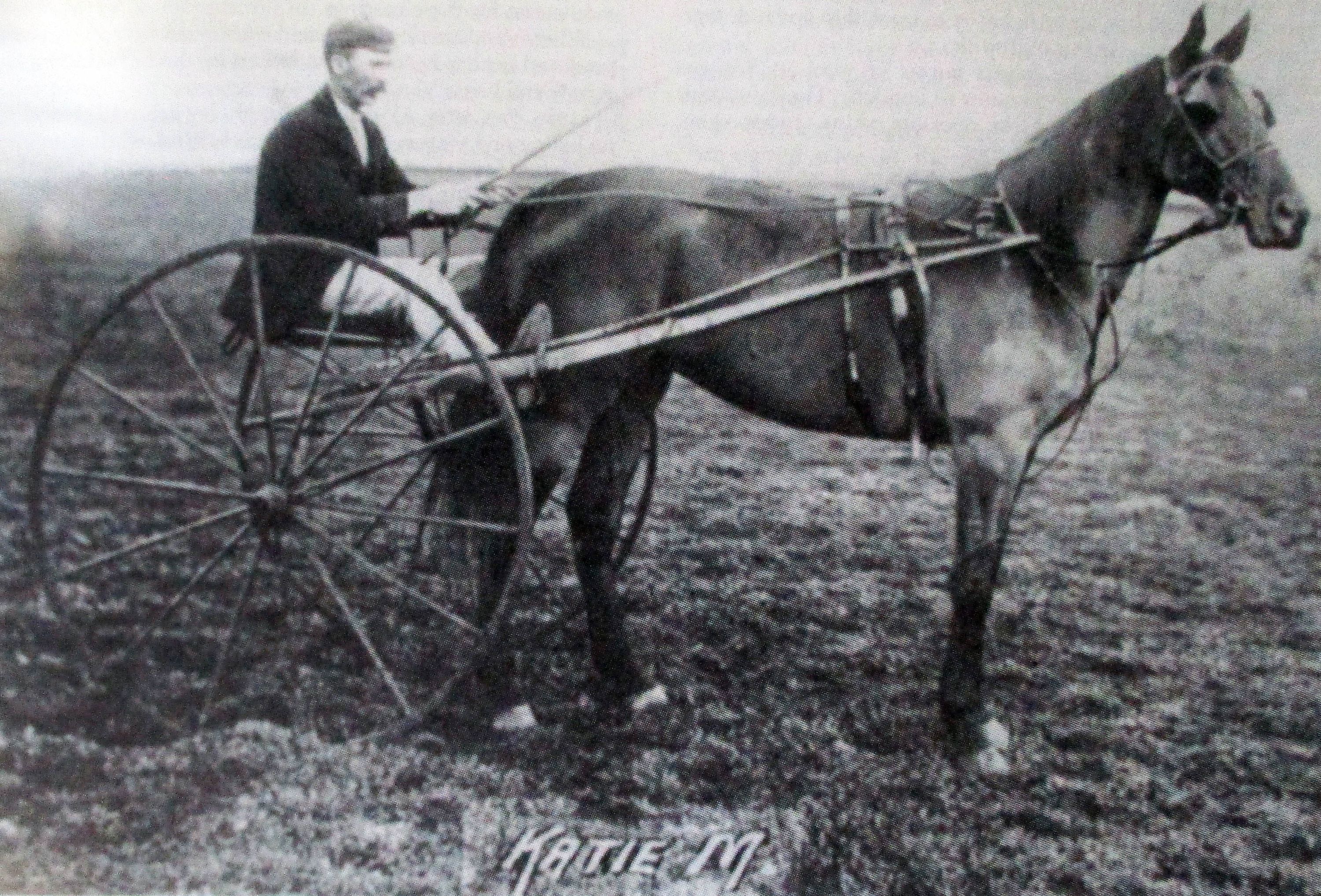 Picture: Katie M, 2:20, the first of the Bendigo Jockey Club Open winners to break 2:30 mile rate.
Hunter obtained from Robertson the good race-mare Katie O (Osterley - Katie M), who had won seven metropolitan races (four at Richmond, three at Ascot) as well as the 1895 Hastings Cup in NZ. She was in foal to Owyhee USA and before foaling Hunter changed her name to Katie Osterley.
Katie Osterley, when bred from, produced at least seven winners, including Honest Kate 2:15.0, winner of a 1916 BJC Open as well as races at Victoria Park and Epping in Sydney and Richmond in Melbourne.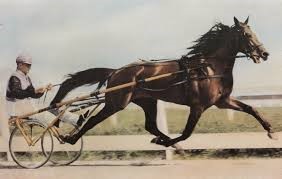 For Alex (A G) Hunter, she produced Robert Derby 2:18.7, winner of the 1928 Victoria Derby and sire of 308 winners, headed by the first two-minute pacer in Australasia, Lawn Derby 1:59.4 TT.
Pictture: Lawn Derby 1:59.4 TT, by Robert Derby from Honest Kate, grand-daughter of Katie M.
TABLE: THE FOURTH DECADE of the Bendigo Jockey Club Open
Year

Date

Stakes

Winner

Sire

Mile Rate

Owner

Rider/Driver

1898

June 1

Nov 30

25 sov

25 sov

Bell Boy

Doris

Hambletonian Bell Boy (USA)

Crown Prince

T2:24.0

T2:39.1

J Pierce

D McLeod

W Kerr

D McLeod

1899

June 6

Nov 29

25 sov

25 sov

Derby

Bell Boy

Planet t/bred

Hambletonian Bell Boy (USA)

T2:46.4

T2:24.0

J E Ryan

F Goyne

Metcalf

H Ruedin

1900

Nov 28

25 sov

Darkie

Untraced

T2:40.2

D McLeod

D McLeod

1901- 02

Not run

1903

May 25

35 sov

Ironbark

Untraced

2:43.3

R Smith

R Smith

1904

May 26

30 sov

Hollis H (NZ)

Electioneer (USA)

2:34.2

W Campbell

W Campbell

1905

May 25

Nov 30

£ 28

£ 58

Little Ned

Young Playboy

Hambletonian Bell Boy (USA)

Young Playboy

2:26.5

2:28.8

G Harrison

W Edwick

R Gregg

J Wilson

1906

Aug 22

£ 26

Sir Robert

Honest Harry

T2.50.0

Mrs J Kerr

J Kerr

1907-08

Not run
Some possible reasons why the BJC Open Handicaps were not run
1901 and '02
The Bendigo Jockey Club did not program an Open Handicap for harness horses in 1901 or 1902.
It is speculation as to the reason the race was not programmed, but as the new grandstand was built during this time, cost cutting measures may well have been in place.
1907 and '08
Between 1906 and 1907, the secretary of the BJC passed away and treasurer Woodward was first installed, and then replaced by Rupert Putnam.
Long serving President Sam Lazarus had also been unwell in 1907.
The Gaming & Lotteries Act charged the club money to host race meetings for the first time in 1907, meaning they had to find extra funds.
There had been quite an amount spent - for the first time in a little while - on infrastructure. Scraping sheds, entrance gates, ticket boxes et cetera. In 1906, the full year's profit was only £200 after several cancelled meetings and drops in income from bookmaker fees, grandstand and birdcage ticket sales.
In 1909, local identity Herb Reed wrote a letter to the Bendigo Advertiser about harness racing, in particular at Bendigo, and suggested several external factors that may have impacted on numbers in the lead up to the decision to omit the Open in 1908. He castigated the club for placing the Open for trotters as the last race on programs. He strongly argued that having to trot, with a sulky on a track where several thoroughbred races had been run, was likely to upset the gait of the trotters and pacers.
Click here for Herb Reed's letter of protest
Locally-bred stallions continued to sire winners of the Open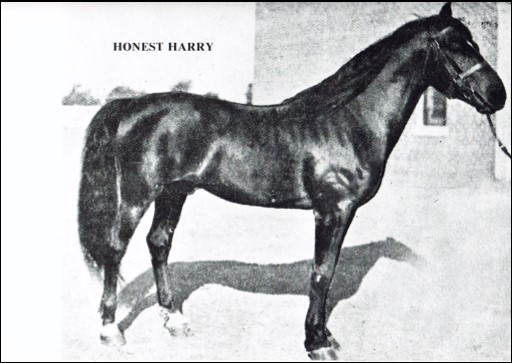 1906 Sir Robert, by Honest Harry 1885, by Honesty (USA) from Miss Stockham.
In 1884 Robert Hunter bred Miss Stockham to the fastest horse in the colony, imported American stallion Honesty. The resultant progeny, Honest Harry, became the foundation trotting sire of "Burnewang Park". After she foaled Honest Harry, Hunter sold Miss Stockham to the Pratt Brothers, who in a brief racing career won just once with her at a Woodend sports meeting.
Pictured: Honest Harry (Honesty from Miss Stockham).
Planet sired two winners
Master Chriton 1893 and Derby 1899 were both winners by the thoroughbred horse Planet, described as a Roadster when at stud.
Planet was by Panic, foaled in 1858 in Great Britain. Panic ran second in the 1865 Melbourne Cup.
Planet also sired Jessie who is the dam of Emulator. Emulator won 19 races in Melbourne (15 - Richmond; 3 - Ascot; 1 - Fitzroy). He set and broke three times the Australian Trotters Stallion Mile Record (1902 - TT2:20.8; 1902 - 2:19.0; 1902 - 2:18.8; 1902 - 2:17.2).
Bell Boy, by Hambletonian Bell Boy
Hambletonian Bell Boy stood at Bridgewater on the property of Bendigo Agricultural Show Society President T H Hambling. Hambletonian Bell Boy sired 22 winners, including famously, the New Zealand sire Prince Imperial.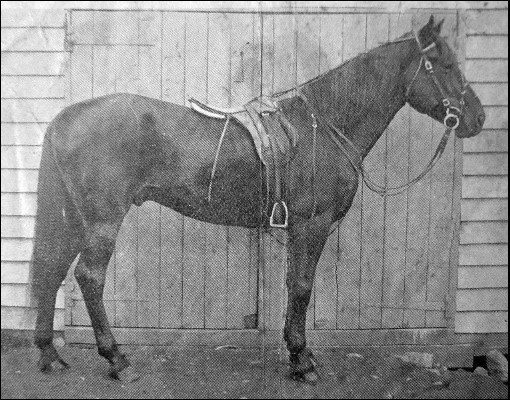 His son Bell Boy was originally owned in 1898 by J. Pierce, but when it won a second BJC Open a year later, was owned by prominent Bendigo inventor and manufacturer Frank Goyne. Goyne was the inventor and manufacturer of unique mesh gratings for mining batteries. Goyne's mesh gratings were sold to mining companies around the world.
Bell Boy was sold to New Zealand where he stood successfully at stud. Siring 17 winners.
Picture: The trotter Bell Boy, twice winner of the Bendigo Jockey Club Open.
Next: Part 3 - 1909 to 1929
World War 1
The BJC Open is raced up to eight times a year
Prize money up to £100 despite the Great Depression
Belmont Stud owned horses dominate
Paddy Glasheen wins nine
Hall of Famers Globe Derby and Grand Voyage win
AG Hunter wins twice
Future leading drivers win: Bill Tomkinson, Harry Toomer, JJ Kennerly, Hubert Shinn, Bill McKay and Charlie Robertson
Lightnin wins as a 3yo. then races in New Zealand where she becomes the ancestress of champions Emulous and Lordship
Racing and the Great Depression