For just on 80 years, trotters and pacers raced on the same program as thoroughbreds at meetings conducted by Bendigo Jockey Club on the grass tracks at Epsom Racecourse, Bendigo.
Often on the same card as the Bendigo Cup, in the 80 years between 1867 and 1947 harness horses raced for significant prize money, some ridden, others driven, with the results of 201 editions of the Bendigo Jockey Club Open being found in newspapers of the day.
This is a four-part series, looking at the formative era of Victorian trotting through the lens of the Bendigo Jockey Club Open.
The results are recorded in www.classicfamilies.net and The Trotting Annals of Bendigo and Environs by John Peck, at the Goldfields Library in Bendigo.
For a period in the 1870s, the Bendigo Jockey Club Open vied with races at Ballarat and Geelong as the state's richest harness race.
In 1873-74 the BJC Open was the third richest race after Geelong and Ballarat. However, in seasons 1874-75, '75-76, '76-77, '77-78 and '78-79 it became the richest harness race in Victoria.
The prize of 51 sovereigns in season 1874/75 would be worth about $12,000 in 2020 dollars, while the June edition of the 1877 race had a prize of 64 sovereigns and a gold cup valued at 20 guineas.
The results reveal many of the pioneers of Australasian trotting.
Among winning drivers/riders who were already well known, or went on to later fame were Englishman Ed Giles, American George Starr, New Zealander Tom Price, A. G. Hunter, Bill Tomkinson, Harry Toomer, Paddy Glasheen, Inter Dominion winner J. J. (Jack) Kennerley and his son Edgar Kennerley, Carl Rokjer, Tom Allan Snr, Hubert Shinn, Charlie Robertson, the Gath brothers George, Norman and Albert, Tom Taylor, Jack and Bill McKay, Des Mann, Bill Rothacker and Bill McKenzie.
The pioneering female trainer/drivers Pearl Kelly and Alice Laidlaw both drove but were unplaced.
Horses that won were or became household names. Well known in their time were Sir William Don, Wanderer, Leithamstead, Katie M, Brooklyn, Harry Alto, A La Mode, Lightnin, Globe Derby, Grand Voyage, Main Voyage, Dorals Derby, Our Walla, Picador and Takanui.
The mares Katie M and Lightnin went on to establish significant families in Australia and New Zealand, while Globe Derby, Harry Alto, Main Voyage, Dorals Derby and Our Walla made their impact on the breed as stallions.
This is a four-part series, looking at the formative era of Victorian trotting through the lens of the Bendigo Jockey Club Open.
PART ONE: GOLD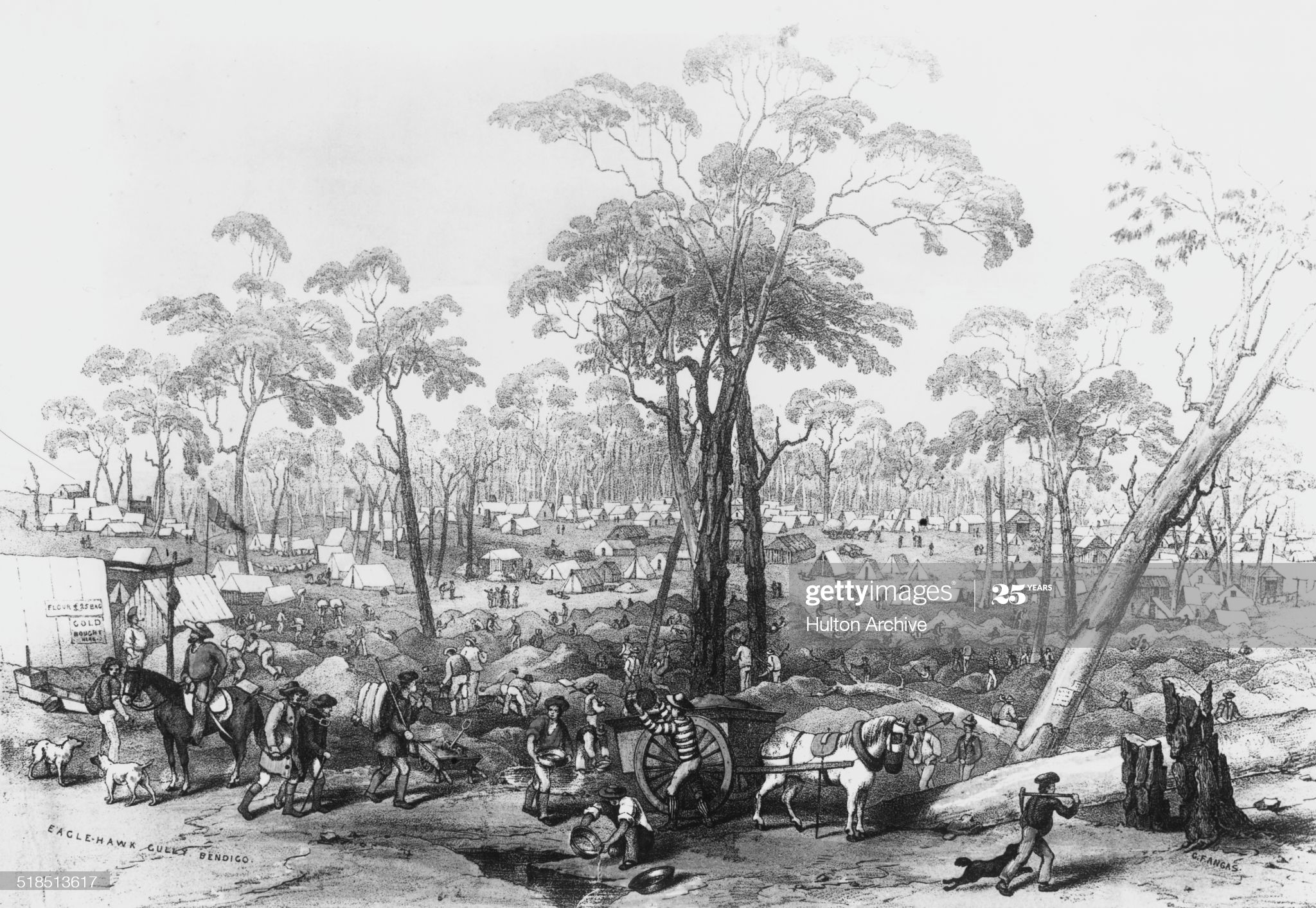 Fortune seekers from all over the world rushed to rural Victorian goldfields following the discovery in 1850 of gold at Clunes, followed quickly by discoveries at Ballarat and Bendigo.
Picture: Bendigo goldfields in 1851
What was pastoral land or native forest was quickly decimated as the fortune seekers dug and washed their way to the alluvial gold looking for their fortune.
In a free-wheeling atmosphere of gambling generated by the miners and their followers, horse racing in the form of matches of two horses on the available roads quickly found a following.
On the Bendigo goldfield, the first recorded match between two horses was in 1855, with a winner take all of 20 pounds. The two horses trotted from Kangaroo Flat into Sandhurst along what was the main road in and out of the diggings.
Other popular locations for matches were the roads from Epsom to Sandhurst, Sandhurst to the McIvor diggings (now Heathcote) and one noted endurance match from Sandhurst to Inglewood, a distance of 30 miles (about 50km).
Horses were readily available, as they were used for transport to the diggings, and it was only a matter of time before pioneering coach transport company Cobb & Co linked the ports of Melbourne and Geelong into a rapidly expanding transport network. The coaching businesses required hundreds of horses to pull the coaches, importing them from England and California, and using some of them to breed from.
Cobb and Co. used Sandhurst (the Bendigo goldfields) as their base until 1862 when James Rutherford led the company interstate taking coaches, horses and staff overland to Bathurst, where he was destined to strike standardbred gold by breeding the immortal Globe Derby.
THE FIRST RACES
It is generally accepted that the first organised race meeting in the district for gallopers, staged as a fundraiser for the newly established Bendigo Hospital, was held as a three-day carnival in April 1854. There was even a ball held after the race meeting at Merry's Theatre Royale.
The venue for the racing was the open un-mined ground 'below the Seventh White Hill', near enough to the modern-day Epsom course, close to where settlement was developing. There is evidence that there was an earlier race meeting at Myers Flat and, before that, somewhere at Kangaroo Flat, before the organisers quickly determined that gold mining was going to be an issue and shifted.
The Bendigo Advertiser, founded in 1853, reported the following on the April 17 1854 race meeting:
THE RACES - Tomorrow the Bendigo races, the first ever held in this district, come off on the course below the Seventh White Hill.
The program consists of:
Tuesday, the 18th April
Maiden Plate of 80 sovereigns,
The Camp Gold Cup, value 150 sovs, with 50 sovs added..
The Ladies Purse of 50 sovs.
Wednesday, the 19th April
The Town Plate of 100 guineas.
The Tradesman's Purse of 80 sovs.
The Publican's Purse of 100 sovs.
The Pony Race. 30 sovs. 3 guineas entrance.
Thursday, the 20th April
Forced Handicap of 10 sovs each
Losers on the past two days
Consolation Stakes of 2 guineas each, with 50 sovs added
Hurdle Race of 100 sovs. 5 guineas entrance. 3 miles with 9 leaps, 4 ft. high. Weight 12st.
The crowds were amazing with 3000 to 3500 on the damp opening day, 5000 to 6000 on the second day and 4000 on the third day.
The following year, 1855, a new race club emerged in the Myer's Flat area. The club promoted a two-day meeting on Thursday, November 15 and Friday, November 16.
The track was adjacent to where the Allies Hotel is now located, with The Trotting Annals of Bendigo and Environs recording the result of the trot and the trotting match of twelve furlongs, which was won by Mr Tennant's Bobby.
TROT MATCH – One & half miles
Tenant's BOBBY defeated Mr Browns "horse"
There was also a trotting race:
TROT – 20 pounds –
Dickson's TOMBOY 1
Tenant's Bobby 2
D Cahills Johnny 3
Other: Deebane's Polly
The horse racing bug had well and truly bitten the new settlement. In the result of a match on the Epsom Road, the conditions if trotter broke stride are listed.
BENDIGO (Epsom Road) 18-09-1856
DOCTOR VETTS WINS TROTTING MATCH
On Thursday, the trotting match between Mr William's "Bully'' and Dr. Vett's "Beauty'' came off on the lower Epsom Road. After the preliminaries were arranged, the horses started, and ran home; distance, two miles.
After proceeding about a quarter of a mile, both horses "broke", which caused them to be turned around. After this Bully broke several times, and from the frequent turning around was a long way behind. At about half way home, Bully's rider gave up the race; which, of course, gave Dr. Vetts the win.
A match listed in the Australian Harness Racing Council files occurred on September 15, 1858, when an extravagant challenge produced a match race over four miles on the McIvor racecourse (Heathcote) for the glittering prize of 650 pounds (2020 equivalent of $110,869).
The clash was between Kettle's aged grey gelding Rambler, ridden by the owner at 11 stone, and Roberts' aged gelding Old Joe, ridden by a friend named Wilson at 11 stone 4 pounds. Rambler won the match by two lengths in a time of 16 minutes 31 seconds.
RACING BOOMED
In addition to match racing on the roads, trotting started at thoroughbred race meetings held at the new Bendigo Jockey Club course.
BENDIGO JC (Epsom) 29-11-1859: Unofficial Trotting matches took place after the last galloping race.
And then six months later:
BENDIGO JOCKEY CLUB (Epsom) 10-05-1860
TROT (heats) – 20 sovs – Three times round
First heat: Schellenbergers brg BROWN STOUT (Kettle) 1, Waites bm The Maid (G Smith) 2, W Fishers bg Joey (Tom Bolton) 3.
Second heat: Waites bm THE MAID (G Smith) 1, Schellenbergers brg Brown Stout (Kettle) 2, Fishers bg Joey (Tom Bolton) 3.
Third heat: Waites bm THE MAID (G Smith) 1, Schellenbergers brg Brown Scout (Kettle) 2, Fishers bg Joey (Tom Bolton) 3.
Further trotting races were programmed on the Bendigo Jockey Club programs in 1861, 1862, 1865 and 1866.
Then, in 1867, only 16 years after the discovery of gold transformed Bendigo (then known as Sandhurst) from a pastoral run into a booming town, trotting races became a fixture on Bendigo Jockey Club programs for the next 80 years.
THE FIRST JOCKEY CLUB OPEN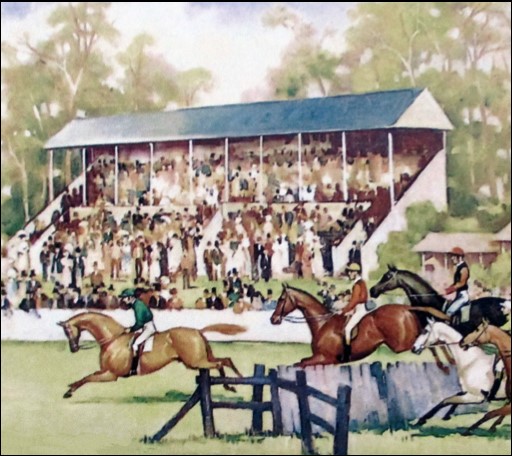 In March 1867, the first of the Bendigo Jockey Club Open handicaps was run on the grass track at the Epsom racecourse.
There are 201 events recorded over 80 years, making the BJC Open the longest running grass track event in Australia's' trotting history.
Picture: The original grandstand at the Bendigo Jockey Club's Epsom Course, by State Artist Harold Freedman
WORLD CLASS PERFORMANCE BY AUSTRALIA'S FIRST PACER
The first of the Bendigo Jockey Club Opens saw world class performances by a pioneering pacer under racecourse conditions.
Sir William Don, named for an English entertainer who toured the goldfields, wrote his way into Australian standardbred history with a series of performances that placed him high on the world harness racing honour roll.
Sir William Don was bred in 1856 by Deniliquin (NSW) publican William McKenzie. The horse was intensely in-bred, being sired by the imported English thoroughbred Mozart from a daughter of the same sire.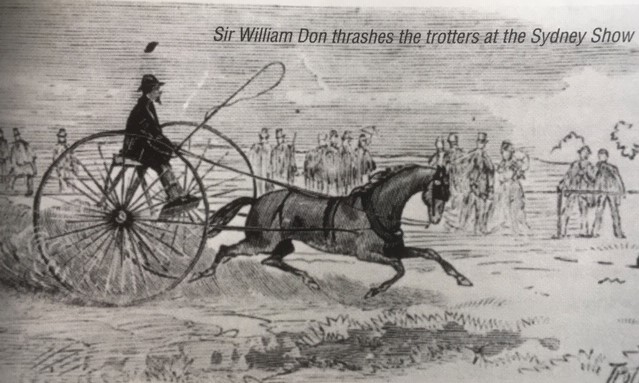 Sir William Don attracted widespread interest as the first pacer to race in Australia. Press reports of the day mocked his unusual style in noting that he was "very quick on his shuffling legs as he wobbled around the course".
Pictured: Australia's First Pacer Sir William Don in Sydney.
Sir William Don was owned, trained and either ridden or driven by wealthy Ballarat butcher turned investor, outstanding horseman Robert Orr. Orr accumulated sufficient wealth to become the owner of the famous Craig's Hotel in Ballarat.
Sir William Don answered his critics in the most positive manner by becoming the fastest harness horse in the country. In 1867, the aged bay gelding reached the pinnacle of his career with a hat-trick of wins at Bendigo. The second success ensured his place in history as Australia's foundation harness racing pacesetter.
The newspapers recounted that when the starters flag fell on the historic contest at the Bendigo racecourse, Sir William Don was conceding starts of up to 600 yards to the front-markers.
He raced through the first mile of the three-mile journey in 2:25, then the second in 2:37. It was all too much for the timekeepers as they excitedly shouted out the news and forgot to clock the final mile.
The fact that he won was less important than the time he recorded over the first mile, which was just six-and-a-half seconds outside the world mark, ranking Sir William Don number 13 on the international register. This still remains the highest ranking achieved by any Australian pacer, including modern-day speedsters Mount Eden and Popular Alm.
BENDIGO JC (Epsom) 24-05-1867
TROT – 50 sovs – Three miles R Orrs SIR WILLIAM DON, scr (Orr) 1 (sulky).
Others: T Kerr's Tom Kearney, 600yds start (Johnathan Brown), T Vowle's Prince, 400yds (owner), W Williams Jemmy, 110yds (driven by Giles).
Time: First mile – 2m 25s (Australasian record); Second mile 2m 37s; (Australasian record); Third mile – not timed .
THE FIRST 10 YEARS
Year

Date

Stakes

Winner

Owner

Mile Rate

Rider/Driver

1867

June 24

60 Sov

Sir William Don

Robert Orr

2:53.0

Robert Orr

1868-69

Not raced

1870

May 24

40 Sov

Rory

Mr Watson

No Time Taken

Ed Giles

1871-73

Not raced

1874

May 13

25 Sov

Tom Sayers

Ed Giles

NTT

Ed Giles

1875

Dec 12

52 Sov

Teviot

G Weddell

T2:45¼

Hoffmeyer

1876

Nov 13

40 Sov

40 Sov

40 Sov

Hindoo

Alice May

Teviot

D Wilson

W Woods

G Weddell

NTT

T2:55.0

T2:45¼

D Coulter

Granata

G Weddell

1877

27 June

29 Nov

64 Sov

50 Sov

Wanderer

Talk

P.G. Dixon

J Todd

T2:40.0

NTT

Ed Giles

J Todd
The grass tracks at the Bendigo Jockey Club course in Epsom were originally laid out "the Sydney way". Races were conducted left-handed and the original grandstand was positioned adjacent to the finishing post. Horse-drawn vehicles entered the racecourse from the north, which explains the location of the now delicenced Turf Tavern Hotel, still in existence adjacent to the railway crossing.
Soon after the Bendigo-Echuca railway line was constricted, a siding for the racecourse was made, allowing race-goers and horses to alight and walk to the Epsom course.
THE FIRST DECADE
The first 10 years from 1867, when the Jockey Club Open was run on nine occasions, saw the emergence of driver Edmund Giles, who eventually won five editions.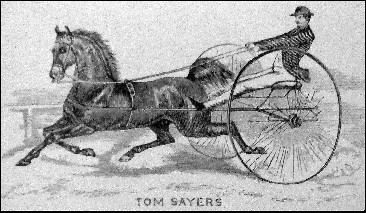 Giles, an Englishman born in 1837, came to Victoria in 1860 and settled as a farmer in Colac. In the mid-1860s he moved to Geelong and as far as can be seen his "driving debut" was at Bendigo in 1867.
Picture: Edmund Giles, driving Tom Sayers.

He first drove for wealthy Melbourne aerated water manufacturer P.G. Dixon in 1870 and actually won the Melbourne Drivers Premiership in 1876-77 (with two wins).
In the 1880s Giles moved to Elsternwick where he tried his hand at training and owning trotters. His first starter was Amateur at Elsternwick Park on 3/17/1883. He was declared insolvent in 1888, but somehow kept going.
The last race that Edmund Giles won was at Winchelsea on Boxing Day in 1891 on the mare Estimate, a daughter of world champion Specification, who is the ancestress of several classic/feature race winners including the Tasmanian pacers Marine Bay (1988, 2:01.8, $22,531), Red Akabar (1977, 2:05.0, $29,579) and Shy General (1981, 2:01.7, $67,676).
The last time that Giles drove was at Geelong on 4th February 1893 and it seems certain that he then returned to the "big smoke" to live in Elsternwick/St Kilda. Amazingly he leased the famous Elsternwick Park course for training for some time after it had closed down in 1881.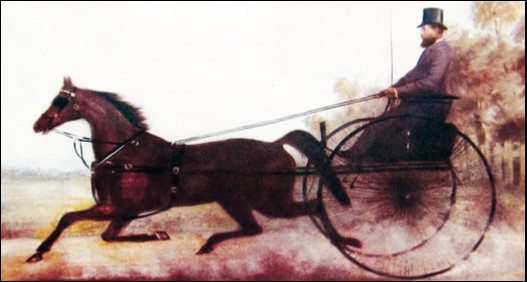 WANDERER
Wanderer, the winner in 1877 and five years later in 1882, was owned by aerated water magnate P.G. Dixon, who made his fortune bottling "Macedon Water" in a sprawling factory in West Melbourne. Wanderer won nine races in Melbourne (7 - Kensington; 2 - Croxton Park). One of those races was won off the longest handicap (900yds) ever recorded in Australia.
Picture: Wanderer, twice winner of the BJC Open (1877 and 1882).
DUAL WINNER TEVIOT
Another slice of history was carved out at Bendigo on December 2, 1875, when J Weddell's grey gelding Teviot won the mile-and-a-half handicap from the front mark of 1000 yards. J Healey's brown gelding John Brown (300 yds) finished second and Bendigo brewer Mr A. Thunder's black gelding Jack Spratt (450 yds) was third. In fourth place was P.G. Dixon's Tom Sayers from the scratch mark, who finished ahead of the remaining three starters.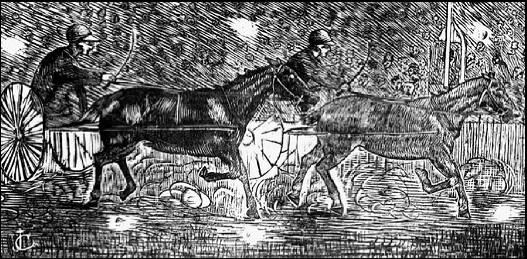 In those days handicaps represented the start a horse received in front of scratch. Teviot was probably the best part of a lap ahead of Tom Sayers when the starter let them go. In fact, the Australian Harness Racing Council thinks it is the greatest start conceded in a normal harness race on Australian soil. Perhaps this was the reason behind a change to the system six months later, when trotting handicaps switched to times, which seemed less intimidating than lengthy yardage.
In demonstrating that it really made no difference, Teviot won again from the 55-second mark, beating W. Wood's 6YO bay mare Alice May (40 secs) and seven others with consummate ease.
On November 29, 1876, Alice May struck back by winning another series of 12 furlong heats from H. McLennan's aged brown gelding Tom (10 secs) with scratch-marker Teviot third.
Picture: Alice May v Teviot
UNNAMED SIRES FROM UNNAMED DAMS
Of the first 21 winners of the Bendigo Jockey Club Open, research listed on www.classicfamilies.net has shown that only four have tabulated pedigrees. The remaining 17 are listed as by an unnamed sire from an unknown dam, and will probably remain as mysteries.
The four with listed pedigrees are:
Sir William Don, by a throughbred sire Mozart, from a Mozart mare (his daughter)
Leithamstead by Alarm, a throughbred from Lucy (Scobies) said to be by a thoroughbred from a pure-bred Arab mare
Stonewall Jackson, by an English Cleveland Bay named Omar Pasha from a thoroughbred mare
Derby, by Young Stockham, a stallion by a throughbred from a thoroughbred mare
Alice May, the second of the 1876 winners bred on with eight generations leading to Jenny (2:05.4TT), winner of the 1960 V L Dullard Cup. Among other classic wins by Jenny were the 1958 and 1959 NSW Spring Trotters Cups, Shepparton Trotters Cup, Healsville's Arthur Hewitson Cup, the Geelong Silver Shoes and Melbourne Showgrounds Free-For-All.
HOW FAST WERE THE WINNERS?
Of the recorded times of the first winners, none would qualify as standardbreds. The breed was still in its developmental stage until the Standardbred Breed Registry was formulated in the United States in 1879 by the National Association of Trotting Horse Breeders. The name standardbred was chosen, after much debate, due to the "standard" required of breeding stock to be able to trot or pace a mile in less than two minutes and 30 seconds, or for mares to produce offspring that met the 2:30 mile standard.
THE SECOND DECADE
Year

Date

Stakes

Winner

Owner

Mile Rate

Rider/Driver

1878

27 July

66 Sov

Cyclone

J Gray

T2:41.0

Ed Giles

1879

11 June

27 Nov

40 Sov

40 Sov

25G Cup

Prairie Boy

Taffy

Austin Mack

W K Power

T2:45.3

NTT

Albert Mack

King

1880

Not raced

1881

23 Nov

50 Sov

Tom

W G Howles

NTT

Howles

1882

June 27

Nov 16

40 Sov

50 Sov

Wanderer

Leithamstead

P G Dixon

D Collins

T2:40.0

T2:31.0

Ed Giles

Brady

1883

June 20

40 Sov

Hector

J Robinson

T3:10.3

W George Starr

1884

June 18

Nov 26

40 Sov

50 Sov

Countess

Spark

Hay Bros

J Cummins

NTT

NTT

Lamb

Mulholland

1885

June 24

Nov 26

40 Sov

50 Sov

Derby

Jimmy

R Williamson

J J Samers

T2:46.4

T3:06.O

Quinn

Pierce

1886

June 16

50 Sov

Blossom

J E Harvey

T3:03.4

J E Harvey

1887

July 6

Nov 24

50 Sov

70 Sov

Lachlan

Gentle Annie

T Pitman

S Ramsbury

T3:00.8

T3:09.5

Wilson

Godfrey

CYCLONE
In 1878, Cyclone a roan gelding of unknown breeding, later to win eight races on Sydney's Driving Park, proved his superiority, beating a field of eight in the hands of Ed Giles. Cyclone won by by 200 yards from the second placed Bessie.
BENDIGO JC (Epsom) 10-07-1878
TROT – 66 sovs – Three miles
James Grays rng6 CYCLONE, 75secs (Giles) 1 Henry Goldspinks bma Bessie, 35secs (Rowe), 2 Thomas Adams brga Dexter, 45secs (owner) 3
Others: H McLennans brga Tom, 60secs, Robbins bg6 Daniel Boon, 75secs (owner), Hoysteds bm6 Lady Boon, 75secs (Connell), Frasers bga Captain Cook, 75secs (Mason), James Grays bma Dreadnought, 80secs (Mortar), McKinnons brga Sailor, 85secs (Chifney), James Cattlins brga Dexter, 90secs (G Bond), J McNamaras rnma Limerick Lass, 90secs (Nesbitt). Margins: Won by 200yds X one yd.
PRAIRIE BOY
Prairie Boy, winner of the June edition of the 1879 BJC Open, won five races in Melbourne; three at Richmond; one at Croxton Park (Fitzroy) and one at Ascot.
LEITHAMSTEAD
In 1882, Leithamstead was the winner of the November edition of the BJC Open. The gelding won 10 races in Melbourne (eight at Elsternwick; one at Richmond; one at Mentone).
Leithamstead was by the sire Alarm, recorded as a roadster, from a thoroughbred mare. Alarm sired a number of trotting winners, including the mare Queen Ella (Classic Families A 58) from who descended a number of winners, including Graeme Lang's quartet of trotters Make Mine Lilys (2:07.8, $9210) and her three daughters Make Mine Classy (1994, by Speedy Scotch, 2:05.3, $29,455), Make Mine Glory (1987, by Red Coach Glory, 2:04.2, $110,825) and Make Mine Megabucks (1997, by Red Coach Glory, 2:02.6, $57,586). Make Mine Lilys grand-daughter Sosoclassy (2:00.7) won $111,96, including the 1996 Victorian Trotting Oaks.
A TROTTING CLUB IS FORMED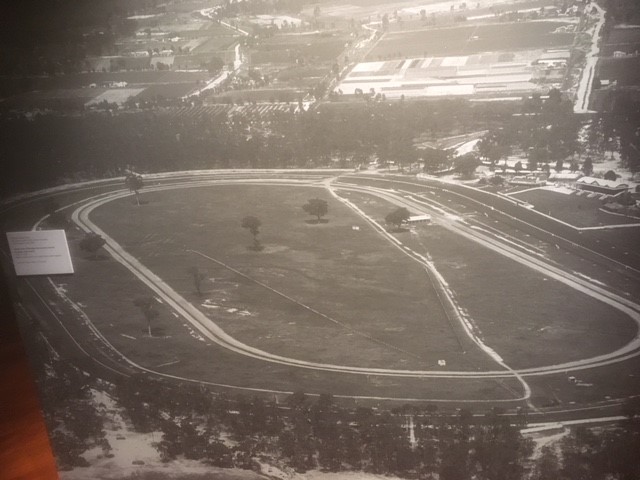 In November 1882 the Sandhurst Trotting Club was formed and the first all-trotting track in Australia outside the metropolitan area was installed at the Bendigo Jockey Club course
Picture: The mile trotting track at Epsom Racecourse, laid out in 1883. Aerial photograph in the 1930s by Charles Pratt. The Bendigo Trotting Club raced on the mile dirt track from 1923–1936.
The Bendigo Advertiser reported:
Epsom trotting track
Yesterday afternoon a number of members of the Sandhurst Trotting Club and Bendigo Jockey Club visited the Epsom Racecourse to inspect a new trotting track. The work of laying out the track was left in the hands of Mr. William J. "George" Starr, a recent arrival from America, and who has for the past few months been in Sandhurst. A look at the track yesterday fully convinced the members of the Club that they fortunate in securing Mr. Starr's services and experience.
The track has been formed using two machines of American construction. The first, "a leveler" is somewhat curiously constructed. It is made of four pieces of quartering, with three inches by one inch hardwood stays. It is 15 feet long, and 12 feet wide at one end, and 6 feet wide at the other. A chain is attached, and can be reversed instead of turning the "leveller". Two horses are used in dragging the "leveler" along the track. It takes off every small mound, and fills up any ruts. A Yankee harrow was also used. It is a triangle 10 feet long and six feet wide. The teeth are very "chubby" and are fixed four inches apart.
The track has been between the Steeplechase and Jockey Club's training tracks. It is 56 feet wide, and a mile in length, and is formed on the American principle. There is a quarter of a mile straight in front of the grand stand, and a quarter mile back stretch. At each end are ovals of a quarter of a mile, and the turnings have been so formed as to be easy for horses.
Two months later in January 1883, the newly formed club conducted its first meeting.
The Bendigo Advertiser reported:
Sandhurst Trotting Club holds initial race meeting
The inaugural meeting of the above newly formed trotting club took place yesterday on the Epsom racecourse. The club had gone to great expense in preparing a trotting track, which, under their supervision, was formed inside the steeplechase track. Yesterday the track was in fine condition for trotting, but the dust was at times very disagreeable. However, as it was, great praise was given to Mr. Starr for the fine track, and it can be seen from the times done that it is faster even than Elsternwick.
There were over 2000 in attendance and six races were conducted. There was a fair attendance of bookmakers from Melbourne, a special train having been placed at their disposal. They did not do a large business, owing to very few people being desirous of betting until the horses came up to the scratch. The appearance of such horses as Von Moltke Junior, Contractor, Brown Hawk, and Captain Dearborn, intimidated backers of local horses.
However, the main event event - the purse of 75 sovs, for such horses as those mentioned with a few others added, to do the mile in 2 minutes 40 seconds to 2 minutes 46 seconds, did not take place. It appears that only Brown Hawk had been entered to trot in wagon, owing to having broken 2 minutes 46 seconds, and Contractor and Von Molke were to go to the sulky. The owners protested, and as there were no other wagons on the course but the one mentioned, the event had to fall through much to the disgust of those present.
The Sandhurst trotting Club rented the Epsom course for their meetings, having to juggle dates around the thoroughbred racing calendar. It is believed that the fee for each day was twenty-five pounds.
The Bendigo Jockey Club continued to program a trotting race on their racing programs and in the period 1878-1888, scheduled one a year four times, and twice a year five times.
1884: COUNTESS SCORES FOR LOCALS
Despite the influx of horses from Melbourne, drawn by the prize money offered and the ease of getting to the track by train, local horses manage to win.
The mare Countess was owned by the Hay brothers of Kamarooka, a farming area and township 15 miles north of the Epsom racecourse. The Hay family still farm in the area. The Kamarooka football and cricket ground is still intact despite the fact that the Kamarooka Football Club, formed in 1900, merged with neighbouring Neilborough in 1949 to form Northern United Football Club. (Mergers continued with Raywood and eventually joining.)
Countess was bred from and among her descendants are Northwood Lady (2:16.8, by Globe Derby) who won 25 metropolitan races in Perth (nine at Brennan Park, eight at the tiny WACA track, five at the Perth course, three at Gloucester Park) and her son the good Perth pacer Kolector (2:12.8), winner of 12 metropolitan races at Gloucester Park.
BLOSSOM BEATS A HUGE FIELD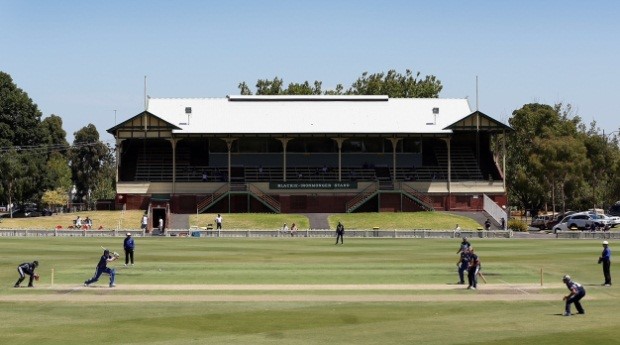 The 1886 winner Blossom won races at Elsternwick Park, which opened on March 1, 1882, when leased by the Victorian Trotting Association. The last meeting was on 24-9-1891.
Originally a dirt track, Elsternwick was sown with couch grass in 1885.
After the track closed in 1891, the stand was sold to the St Kilda Cricket Club. The grandstand was moved bodily to the Junction Oval in St Kilda where it remains today.
Picture: The Grandstand at the Junction Oval. Formerly at Elsternwick Park trotting track.
Blossom had to contend with a field of 20 starters to win on June 16, 1886. The field included Moss Rose, ridden by British born George Millsom, the father of the future Victorian Hall of Fame driver Gus Millsom. Born in 1874. Gus was recognised as Australasia's first harness racing star. He won eight metropolitan driving premierships – four in Melbourne and four in Sydney – and later became the first horseman in Australia or New Zealand to win more than 400 races.
Coming up in PART TWO: The Bendigo Jockey Club Open, the next twenty years; 1888–1908
Imported American stallions exert their influence
Bridgewater's Bell Boy wins twice
Katie M the grand-dam of Robert Derby sire of Australasia's first 2:00 minute pacer Avian Derby wins
Tom Price star NZ trainer wins three on end, later to train thoroughbreds in Melbourne
Charlton's Tom Allen Snr, patriarch of the Allen family, father of Hall of Famer Clarrie and Tom Jnr.
Prince Edward, Bob Crowe and the ring-in saga of Princess
Outbreak of World War 1.