It could be another TAB Summer of Glory to remember for Belinda McCarthy's powerful stable after Spirit Of St Louis was dominant in tonight's Garrards Bendigo Pacing Cup.
Young reinsman Jack Callaghan was able to balance up, glide to the top and then control proceedings for a commanding win, sealed with a blazing 26.7-second final quarter belying the 2650-metre long distance Cup.
"It was able to work out perfect for him," Callaghan told TrotsVision. "He was able to get the lead pretty cheap and then that first half we were just left alone.
"Everyone knows how fast the horse is, so all he really had to do was dash a quarter and he did that comfortably."

Having his first start in Victoria and first race since running eighth in the Inter Dominion final, Spirit Of St Louis reaffirmed that at age five he was well positioned to make Grand Circuit noise with a complete performance.
From gate two he rolled to the top ahead of Torrid Saint and, despite key rival Triple Eight emerging on his outside, Callaghan set a moderate 79.1-second lead time that rolled into 30.6-second and 31.1-second quarters.
It meant there would be plenty in the tank for the run to the line and so it would prove, with nothing able to make ground as the leaders finished first and second, while Tango Tara ran on well into third.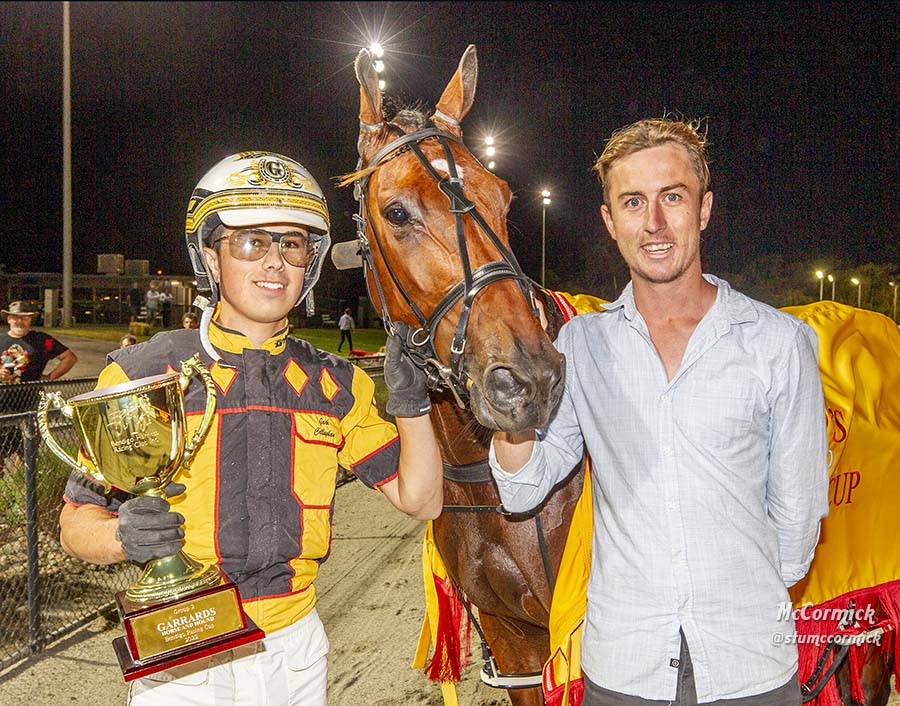 "A horse that can follow speed (like) he can and still rattle off sectionals like he does, I think he's the type of horse that can win any race," Callaghan said.
"He's just got great high speed and then at that little bit lower level like tonight he can just use a bit of strength as well.
"Luke (McCarthy) and Belinda are great to work for. Ever since I moved to Sydney they've taken me straight under their wing, a lot of my success from last season and hopefully onwards is all because of the support they've put in me, so it's really great to reward them with races like this."
---
Jet hangs on and then rattles home to claim Maori Mile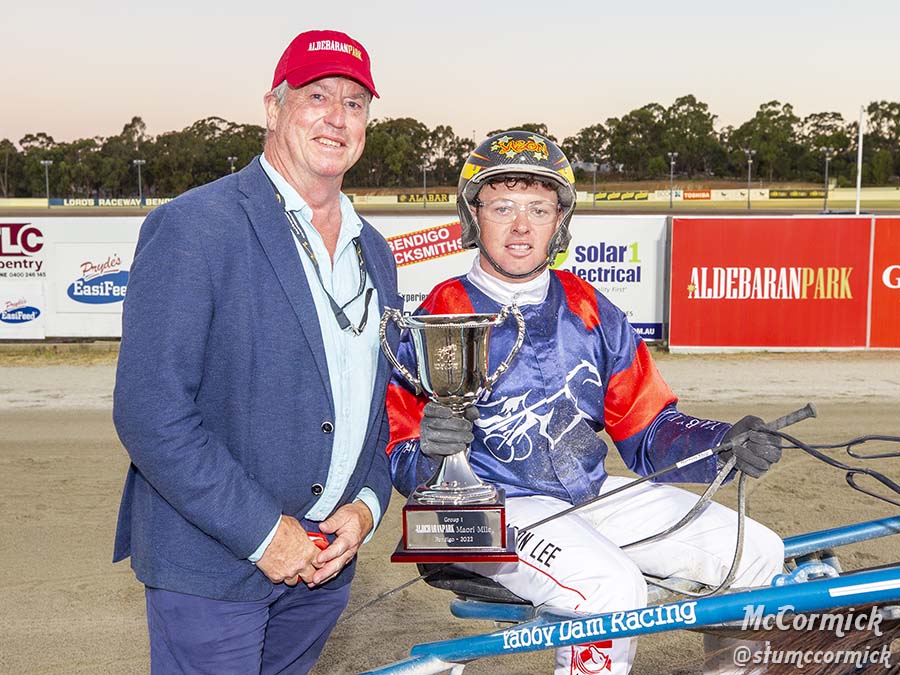 Im Ready Jet made her own luck and then capitalised to claim a much-coveted trophy, the Aldebaran Park Maori Mile.
Jason Lee hustled the Anton Golino trained trotter from the gates to try to cling to Tornado Valley's back, fighting gamely while Aldebaran Revani and Magicool pressed aggressively off the front row.
While Kate Gath had the lead in hand on her millionaire favourite, Aldebaran Revani miss-stepped after Jack Callaghan attempted to slot on to leader's back, affecting Magicool's advance and enabling Im Ready Jet to hold behind Tornado Valley.
It was a frenetic 27.5-second first quarter that would prove decisive, with Im Ready Jet peeling into the sprint lane at the final run to pass Tornado Valley (third) and hold out Majestic Man (second) and win the Group 1 in a personal best 1:55.4 mile rate.
"We were probably questionable whether we were going to be able to hold up and … we definitely had a few things go our way, but she still had to do it," Lee said.
"Thankfully we could hold leader's back after chasing for a bit and she was still sharp enough up the lane to pick them up."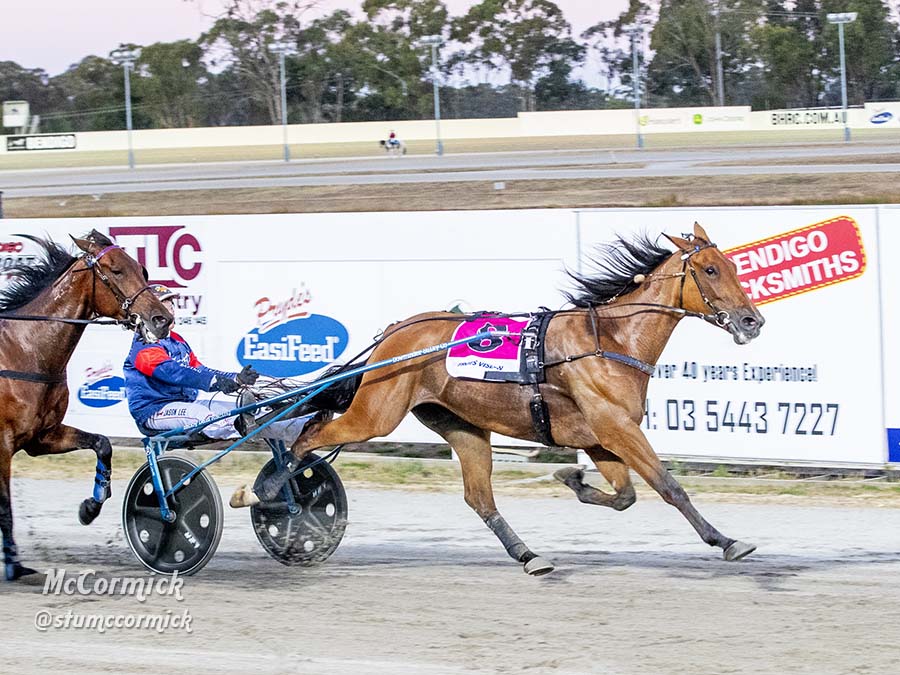 They got home in a 56.5-second last half, with Im Ready Jet's late burst reminding her reinsman of her star quality.
"I haven't driven her for a little while but I've always said she's probably the best trotter I've ever driven, and I've driven some nice ones, probably no superstars, but she was superior to any for sheer speed," Lee said. "She's got speed of a pacer.
"I think she probably has matured a little bit since last time I drove her. She was chasing into the first corner, we were asking her to do it and she didn't put a step wrong. There's probably been a couple of times back early in her three-year-old career or mid-way through she'd maybe think about it if you were asking her to go that hard early.
"She's definitely matured. She probably had a little bit left, very happy."
---
KEITH PRATT AWARDED HIS MEDAL
Having been announced a Gordon Rothacker Medallist last year along with Paul James, Bendigo trots legend Keith Pratt was officially presented with the award as part of tonight's celebrations.
Here's how it unfolded on TrotsVision:
---
FIRE RETURNS WITH A BLAZING FINISH
Cruz Bromac's was a highly anticipated comeback this week but it was another return that stole the show in the Simonds Homes Bendigo Pace.
Like A Wildfire rattled to the line to upstage the New Zealand Trotting Cup winner and score amid a brisk final quarter in what was the Emma Stewart-trained gelding's first start since April 10.
"He's come back after a pretty solid injury too, after Mildura Cup last year it didn't look like he was going to race again," Sutton said, who celebrated with the horse after the win. "He's probably one of my best drives that I have in Victoria and all of a sudden I had him back.
"This horse is a chance of winning a few more country cups this year, tonight was perfect. I knew I was a winner half-way up the straight it was just a matter of getting to him. Happy days."
Cruz Bromac had an easy time of it out front, with a 62.5-second first half leading into a 28.3-second third quarter.
But Like A Wildfire was able to show the pace that had carried him to 13 previous wins, picking off the leader amid a 27.4-second run to the line.
---
KATE'S GREAT DEBUT INCLUDES A WINNING WINK
Kate Hargreaves has quickly built an impressive training reputation, guiding Well Defined to last year's Maori's Idol Trotting Championship, and tonight she impressed in her TrotsVision debut alongside Jason Bonnington and Kirsten Graham.
Hargreaves great knowledge was on display when she backed in Bernie Winkle in the Claiming Pace. Here's how it unfolded:
---
CHEYELLA PART OF A VERY SPECIAL BUNCH
Not that more evidence was needed, but trots fans were given it anyway: last year's three-year-old fillies were a very special bunch.
Laura Crossland's Cheyella reinforced that notion with a dominant performance in the Alabar Bloodstock Pace.
Having her first start as a four-year-old mare, Cheyella was coming off an eighth placing in the Vicbred Super Series final when she finished within 12 metres of Ladies In Red off a back row draw.
That was form that had punters gifting her favourtism status for tonight's middle-distance pace despite another challenging draw and she rewarded that faith, with Crossland guiding the Verna El-Khishin owned and bred mare to a commanding win after a three-wide move with a lap to run.
"If you had a look at her times and Ladies In Red's times they were just about identical," Crossland told TrotsVision. "Racing those horses the last three weeks … it's just made her now.
"I really reckon that I'm going to have a lot of fun with her as a four-year-old. And she's the loveliest, quietest horse to have around the place, she's just beautiful."
---