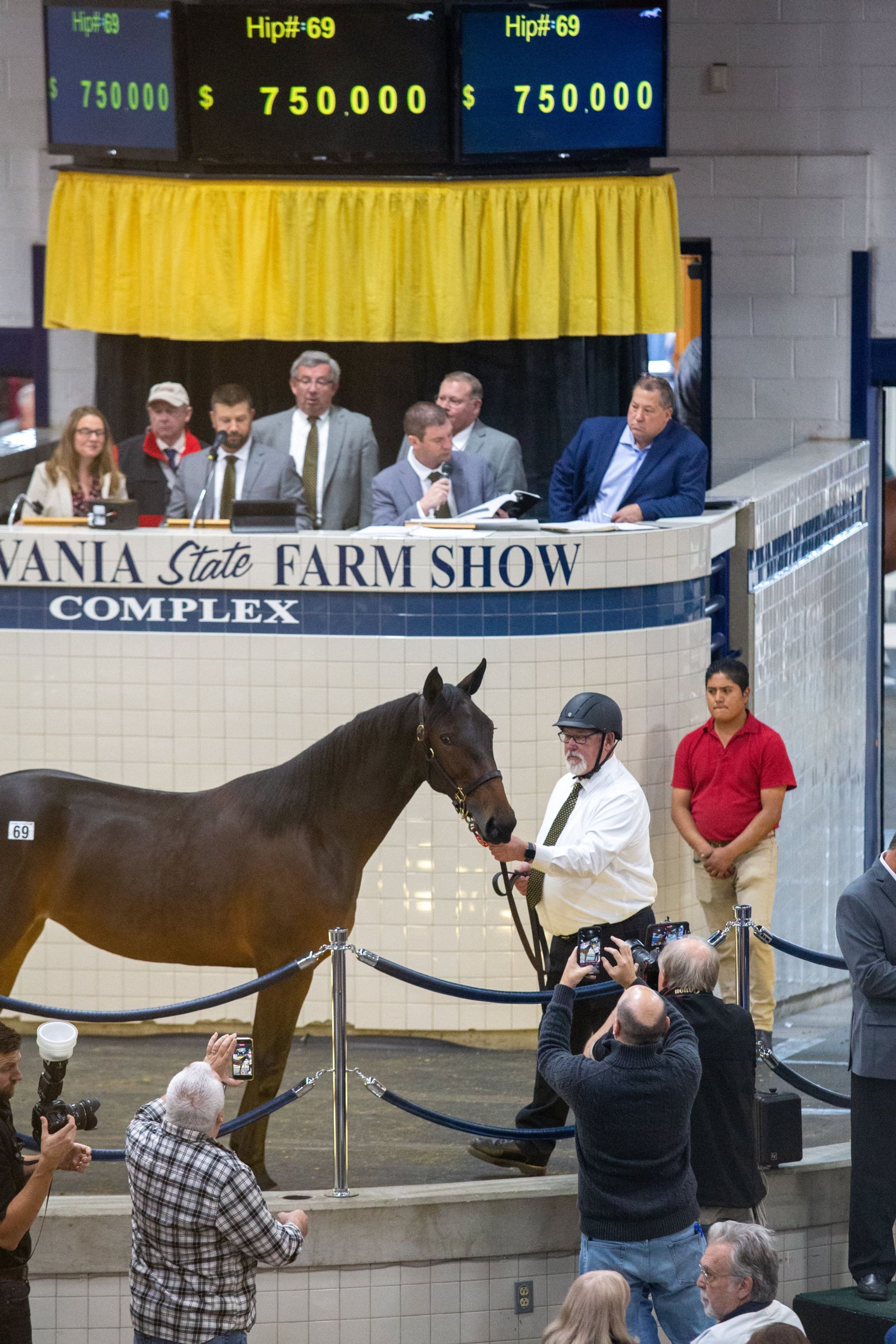 The demand by buyers for trotting yearlings reached a crescendo at the record opening session of the Black Book Yearling Sale at Harrisburg, Pennsylvania on Monday night (November 8).
Of the 12 yearlings to sell for at least $275,000, eight were trotters including the seven most expensive yearlings.
Trotting fillies outsold their pacing counterparts on average price by an amazing 52 per cent at the first session. Trotting fillies averaged a whopping $211,905 for 21 lots sold, while pacing fillies averaged $110,710 for 31 lots.
Overall, trotting yearlings averaged $165,245 for 53 head and pacing yearlings averaged out at $108,096 for 83.
The highest price paid on opening day was $750,000 for In Italian (pictured), a gorgeous Chapter Seven sister to the equal fastest trotting female ever, Atlanta (1:49).
Swanky Hanover, a Muscle Hill sister to triple Breeders Crown champion Manchego, the co-holder of the world mares' mile record, fetched $700,000, while the Walner colt Craft Made realised $610,000 and two Muscle Hill yearlings, one a colt named Lord Bridgerton and the other a filly named Defacement, sold for $530,000 and $500,000 respectively.
Interestingly, a sister to Defacement in Fifty Cent Piece took out the $180,000 Swedish Breeders Crown for four-year-old mares at the Eskilstuna track only 24 hours earlier. Fifty Cent Piece, a $500,000 yearling at Harrisburg in 2018, has bankrolled $343,000 this year from seven wins in 12 starts.
Muscle Hill was represented by a second Swedish Breeders Crown winner in the three-year-old filly Glamorous Rain. Francesco Jet (by Father Patrick) won the three-year-old colts' division and Onas Prince (by Chocolatier) captured the four-year-old males' final.
Get set for the 2022 Aurora Australis in Victoria, Australia - Find out more
Getting back to the Harrisburg Black Book Sale. The 2021 edition marks the ninth time in the last 11 editions that trotting yearlings have commanded a higher average than their pacing cousins.
The only two years that pacing yearlings have exceeded trotters on average price were in 2020 with $38,447 compared to $37,956 and in 2012 with $29,486 compared to $28,122.
And, at the 2019 Harrisburg Sale trotting yearlings averaged $54,872, more than $10,000 ahead of the sidewinders.
For further details go to www.theblackbook.com