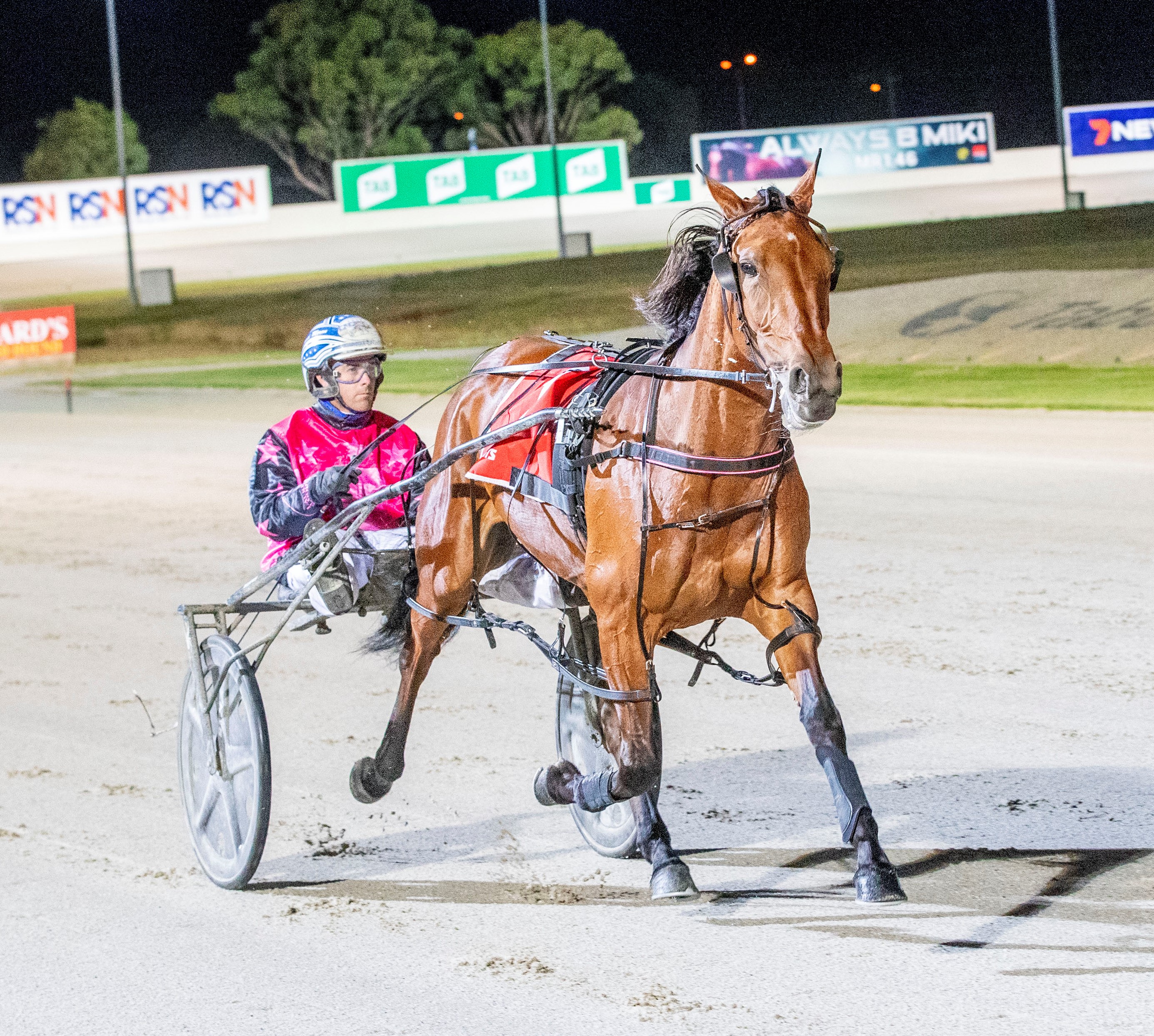 LET your mind wander ahead a little to February 26.
They are scoring up for the Group 1 Ladyship Mile at Menangle, the new girl on the scene Ladies In Red is coming up, there's the defending champ Stylish Memphis for Jack Trainor, now Anthony Butt is getting the queen-bee Amazing Dream up to the gate, Maajida and Spellbound are just about ready as well.
No doubt I've left out some other obvious and worthy mares, but you get the gist, this Ladyship Mile is going to be something very special.
As great as Ladies In Red has been against her own age and sex, you can't just assume she'll continue that dominance against the open-class mares. Especially not this sort of crop.
If she does, then, wow!
The build-up will be fascinating and has already started to get serious.
Stylish Memphis' trainer-driver Jack Trainor declared her "at least as good as last year" when she blazed her own last half in 53.4 seconds to win at Menangle last Saturday night.
It was a perfect start to her latest NSW raid and Trainor warned she would only get better.
"I thought she'd win because it wasn't the strongest free-for-all, but I felt she was that one strong Menangle run short of being near her top. That will bring her on nicely," he said.
It's looking more likely by the day Amazing Dream's move to the US won't happen until she's tackled the Del-Re National A. G. Hunter Cup, Ladyship Mile and maybe even the Miracle Mile.
And Maajida and Spellbound are elite level mares at their best, too.
---
THAT little victory salute across the line showed how much it meant to NSW young gun Jack Callaghan winning the Bendigo Cup on Spirit Of St Louis.
It was the first time Callaghan, one of the best young drivers in the land, had driven at a Victorian meeting and it was a roller-coaster night.
He went close to causing a big upset on Emma Stewart and Clayton Tonkin's outsider Ample Power early in the night then buzz former US trotting mare Aldebaran Revani galloped herself out of contention in the Group 1 Aldebaran Park Maori Mile.
Callaghan didn't panic early in the Cup when John Caldow initially wanted to hold the lead on Torrid Saint, but eventually worked his way to the front and that was effectively the end of the race if Spirit Of St Louis was at his top.
It's a sign of the enormous faith and opinion Luke and Belinda McCarthy have in Callaghan, who works for them, that they entrusted him with their stable drives in the two Bendigo features.
And it was the first time he'd driven Spirit Of St Louis in a race.
"I'd driven him a lot in work, but it was a buzz to get a drive at the races," he said.
Callaghan, 20, had a break-through 2021, finishing second in the NSW statewide premiership and fourth on the metro table.
He and Cam Hart are both amazing young talents and terrific ambassadors for NSW and the broader national harness racing industry.
---
THANKS for all the wide and varied feedback to my 2022 "wish list" in last week's column.
What stood out most from all the feedback was the absolute love and passion for the Inter Dominion.
There is no doubt it's our most precious marketing tool and a brand that transcends the sport like nothing else.
As I said last week, I don't know what the answer is as far as not just protecting but building it's future, but we have to explore EVERY possible avenue.
And we need everybody aligned and committed to doing everything possible.
Not far behind the Inter Dominion for feedback was the Melbourne Showgrounds and not just from old-timers who remember it being the home of Victorian harness for so long. Newbies, frustrated by the lack of a genuine city track, were just as vocal.
Ultimately the wish list served to spark plenty of opinions and discussion and that's a very healthy thing.
---
The opinions expressed in The Forum are those of the author and may not be attributed to or represent policies of Harness Racing Victoria, which is the state authority and owner of thetrots.com.au.