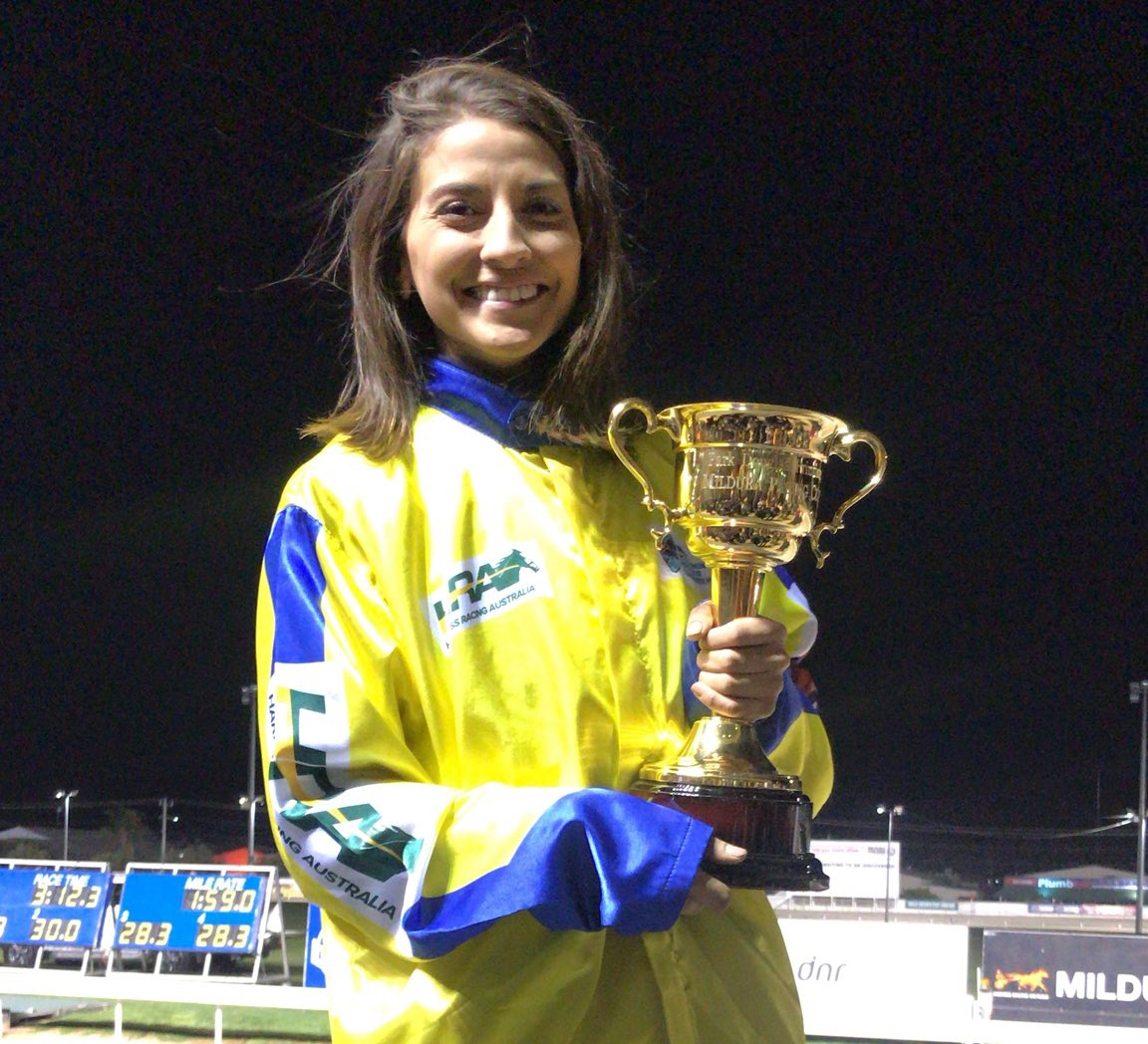 Fallen reinswomen Kima Frenning and Shannon O'Sullivan are bruised and battered but resilient, declaring a desire to get back into the sulky despite harrowing race falls.
Frenning, who fell in the score up of race one at Tabcorp Park Melton on Saturday, is nursing concussion symptoms and four broken bones in her hand and wrist, which will likely sideline her for at least six weeks.
O'Sullivan, who fell at the finish line of Sunday's final race at Ouyen, suffered a significant chin laceration that required surgery yesterday, but she is optimistic of no on-going complications.
"I just want to get back on the track as soon as I can," O'Sullivan said this morning, less than 24 hours after surgery. "I miss it."
The sentiments from Frenning were similar.
"I'm a bit frustrated," she said. "I just want to get out and drive again, but it can't be done."
According to the HRV stewards report, Frenning's steer Kotare York shifted abruptly in the middle stages of the score up for Saturday's Mark Robert Thomas Pace, contacting Better Exclusive's sulky and leading to I Am Marquez contacting Kotare York's sulky. Drivers James Herbertson, Connor Ronan and Frenning were all dislodged, and while the former two were given the all clear Kima wasn't so lucky.
"I don't think there is anything anyone could have done," she said. "It was no one's fault, my guy just got a bit crazy and I lost all my steering on him. I'm just happy everyone come out OK and all the horses are good.
"I got a fair whack to the head, got a concussion. I'm still pretty wobbly on my feet. The wrist is broken, I have four broken bones in my hand and wrist. It's pretty painful, I am going back for another x-ray tomorrow."
The x-ray will confirm whether or not surgery was necessary.
"If I don't (need surgery) I will be in a cast for six weeks and then physio," Frenning said. "It's really hard. All I wanted to do on Saturday night was keep driving, but that obviously wasn't an option."
But she can see a silver lining in the enforced lay-off, having returned quickly after a fall at Echuca on July 2 when she suffered two back fractures.
"Last time I fell I came back a little bit early," she said. "My back, it's probably still giving me a bit of grief to this day.
"My head was only a couple of days and then it was fine; last time my helmet was still intact, I didn't get a scratch on it. This time I had a lot more contact on my head, so it will probably be a bit longer.
"Now with the hand I am forced to take a step back and heal properly. It's good for my body but I just want to get back into things."
O'Sullivan is similarly resilient despite a tumultuous 36 hours following Sunday night's race fall in the Gregg & Sons Steel Pace.
She was steering Bettor B Nice, who stewards found was pulling hard over the final half lap and contacted Ayejayem's sulky despite O'Sullivan's best efforts, leading to the race fall.
"The horse was bolting," O'Sullivan said. "He found a gap, but I new it wasn't big enough. I grabbed hold and hoped he would respect that, but he kept going and clipped the wheel and went down.
"My first and last thought was only 'my God, I hope the horse is OK'. All I remember is getting thrown out and on top of the horse and waking up under the gig. I was unconscious for around 40 or so seconds."
While Bettor B Nice had to have stitches above his eye, "but he is eating fine and doing everything well", O'Sullivan required urgent attention and was transported to Mildura by ambulance.
"I had a concussion test at the hospital and it came back really positive," she said. "I had a six-centimetre cut on my chin that was to the bone. My lip was numb and my chin was numb and I was worried about nerve damage.
"I know I landed on my head and chin, but they were worried about my neck and my back but I didn't break anything. I was also lucky not to have a broken jaw."
Thank you to everyone for the messages and phones calls. Surgery was a success, the doctor are confident that there is only bruising to the nerve. A massive thank you to everyone that helped me on the day of the incident and looking forward to getting back on the track soon x❤️ pic.twitter.com/OqNtJV7mmd

— shannon o'sullivan (@shannonosulli10) March 24, 2020
O'Sullivan was transported by air to Melbourne's Austin Hospital on Monday night for surgery on her chin laceration on Tuesday morning.
"I was awake for the surgery," she said. "They couldn't find any nerves in the area, there was more just bruising around the area where the nerves are.
"I was really worried. I didn't want this permanently for life and when I first heard I was really upset and I didn't know how to take it. I am always happy and smiling and I couldn't smile and that really affected me. They said in a few months I should get back to normal."
That normality includes a hopefully brisk return to the sulky.
"I'm hoping to get back by next week, if all goes well at my check-up on Monday, because it doesn't affect how I hold a horse or sit in a cart, I'm hopeful my medical clearance gets through."