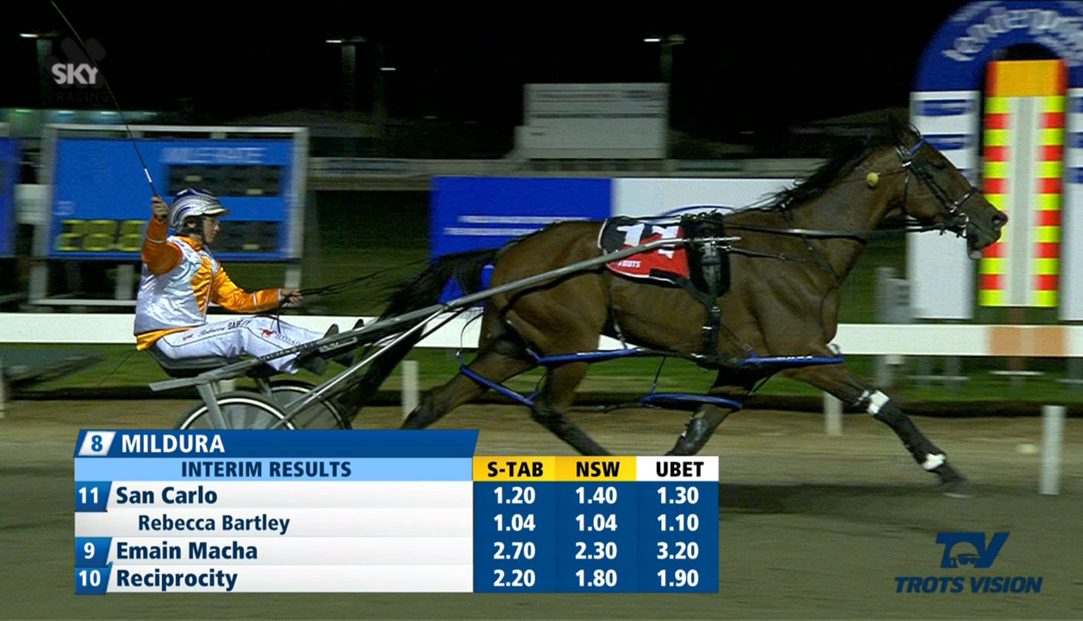 "San Carlo, he's a powerhouse, he's raced away, his fourth country cup of the season," called Craig Rail as Rebecca Bartley and Stephen O'Donoghue's Mach Three was a dominant Tasco Petroleum Mildura Pacing Cup winner.
Giving his 14th and possibly last Mildura Cup call, Rail shared San Carlo's convincing victory in which he swept to the lead after the first lap and then held placegetters Emain Macha and Reciprocity at bay to win by 5.1 metres.
"We are really proud of him," San Carlo's reinswoman, Rebecca Bartley, told TrotsVision post-race. "We have had this race picked out for a little while. He had a little setback in Sydney and it put the pressure on a bit to get him here, but to his credit he's done an amazing job."
The 27-year-old reinswoman, who said San Carlo had "taken me places I never thought I would go too", said there wasn't much scripting pre-race but that all fell into place in the 2600m to follow.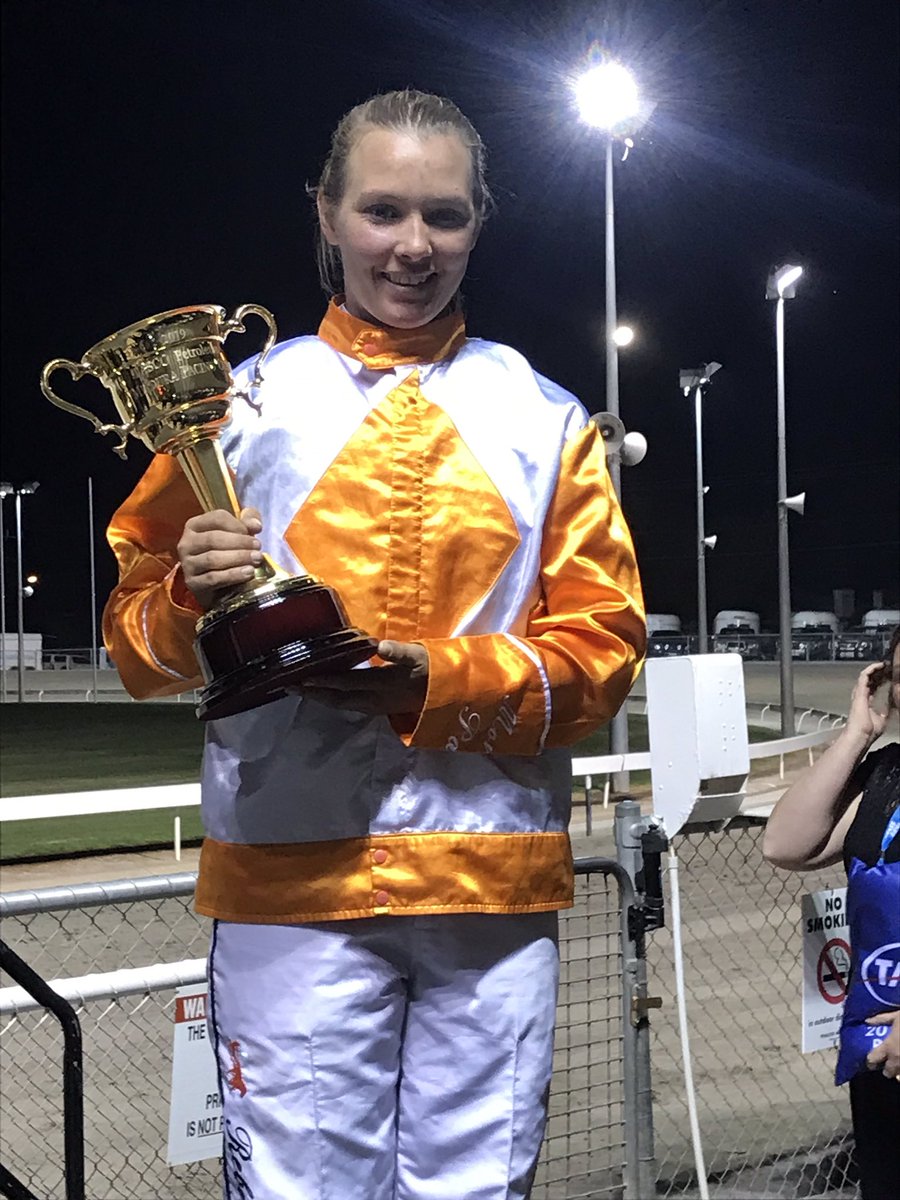 "We didn't make too many plans early, we were just going to see what happens," she said. "It all worked out really well. Once he got to the front he relaxed really well, which was probably a little bit of a concern for me – he got quite keen on Tuesday."
The lead time was six-tenths of a second quicker than in San Carlo's bruising heat battle with Brallos Pass, but Bartley got away with a 31.1 first quarter and, while Reciprocity advanced to the breeze for Kerryn Manning and upped the tempo, the leader had all the answers.
"People always say 'good drive, good drive' but … (San Carlo) drives the race for me," Bartley said. "When Kez come a bit closer he got on the bit a little bit more and said 'righto, let's go'."
Home in 57.1 seconds over the last 800m, San Carlo added the Mildura success to previous victories in the Bendigo, Yarra Valley and Cranbourne cups this Trots Country Cups Championship season.
"I never thought I'd get a horse like this," trainer Stephen O'Donoghue told TrotsVision. "You hope to get a good horse but this bloke's just that little bit of a level above them.
"He's a dream. He really is, and the people who have followed him, I never imagined that. You always hope to get a nice horse, but the people that support him and barrack for him, it's new to me I must admit."
Victory in tonight's $60,000 cup draws San Carlo closer to the half-a-million-dollar mark, a phenomenal achievement for a horse whose career didn't officially kick off until he won a $3000 restricted pace just a few months before his fifth birthday.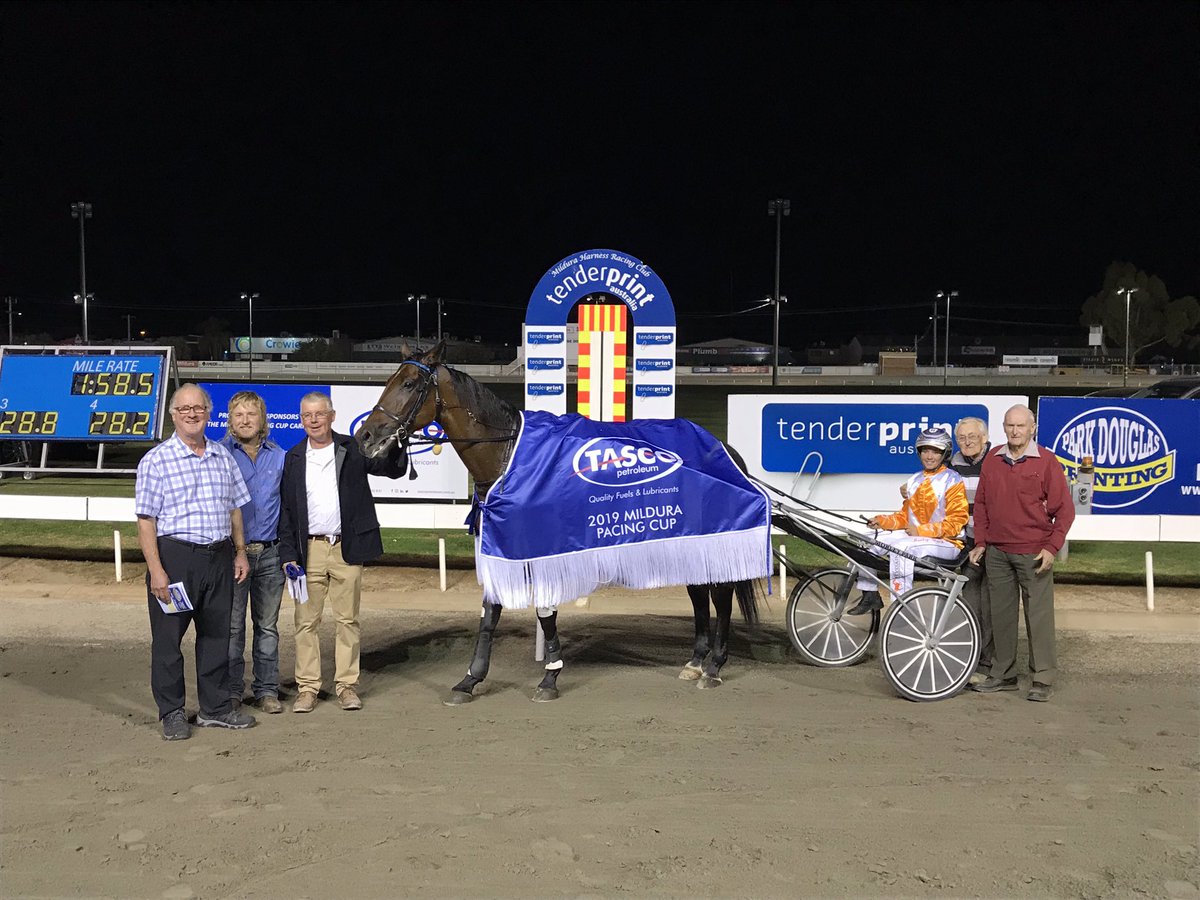 "He never showed us anything until he was about a five-year-old," O'Donoghue said. "We trialled him as a three-year-old and trialled him and trialled him, not once did we think he was above average or average even.
"Then we put him out for a spell and brought him back as a five-year-old and he never put a foot wrong after that. It's amazing. It just proves if you do give them time some of them turnaround and he's one that has."
Tonight's result also had significant ramifications in the $25,000 Trots Country Cups Championship. San Carlo advanced to 21 points for the season, leapfrogging Perspective into outright second place.
The latter's fifth placing improved his season tally to 19 points but also meant that Buster Brady now holds an unassailable lead on 27 points, sealing the championship with only Warragul Downtowner Pacing Bowl Cup to be run on April 21.
LATEST AT THETROTS.COM.AU:
► Road trip to Mildura 'ends in a party' for Brad Stevens
► "Electrifying" cup marks Craig Rail's final call for his Mildura "family"
► New cup dates as HRV releases 2019-20 racing calender
► Never too late to Cullect as 7yo mare breaks maiden for Maurice