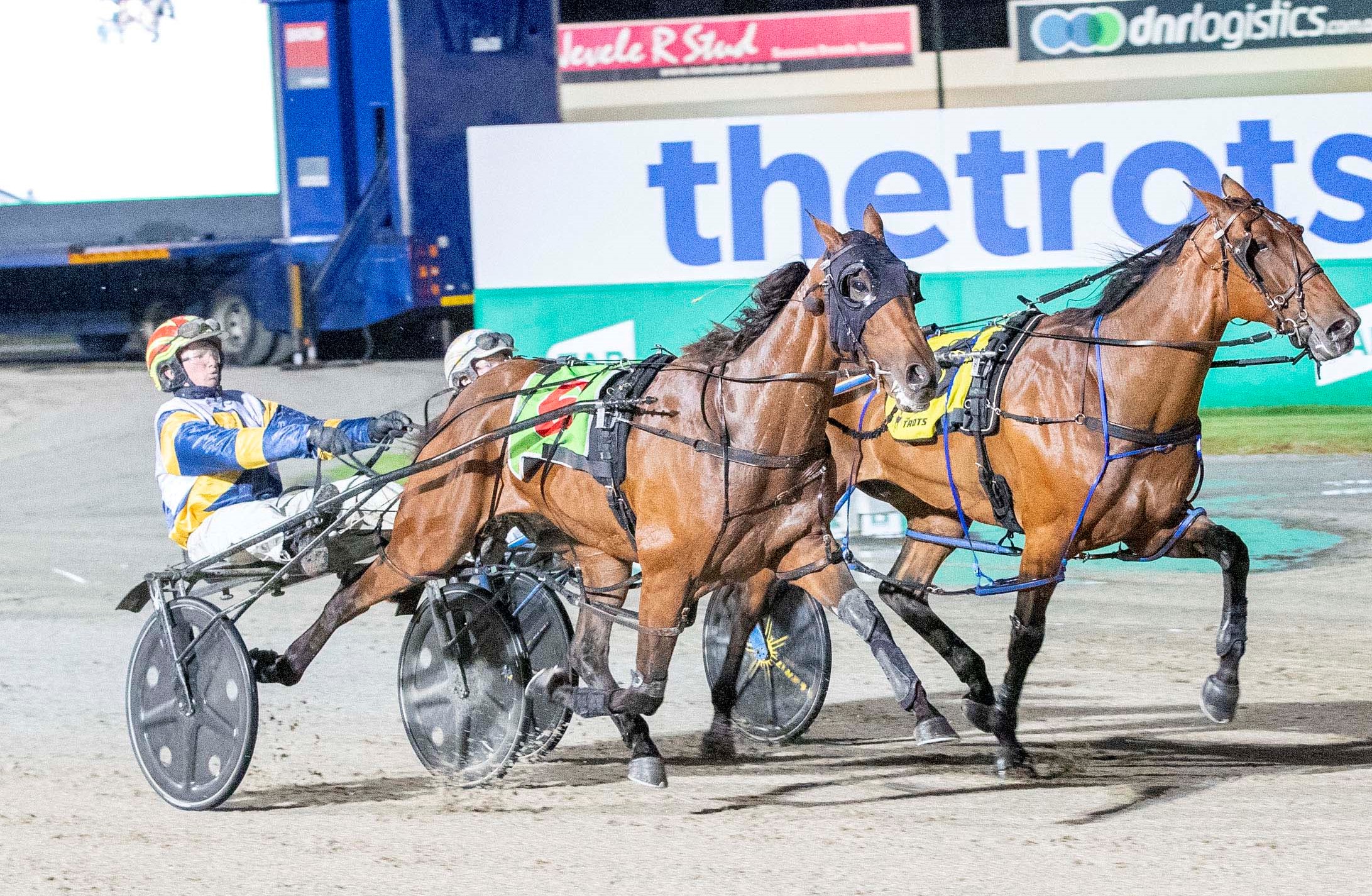 Victoria's training powerhouse looks poised to pounce at Saturday's 'home' metropolitan meeting, with a stable attack that may well shift the state's training championships.
Emma Stewart's unprecedented bid to win seventh consecutive state and metropolitan training crowns hangs in the balance, trailing Julie Douglas (by 25 wins) and Andy Gath (by one win) in the respective standings, but that could change dramatically at Ballarat.
Stewart will shuttle 10 starter to her local track, Bray Raceway, of which five are expected to start favourite including short-priced star Ladies In Red and Mach Dan, who's fancied in the headline TAB Gammalite Free For All.
The trainer told RSN 927's Green Light On the Mildura Pacing Cup champ can win the October 9 Pryde's EasiFeed Victoria Cup, and is well placed to take strides towards earning a start in the $300,000 classic with a victory tomorrow night.
"I think he's definitely stepped up again this time in," Stewart said. "He's one of those horses who flies under the radar because he's plain and he just goes about his business – he's a little bit like Ladies In Red, they just get the job done."
She said she "thinks he should be" favourite to win tomorrow night, when he'll start directly outside lead rival Tango Tara, who's trained by Gath.
It's not the only big bout the state's leading metropolitan trainers will have at Ballarat, with race three – the APG Vic 2YO Gold Sovereign Final – to pit their promising two-year-olds Catch A Wave and Muscle Bart head-to-head.
"I think (Catch A Wave's) as good a juvenile as I've had my hands on for a long time," Gath told Burning Questions yesterday. "I think he's the one to beat. I know Emma's horse went terrific first up, but I just love this horse. I don't really talk up my horses, but this is one I think will be a horse of the future."
Stewart said "I'd have to agree with Andy, I really like his horse and I know Kate (Gath's) got a big opinion of him, so he's definitely the one to beat".
WATCH EMMA AND ANDY ON THIS WEEK'S BURNING QUESTIONS:
Their two-year-old showdown precedes what for many will be the must-watch race of the night when Stewart's brilliant fillys Ladies In Red and first-up Tough Tilly resume their rivalry.
En route to the October 9 Pryde's EasiFeed Victoria Oaks, Ladies In Red dominates betting markets, benefitting not only by being drawn on the front line while Tough Tilly's the only horse on the back, but also by having had a run this campaign.
"It's exciting to have the good ones stepping out and starting their campaigns again," Stewart said.
"Ladies In Red's had one run back, I think that's a plus for her as well. She doesn't work all that great (at home), so when she goes to the races she tightens up pretty quick. The draw definitely plays a factor, but I think one run back is more of a factor."
Stewart's night begins with Misucci in the Pryde's EasiFeed Trot, with the former Kiwi having her fourth start and likely to be tested early out of gate one.
"Her trial last week she came out of the gates pretty good," Stewart said. "(Gate) one's probably my only concern, but I do think she's probably got a fair bit more gate speed here."
Abouttime carries a big reputation into the Alabar Vicbred Pace and his trainer said she was "really pleased to have him back", with the five-year-old having his first start since almost a year lay-off.
"He's had a few niggling problems, he had them when we first got him and had a few little issues that we got fixed – the back pastern was one of them," Stewart said.
"He's a horse that we've really got a high opinion of. He's a high speed horse and I think he's one who's going to go through the grades a win a few nice races."
Of her others, she said Yianni's been going terrific and will be thereabouts in the All In One Property Pace, while tiny mare My Bettor Lady will give a good account in the $30,000 Allied Express Tailamade Lombo Group 3.
"She works slower than the two-year-olds here, but she goes out and just loves to race, she's really determined," Stewart said. "She's personally just one of my favourites and I love having her around. If they all tried as hard as her our job would be quite easy."
The stable's night finishes with the Runners Relief Claiming Pace, where Struve, who carries a $40,000 price tag, and Always Fast ($50,000) will be prominent over the sprint distance.
"(Struve's) a tricky horse, but in fairness to him he does have a throat problem – he's no good over the long trip or if he has to work or he has to burn off the gate.
"If he can settle and relax and not get too stirred up he's a different horse, but you never know which one you are going to get. It doesn't matter how he works here, it just depends on him on the night.
"I really like Always Fast, he's been mixing his form this time in – you can't really use him off the gate any more, he doesn't run on after that. I think, ability wise, I like Always Fast better, but I don't think he's in great form this time in."
CLICK BELOW TO HEAR FROM EMMA ON RSN 927:

TUNE IN
at

BALLARAT on Saturday
First Race: 5.32pm Last Race: 10.15pm
Racecaller: Dan Mielicki will be joined by Tim O'Connor and David Miles for wall-to-wall coverage on TrotsVision at thetrots.com.au.
Trots Vision: WATCH LIVE
SEN Track: LISTEN LIVE
RSN 927: LISTEN LIVE

JASON BONNINGTON ON BALLARAT
RACE 2: PRYDE'S EASIFEED TROT
EARLY SPEED: 3, 4, 7 + 1, 2, 5?
SELECTIONS: CHISSY (3), I AM PEGASUS (10), MISSUCCI (1), ZIGZAGZOO (4)
RATINGS: 3 / 10 / 1 / 4 / 9 / 5 / 12 / 8 / 2 / 7 / 11 / 6
SUGGESTED BET: CHISSY (3) Each Way

Winner of the Week
TRIPLE EIGHT, by American Ideal out of Slangevar, a winner at Bendigo on September 11.