The Bendigo Jockey Club Open Handicap is the longest running grass track harness race in Australian racing history.
During the period 1867 until 1908, Bendigo Jockey Club conducted on its grass racecourse at Epsom, either once or twice a year, a handicap race for harness horses on the same program as thoroughbred racing.
During those first 39 nine years, the race was run 50 times, with the prize money reaching a high of 70 sovereigns in 1887. The race became the longest running grass track harness race in Australian racing history.
In the course of the first 50 editions of the event:
Sir William Don (1867), in winning the first BJC Open, recorded a time over the first mile of a three-mile race that was just six and a half seconds outside the world mark, ranking Sir William Don number 13 on the international register at that time.

English immigrant Edmund Giles won five times, including a win on Wanderer raced by wealthy aerated water manufacturer P. G. Dixon. Wanderer won nine races in Melbourne at the Kensington and Fitzroy tracks. One of those races was won off the longest handicap (900yds) ever recorded in Australia.

Katie M the grand-dam of Victoria Derby winner Robert Derby, sire of Australasia's first two-minute pacer Avian Derby, won one of the two editions run in 1894.

Dave Price, the star New Zealand trainer and driver/rider, won three editions on end. He later moved permanently to Melbourne where he became a highly successful trainer of thoroughbreds. His training wins included the Memsie Stakes (three times), Turnbull Stakes (three times), two Australian Hurdles and an Australian Steeple.

The harness races at Epsom were run right-handed (the Sydney way) like all the races conducted on the Bendigo Jockey Club track up until the mid 1870s.

Train travellers, competing horses and their connections were able to alight at a siding adjacent to the Epsom track from the Melbourne to Echuca railway line, completed in 1864.
Click here to read Part 1 of the four-part series, Gold, which reported the first 20 years of the race, when the Bendigo Jockey Club Open became the richest harness race in Victoria, with the 1876 edition worth 64 sovereigns and a 20-guinea gold cup (in 2020 dollars this would equate to a total of over $21,000).
Click here to read Part 2 of the series, Boom, which covers 1888 to 1908, which were boom times for Victorian economy, population and racing.
Part Three: Future Hall of Famers to the fore tells of the great feats of Globe Derby, Grand Voyage, A.G. Hunter, Hubert Shinn, Bill McKay and George Gath, who all won Bendigo Jockey Club Opens.
During the period 1909 to 1928, Australia's longest running grass track harness race was run 83 times with eight a year being run in the period following World War I.
There was only one race meeting in 1915, as the Bendigo Jockey Club's track at Epsom became an army training camp.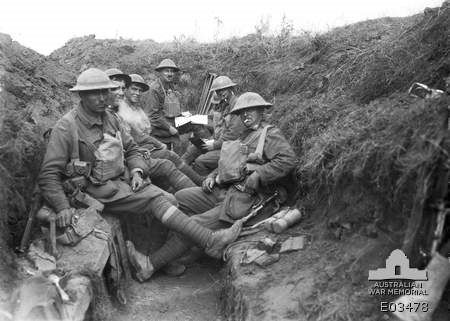 After the outbreak of World War I in 1914, volunteers from country Victoria were gathered for initial training at a number of sites. The 38th Battalion was formed on March 1, 1916, at a camp established on the Epsom Racecourse at Bendigo. Early training was disrupted by a severe outbreak of cerebro-spinal meningitis in the camp, resulting in several deaths.
As a result, the healthy members were transferred to a camp at Campbellfield, where the Battalion had to be rebuilt from fresh reinforcements. Upon the conclusion of their initial training, the 3rd Division was transported by sea to the United Kingdom where they undertook further training before arriving on the Western Front in France in November 1916.
Picture: Soldiers of the 38th Battalion in trenches on the Western Front in France 1917.
The boom times were over
The gold-fuelled free spending times of the 1870s and 1880s were in the past and the slump in deep-reef quartz mining saw a sharp decrease in the population of Bendigo.
Bendigo suffered more than its larger goldfields neighbour Ballarat from the decline in gold mining, its population almost halved between 1901 and 1911, falling from 30,774 to 17,883.
From the 1920s, gradual population growth took place with tramways, railways, tomato growing. food processing, retailing and soft drink manufacturing being major employers.
A wide variety of businesses and industries took over from mining
Bendigo's population and economy sliding, the formerly penniless Jewish immigrant Sidney Myer, who had been selling his drapery from a horse and cart around the districts close to Bendigo, opened the first Myers Store in Pall Mall.
He opened a further store further along Pall Mall in 1911, before buying Wright and Neil, Drapers, in Bourke Street Melbourne, to form the massive Myer Emporium business.
Eaglehawk's Henry Leggo, a son of a Cornish miner, started his business as a teenager selling his mother's bottled tomato sauce and pickles direct to the hungry miners in their camps.
As the business grew, trading as H. M. Leggo & Co., with premises among the largest in Bendigo, Leggo manufactured grocers' sundries and bought a coffee, tea and spice business.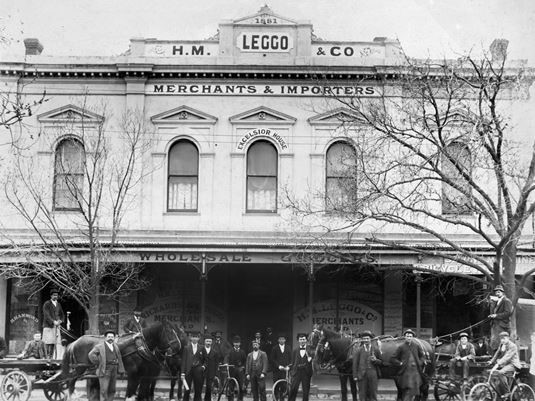 Large purchases of flour and vegetables for the making of pickles and sauces stimulated the regional market through Leggo's resident buyers. By the early 1900s the Leggo company was one of Victoria's foremost wholesale and manufacturing concerns.
Leggo bred the mare Quality (Harold Osterley from an unknown mare). Quality won the BJC Open twice in 1910, and again in 1911, when racing for trainer/driver J. McVey.
Pictured: H. M Leggo and Co, Bendigo. Before moving operations to Melbourne
Coupled with the effects of WWI and the following depression, conditions were not conducive to spending money on any form of racing, but amazingly the BJC programmed an Open Harness Racing handicap up to eight times a year, for a total of 83 editions between 1909 and 1929. Prize money reached a high of £100 in 1926, 27 and 28. Today's equivalent of £100 is approximately $8000.
Sam Lazarus dual gaited Bendigo Jockey Club president
It seems that it was fortunate for harness racing at the Bendigo Jockey Club that Sam Lazarus was President for 24 years. Lazarus, was a mining magnate, Bendigo Jockey Club member, Sandhurst Trotting Club member and harness racing owner, trainer and driver.
Samuel Lazarus was the son of Barnet Lazarus, one of Bendigo's well known mine owners. He was keenly interested in racing. In 1895 he was elected to the Committee of Bendigo Jockey Club, a position he held continuously until 1921. He was President of the Club from 1897-1921, a record for the Club.

In his youth he was prominently associated with the Bendigo Hunt Club and the Sandhurst Cavalry, in which he held office. For many years he lived on 2000 acres at Homebush, Junortoun, the district being named after his first wife, Mary Junor.
He owned and raced many harness horses including Fair Nell, who was foaled in 1881 and won at Marong on February 6, 1889:
TROT – 20 sovs – Abt Three miles
Lazarus Bros crm FAIR NELL, 400yds start (Godfrey) 1
C Carolans brg4 Sarsfield, 300yds (McLeod) 2
W Carters chg4 Chester, 300yds (Winterbottom) 3
Others: Blaze (600yds), Snowy (600yds), Lady Cleveland (600yds), Young Polly (500yds), Billy (500yds), Dot (500yds), Ella (500yds), Baxters Nell (500yds), Little Nell (400yds), Donald (400yds), Larry (300yds), Highland Mary (250yds), Dolly (350yds), Will to Win (scr). Margins: Won by 40yds Time: 8m 35s
Fair Nell is the tap-root mare of the A13 family, which contains the early stars Lady Edna and Little Edna, and two Inter Dominion winners in Dans Son and Bold David. The most recent star in a very strong family is the brilliant trotter Sparkling Success.
Year

Race Date

Purse

Winner

Sire of winner

Best Mile Rate

Owner

Driver

1909

May 25

30 Sov

WS

Unknown

2:27.3

M Seymour

E Ruedin

1910

June 19

Nov 24

30 Sov

50 Sov

Quality

Fresno

Harold Osterley

Ribbonwood

2:28.3

2:25.1

J McVey

F Barker

J McVey

S Bently

1911

May 17

Aug 17

50 Sov

30 Sov

Quality

Spot

Harold Osterley

Judge Huon

2:28.3

2:16.3

J McVey

J Davies

J McVey

W Meade

1912

May 29

Aug 15

Nov 18

40 Sov

50 Sov

60 Sov

Final Voyage

Sunstar

Huon Cap

Bon Voyage (USA)

Post Boy

Huon Junior

2:25.0

2:25.4

2:36.0

Belmont Stud Farm

F Humbert

A Dempsey

A Williams

J Ruedin

A Dempsey

1913

May 25

Aug 18

Nov 27

40 Sov

40 Sov

60 Sov

Roney

The Starling (USA)

Otter

Unknown

Jay Bird (USA)

Bronte

2:36.7

2:34.5

2:26.0

T McCrow

J Roberts

H E Coutts

T McCrow

J Roberts

H Coutts

1914

May 27

Aug 13

50 Sov

50 Sov

Illumination

Abbey Isles

Abbey Chimes

Osterlight

Abbey Bells (USA)

Abbey Bells (USA)

2:29.0

2:21.2

2:25.0

W A Anderson

T Dean

R McIntee

T Dean

1915

May 26

50 Sov

Charity Bells

Abbey Bells (USA)

2:15.3

J Marks

J Marks

1916

Aug 31

Nov 23

50 Sov

50 Sov

Don Estelle

Honest Kate

W W Estill (USA)

Honesty (USA)

2:21.5

2:15.0

E Hannah

J W Smith

G Taafe

W Tomkinson

1917

May 23

May 24

Aug 29

Aug 30

Nov 21

Nov 22

50 Sov

50 Sov

60 Sov

50 Sov

65 Sov

65 Sov

GC

GC

Willie Mac

Marjorie M

GC

Merran

Prince Whips

Prince Whips

Billy Mac (USA)

Belmont M

Prince Whips

Direction

2:18 ¼

2:18 ¼

2:19.5

2:25.0

2:18 ¼

NTT

W Tomkinson

W Tomkinson

Belmont Stud Farm

M Coffey

W Tomkinson

A Williams

H Toomer

W Tomkinson

P Glasheen

G Badcock

W Tomkinson

A Williams

1918

April 4

April 5

June 12

June 13

Aug 28

Aug 29

Nov 21

Nov 20

50 Sov

60 Sov

50 Sov

60 Sov

50 Sov

60 Sov

65 Sov

65 Sov

Gaiety Bells

Harry Alto

Bellman

Bellman

Red Tape

Willie Mac

Harry Alto

Robin Boy

Abbey Bells (USA)

Honest Harry

Silver Bells

Silver Bells

California (USA)

Billy Mac (USA)

Honest Harry

Van Roy

2:34.7

2:14.4

2:26.6

2:26.6

2:26.5

2:19.5

2:14.0

2:21.5

J Davies

A G Hunter

E Leavey

E Leavey

A C Vince

Belmont Stud Farm

A G Hunter

C Paulin

P Glasheen

W Tomkinson

W Tomkinson

W Tomkinson

J J Kennerley

P Glasheen

W Tomkinson

A Williams
The 1909 season
The season got off to an inauspicious start when the second edition of the BJC Open, programmed for August, was abandoned along with the BJC thoroughbred program due to torrential rain.
The impact of imported stallions on the breeding of standardbred horses was showing, with an increasing number of sons and daughters of imported sires winning races. Prior to 1909, the sires Vancleve, Hambletonian Bell Boy and Honesty were the only imported stallions to sire Bendigo Open winners.
The BJC Open was a show-case for three breeding operations
Three breeding establishments close to Bendigo stood stallions which sired progeny that won BJC Opens. Sons of those stallions went on to do the same.
Burnewang Park, west of Elmore was a huge farming property of 36,000 acres bought with the fortune made from mining by Robert Hunter.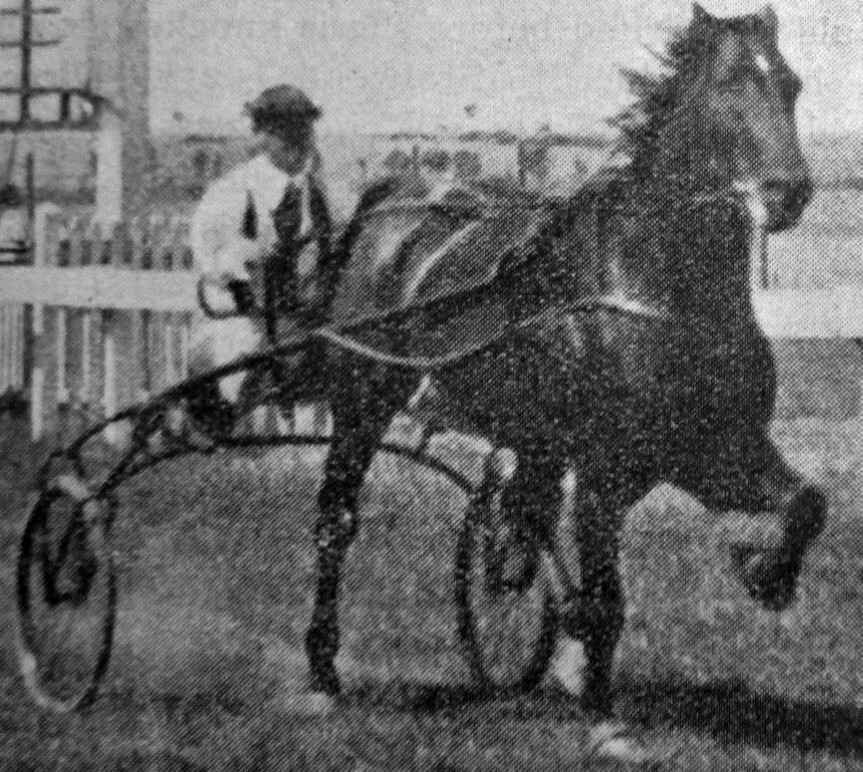 Hunter's first stallion was Honest Harry, an 1885 son of the Tye Brother's import Honesty. Honest Harry sired 23 winners, including the classy BJC Open winners Honest Kate (1916) and Harry Alto (1918).
Pictured: Harry Alto, with A.G. (Alex) Hunter driving
Willie Whips was imported from the USA by Hunter in 1900 and went on to sire 20 winners, including the Prince Whips, sire of GC, who won three editions of the BJC Open in 1919.
Hunter also used Siam, a son of imported Mauritius, for one season in 1921. Siam sired the BJC Open winners Lightnin, Annam, Gunbourne and Whoopee.
The four times New Zealand Cup starter Admiral Wood stood for six seasons at the Northwood Park, Seymour, property of Alex Hunter and sired Admiral Isles, Diana Wood and Princess Wood.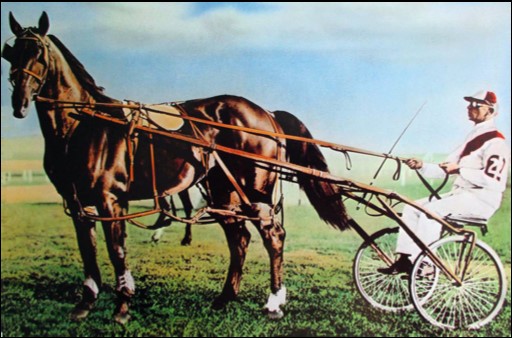 Then in 1922, Robert's son Alex bought the 12-year-old Globe Derby off the track in Sydney. Globe Derby had already sired winners for his previous owners, but at Hunter's Northwood Park and at Derby Lodge at Hagley in Tasmania for EdgarTatlow he sired 315 winners on his way to legend status.
The same year as he was bought, Hunter raced Globe Derby in a BJC Open and he duly won the event from a handicap of 180 yards. Hunter drove another of his horses, Haricot, to finish third.
Pictured: Globe Derby, winner of a BJC Open in 1922 as a 12yo
ENDIGO JC (Epsom) 24-05-1922
TROT – 50 pounds – One & quarter miles
AG Hunters bha GLOBE DERBY, 180yds (AJ Rae) 1
R Dargans chg6 The Brumby, 40yds (TJ Skehill) 2
AG Hunters chma Haricot, 65yds (AG Hunter) 3
Others:
Sunraysed, scr ("D George"), Harold Voyage, scr (T Busst), Hermorer, scr (T Skehill), Rheola, 15yds (G Dixon), Grenadier, 20yds (F Penny), Honey Bee, 25yds (A Wilson), Val Rosa, 40yds (H Toomer), Stormy Voyage, 65yds (P Glasheen), Prince Denver, 70yds (H Bambridge)
Margins: 1/2yd X 3yds Time: 3m 7s
Globe Derby won his last race at Richmond as a 16-year-old. He sired nine BJC Open winners: Australite, Auburn Lad (2), Great Derby, Globes Best, Derby Chief, Dorals Derby, Pink Globe, Derwent Derby, and the Victoria Derby and WA Cup winner Star Princess.
Adelaide Hill Stud in Huntly, just five kilometres from the Epsom Racecourse, was founded by Bendigo grocer and entrepreneur Robert Matchett.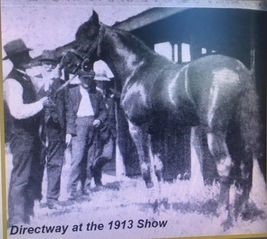 Matchett appointed as stud-master the experienced trainer/driver Bob Crowe, who had won a BJC Open in 1892 as the owner of the New Zealander Prince Edward.
Their 1902 import Directway (Direct – Electway) sired 193 winners, and was responsible for siring seven BJC Open winners between 1919 and 1933: Alice Bell, Vimy Direct, Landstar, Bonnie Direct, Enice Direct, Gaby Direct and 1928 Richmond Thousand winner Percy Direct.
Three of Directway's sons, Bonnie Direct, Direct B and Direction each sired winners.
Matchett and Crowe also imported All Style (USA) in j1913. He sired a total of 70 winners, including two BJC Open winners, A La Mode and Stylish Huon.
Belmont Stud Farm just a short distance across the Bendigo Creek from Adelaide Hill was jointly operated by T. H. (Harry) Busst, a successful pastoralist, publican and business owner.
Busst's partner in the Belmont Stud Farm was Paddy Glasheen, grandfather of well-known Pacing Priest, Fr Brian Glasheen.
Busst and Glasheen bought from the previous owner of the Belmont Stud when it was located at Mandurang on the other side of Bendigo, the three stallions First Voyage, Billy Mac and Dan Patch NZ, as well as a number of mares and their foals.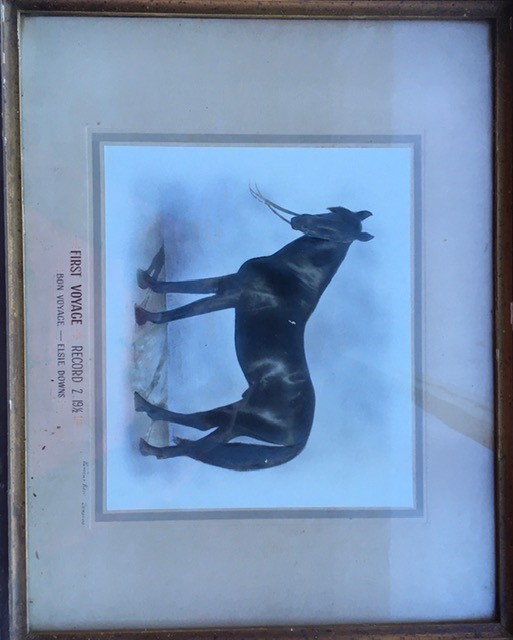 Their most successful stallion was First Voyage, imported in uterus, by Bon Voyage (USA) from Elsie Downs (USA). He was the first Australian stallion to sire 100 trotting winners.
Pictured: First Voyage sired the BJC Open winners Grand Voyage (twice) Lee Voyage, Cissie Voyage and Brown Voyage
The Hall of Fame trotter Grand Voyage won in 1921 and again in 1925. During his racing career, Grand Voyage won 39 races.
Twenty two of these were at metropolitan tracks; (17 at Richmond (Vic) and 5 at Harold Park. In New Zealand he won the Otahuhu Cup at Alexandra Park,
The little known Billy Mac (USA), who was named War Dance in the USA, raced in Victoria and sired 11 winners. One of those was the 1917 BJC Open winner Willy Mac.
Dan Patch NZ had a 2:9.4 mile rate recorded on a visit to New Zealand after racing in Melbourne. He stood at the Allendale Stud of the Tye Brothers in Mentone for two years and one year in Queensland, before being bought by The Belmont Stud Farm. Unfortunately, the horse died from a twisted bowel and was put down before he left any Belmont bred foals. He left a total of 25 winners.
Prolific Metropolitan winners
Many of the horses competing at the Bendigo racecourse, were also racing at the Melbourne tracks at Richmond, Fitzroy or Ascot.
Among the many metropolitan winners that won a Bendigo Jockey Club Open were:
Spot: 13 races (11-Richmond; 1-Fitzroy; 1-Ascot) including a Richmond Thousand
Don Estelle: 5 races (4-Richmond; 1-Ascot)
A La Mode: 10 races at Richmond
Grand Voyage: 22 races (17-Richmond; 5-Harold Park
County Antrim won 10 races at Richmond
Landstar, whose dam was a buggy mare, won 8 races at Richmond
Globe Derby won a career total of 15 races (8-Victoria Park (NSW); 3-Epping (NSW); 1 Richmond (Vic)
Tango Tom won 5 races at Richmond
Miss Advance won 6 races at Richmond
Alrema, whose dam was said to be a blood mare, won 5 races at Richmond
Auburn Lad won 8 races (5-Richmond; 3-Ascot).
Diana Wood won eight races in Melbourne (6-Richmond;2-Ascot)
Robin Roy 5 at Richmond
Percy Direct won 7 races at Richmond including the 1928 Richmond Thousand.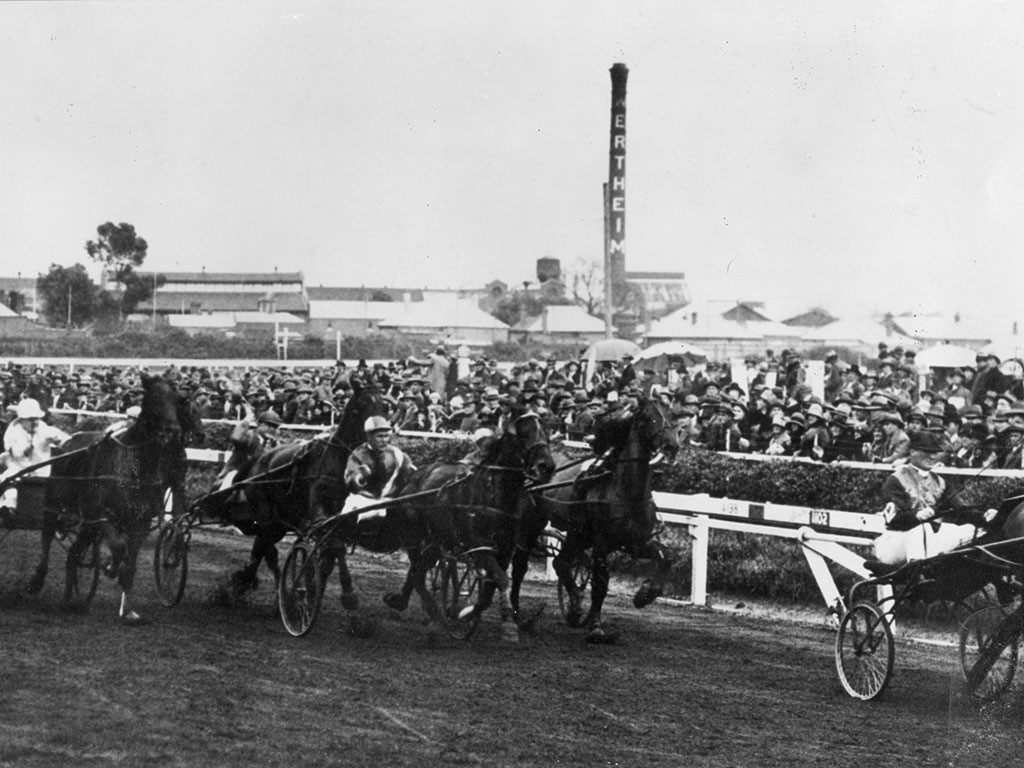 When millionaire, John Wren took control of Melbourne trotting in 1907, he immediately programmed races at the Richmond track in Bridge Road worth up to £500. This was a huge increase from the £20 races that owners and trainers had been competing for.
The Richmond Thousand winners that also won a BJC Open were Spot, Robin Roy, Diana Wood and Percy Direct.
For details of Melbourne tracks including Richmond, Ascot and Fitzroy, click here
Pictured: The Richmond Racecourse, Bridge Rd. Richmond
Famous Families
At the commencement of the 20th century, the importation of sires and mares into Australia from the USA and New Zealand enabled existing standardbred families to improve.
With the benefit of time, a look back at several families reveals that many winners of the BJC open were from what became influential and prolific winner producing families.
Using www.Classicfamilies.net, The Australian Trotting Stud Book Mares Index and The Trotting Annals of Bendigo and Environs by John Peck (a digital resource at the Bendigo Library), it is possible to trace the influence of several of those families.
Classic Families A3: Lightnin (1921)
Lightin, a 1917 foal by Siam from Greens thoroughbred mare, by Honest Harry, was taken to New Zealand by J.J. (Jack) Kennerley where he sold her to Sir John McKenzie, founder of Roydon Lodge.
Kennerley twice won the NZ Cup with Peter Bingen and trained winners of five NZ Free-For-Alls in Logan Chief, Acron (twice), Native Chief and Peter Bingen.
Lightnin's daughter Light Wings left the 1948 Inter Dominion winner Emulous. Her grand-daughter Ladyship was the dam of Lordship, one of Australasia's champion racehorses and sires.
Lordship was rare in that he was a champion racehorse, a champion sire and a champion brood-mare sire.
He won 45 races, including two NZ Cups. Lordship has 82 on the 2:00 list and three on the 1:55 list - First Mate 1:54.8, Lord Module 1:54.9 and Templar 1:55. A past champion sire, Lordship was twice leading NZ broodmare sire.
Classic Families A7: Katie M (1894), Honest Kate (1916) and Takanini (1939)
This family is known as Secret. Secret was an 1887 daughter of the Californian sire Ajax, who won 10 of 26 races in America before being exported.
Katie M, winner in Victoria and New Zealand, was the dam of Katie Osterley who won seven in Melbourne (Richmond four, Ascot three).
Katie Osterley left seven classic winners including Honest Kate, the winner of races at Richmond and Victoria Park, and Epping In Sydney.
Honest Kate's son, the Victoria Derby winner Robert Derby, sired 308 winners. It was his son Lawn Derby who became the first 2:00 performer outside America.
Classic Families A23: Star Princess (1933)
Founded by a mare by Hawkesbury, a stallion standing in NSW. The un-named mare left Starland, the dam of the champion mare Star Princess.
She won 11 races at Ascot, including the 1933 Victoria Derby. She won a consolation of the 1939 Inter Dominion, and went on to become the ancestress of well-known horses including Bendigo Cup winner Miss Raidal, General Con, Concorde Lombo ($550,451) and Quick Draft ($401,199).
Classic Families A95: Willie Mac (1918)
The Frosty Family is responsible for the two times BJC Open winner Willie Mac, the well-known "Cooma" horses of the Way family including King Kong Cooma, and the recent Victorian 4yo Sires Stakes trotting winner Brief Glance.
Classic Families A250: Connie Wilkes (1923) and Connie Glo (1932)
This is the family founded in the Boort district by Scott's King of Bronte mare. King of Bronte stood at Korong Vale at the property of Herbert Coutts. King of Bronte sired Bronte from a thoroughbred mare.
Bronte became famous for just one outstanding mare, Hando's Bronte mare. She is the ancestress for the Hando family of outstanding horses including Peak, Hill, and Lucky Western.
Herbert Coutts was the first president of the Boort Trotting Club and raced many good horses. His horses Otter and Vimy Direct won BJC Opens.
Connie Wilkes, after winning the 1923 BJC Open, became the dam of Con Derby, who won six races in Melbourne (two at Richmond; four at Ascot) and then won 11 metropolitan races in Perth (five at Perth course, four at Gloucester Park, two at Brennan Park).
Connie Glo was a high-class pacer. She won the 1932 Victoria Derby (the year after her half-brother Con Derby) and then went to Western Australia, where she won the 1932 Fremantle Cup and the 1935 W.A. Pacing Cup. On returning to Victoria she won at Richmond in 1935.
Classic Families U304: Abbey Chimes (1914), Queen Pirate (1924 and 1926)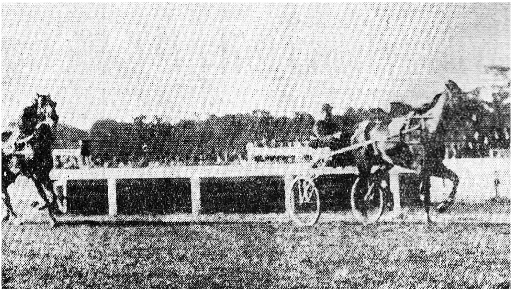 The Lutie Rogers family left the US when the 1877 mare Jeanie Tracey was exported in foal to New Zealand.
Top class pacers from the family include Sky Raider (eight wins at Harold Park), Maestros Melody (seven at Melbourne Showgrounds), Tarcoola (18 at Harold Park), Murray Mac (eight at Melbourne Showgrounds), Tarcoola Frost (17 at Harold Park), Our Maestro (14 at Moonee Valley) and Rufus Young Blood (17 at Moonee Valley and four Derbies).
Pictured: Queen Pirate 924 and 1926 BJC Open winner, with driver George Daniel.
Hall of Famers to the fore
These Victorian Harness Racing Hall of Fame members won Bendigo Jockey Club Opens.
Globe Derby (1922)
Globe Derby as a racehorse had a succession of owners and over his racing career only won 12 times.
However, at that time horses that showed ability were quickly given severe handicaps and were often used as betting mediums. In fact, during his racing career Globe Derby was disqualified for 12 months.
He was bought by A.G. Hunter when racing in Sydney and finished his racing career by winning at Richmond In Melbourne at the age of 16.
Before he had to be put down at age 26, Globe Derby sired 315 individual winners and 70 siring sons, who were to be responsible for 2228 winning performers.
His sire line has produced a long list of great horses, among these the champions Johnny Globe, Lordship, Lord Module, Lawn Derby, Avian Derby, Ribands, Springfield Globe, Aachen and Van Derby. Through his female line have descended Halwes, Royal Force, Roma Hanover, James Scott, Manaroa, Welcome Advice, Pure Steel, Ribands, and Adaptor.
For the full story of Globe Derby click here
Grand Voyage (1921 and 1925)
Trained and exclusively driven by Paddy Glasheen of the Belmont Stud at Huntly, Grand Voyage first raced and won as Bonnie Voyage.
He was an outstanding trotter, but was so tightly handicapped that he later raced and beat high class pacers.
In New Zealand in 1922 he won the Otahuhu Cup at Alexandra Park in Auckland (of 2000 sovereigns), beating a field of New Zealand's top pacers.
The black stallion won 39 races (17 at Richmond (Vic), five at Harold Park, five at Elmore, three at Bendigo, two at Goornong and one at Ballarat, Rochester, Charlton, Otahuhu (NZ), Kyneton and Inglewood).
He set an Australian Trotters Stallion Mile Record in 1920 of 2:16.6, reducing it in 1922 to TT2:14.0.
Grand Voyage won the first Boort Cup from a back mark of 280 yards.
For more about Grand Voyage, click here
A.G (Alex) Hunter (1918, 1922)
A.G. Hunter was the son of prominent Elmore grazier and horse breeder Robert, of Burnewang Park, Elmore.
He was president of the Royal Agricultural Society and an outstanding figure in Victorian sport.
Hunter was a member of the Victoria Racing Club committee for 20 years, and was one of Australia's best known breeders and owners of racehorses. He was also chairman of the Trotting Control Board from its inception in 1947.
As a young man, Mr. Hunter bred, trained, and drove trotting horses with great success in every state of Australia and New Zealand.
His stud at Northwood Park became one of the largest and most successful breeding establishments in Australia. His best known trotting horses included Globe Derby and Homeward Bound.
Although Hunter switched from breeding trotting horses to gallopers he always retained a keen interest in harness racing.
The most important race on Victoria's pacing calendar, the A.G.Hunter Cup, is named for him.
Hubert Shinn (1923, 1927, 1940)
Hubert Shinn was the patriarch of the Shinn Family, who have had a century long history of excellence, with seven members that have achieved Group 1 success.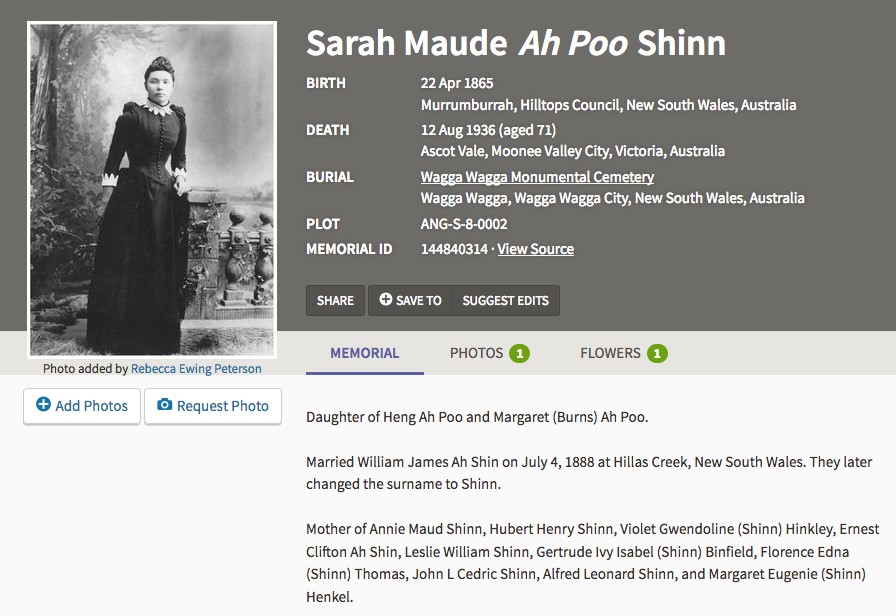 Hubert was the son of Wantabadgery (NSW) farmer William and Sarah, daughter of Chinese miner Henry Kong Pow.
Pictured: Hubert Shinn's mother, Sarah.
Hubert won races in four states, captured a Melbourne Driving Premiership in 1933/34 and was never suspended in 45 years of competing.
His sons were Bill, who trained and drove the 1958 Melbourne Inter Dominion champion Free Hall, Frank, who had Group successes in Tasmania, South Australia and Victoria, and Reg, who had Group success in South Australia and Victoria.
Frank's sons Gerald and Steven were successful in Melbourne, with Steven winning the Kilmore Cup on Pure Steel.
Reg's son Noel has achieved the most Melbourne driving (158) and training (198) successes of any of the family.
Bill McKay (1929, 1933, 1940)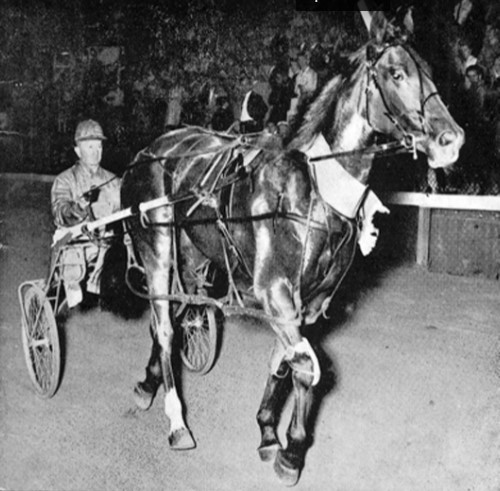 Bill McKay, son of the Boort Railway stationmaster, was the consummate horseman and inaugural inductee into the VHRHoF in 2009.
He was the winner of the Melbourne Driver's Premiership when racing was at Richmond and Ascot tracks in 1930/31, 1936/37, 1937/38 and 1939/40, and when metropolitan racing was at the Royal Melbourne Showgrounds in 1951/52
Bill McKay won the Melbourne Trainer's Premierships in 1936/37, 1949/50 and 1951/52. He trained and drove the two champions Direct Home and Auburn Lad, both by Globe Derby.
The result of the 1929 Bendigo Jockey Club open was the first of three trained and driven by Bill McKay.
BENDIGO 15-08-1929
HCP – 65 pounds – One & quarter miles
W Mckays bg AUBURN LAD, 12yds (W McKay) 1
GA Nelsons bh Great Derby, 24yds (G Nelson) 2
T Taylors bg Emmett, 30yds (T Taylor) 3
(Winner trained by W McKay)
Others: Derby Style, scr (H O'Connor), Glimmer, scr (J McMenamin), Home Voyage, 18yds (G Taafe), Tennessee Direct, 24yds (G Daniel), Kelvin Style, 24yds (R Duggan), Valma Wood, 24yds (W Lea), King Culloden, 24yds (C Fisher), Beaufort, 24yds (W Vines), Daphne Bells, 30yds (G Bray), Bingen, 36yds (F Luck), Alremea, 36yds (J O'Brien), Alredo, 42yds (G Gray), Diana Wood, 42yds (W Lang), Dolly Bazil, 66yds (WH Simmons), Percy Direct, 66yds (A Storey)
Margins: 1 1/2yds X 3yds Time: 3m 0 1/2s (WR 2m 31.6s)
Pictured: Bill McKay at the Royal Melbourne Showgrounds
George Gath (1930, 1936, 1939)
George was a remarkable horseman and remains the only driver to win at Richmond, Ascot, Melbourne Showgrounds and Moonee Valley, as well as the first person to win 300 races in Melbourne.
He won six Victorian driving premierships, four Melbourne driving premierships, two Adelaide premierships and was beaten by a victory in a Sydney drivers' premiership.
In addition, George won four Melbourne and three Adelaide trainers' premierships, as well as training and driving Tara Meadow to record the first two-minute mile in Victoria.
George trained many great horses, including trotters Paddy McKinney, Bingen Redmond, Carlottas Pride and Delvin Dancer, while his best pacers were Joy's John, Heroic Action, Gyro and Tara Meadow.
Stars emerge
Paddy Glasheen (1917, 1918 (2), 1920, 1921, 1924, 1925 ( 2), 1927)
Paddy Glasheen one of Australia's leading trotting drivers.
Prior to leaving Bendigo for Charlton, and then to NSW, Paddy, in partnership with the late Harry Busst, conducted the Belmont Stud Farm at Huntly, which later became famous as a home of champions.
Horses from the stable carried all before them all over Australia and as far as New Zealand, not only in the racing world, but also in the Royal Shows at Melbourne and Sydney.
One of their best horses. First Voyage, later became famous through the career of his son Grand Voyage. Grand Voyage was described by Mr. A. J. Gray, handicapper, as the best trotter he had ever seen, and was the only horse of his gait capable of beating the hoppled pacers from the back mark.
In his early days around Charlton, Paddy Glasheen owned gallopers and his good mare, Queen Elizabeth, along with others, won many successes at that time.
His son, Jack, trained at Preston and Jack's son, Fr. Brian, is the well-known "Pacing Priest".
Paddy died suddenly in Young, NSW, in 1946. He was reported to be in good spirits right up to his sudden death and at the time had a team of horses in training.
Bill Tomkinson (1916, 1917 (2), 1918 (3))
Bill Tomkinson, originally from Warrnambool, moved to Rochester to play football.
He was an accomplished horseman and quickly started a business educating and training all breeds of horses.
He attracted the attention of wealthy owners Robert and Alex Hunter, who engaged Tomkinson to train and drive many of their horses.
He was highly successful and set up stables in Melbourne, and later Sydney, before moving to Christchurch in New Zealand where he became the leading trainer and driver in New Zealand.
In the 1924/25 season, Tomkinson was at the head of the drivers list and repeated this in 1928/29. He was leading trainer in 1924/25, 1927/28 and 1928/29.
He trained and drove Happy Voyage, Glide Away, Globe Derby and the dual NZ Cup winner Indianapolis.
He tragically died at age 46 after an accident when tying a sulky to a truck.
For a detailed story on the career of Bill Tomkinson click here
Harry Toomer (1917, 1921, 1928, 1933 (2))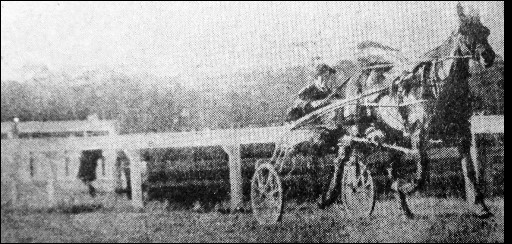 Harry Toomer was from Colbinabbin, east of Elmore. He was a prolific winner of races in the Bendigo district.
He is best known for the mare A LA Mode, who won 10 races at Richmond including the Fleet Cup.
Pictured: Cissie Voyage and Harry Toomer
He is also known for the Supreme Court writ issued after an incident in the 1927 Richmond Thousand. Toomer claimed £532 for loss sustained in the accident. Toomer claimed that the driver, D. James, second on Retreat, caused the smash. Eleven horses fell and one was pulled up.
For a newspaper report on the smash click here
1927 RICHMOND THOUSAND – 1000 pounds – One & half miles
G Minchins chh5 RED BAZIL, scr (G Minchin) 1
J Rowbottoms bha Retreat, 24yds (J James) 2
E Gibbs brha Direct Abdullah, scr (RS Henry) 3
Others: D Kennedys blkha Vin Direct, 54yds (J Devereau) (4th), A Laws bga Straightly, 12yds (W Jones) (5th), Mrs Davies brh5 The Admiral, scr (L Mann) (6th), Le Wilkes, scr (7th), Lulureen, 6yds (8th), Delavan, 18yds (9th), Lord Lulu, 42yds (10th), Talisman, 12yds (PU), Dixies Pride, 6yds (FELL), Kinnie Bazil, 6yds (H Toomer) (FELL), Nervie Dillon, scr (FELL), Barunga King, 6yds (FELL), Nimble Direct, 12yds (FELL), John Direct, 12yds (FELL), Silent Knight , 30yds (FELL), Dixie Fox, 36yds (FELL), Murray Chimes, 42yds (FELL), Snowshoe, 54yds (FELL), Auto Machine, 66yds (FELL)
Margins: 15yds X 6yds Time: 3m 27s (WR 2m 18)

Charlie Robertson (1925, 1926, 1934, 1937, 1938)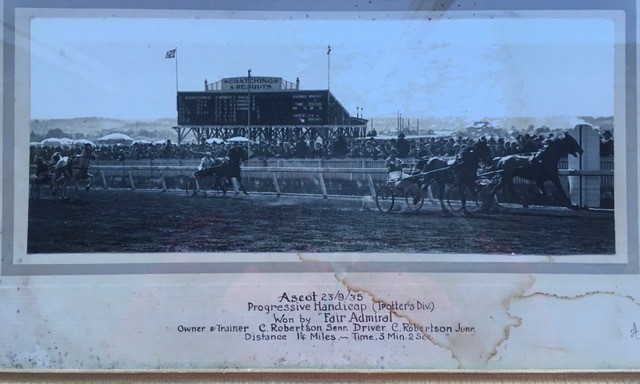 Charlie Robertson Jnr followed in the footsteps of his father, training and driving from his base at Boort.
Robertson achieved early fame by training and driving the champion New Derby.
New Derby won two Ascot Thousands and travelled to Perth in 1936, where he competed in the first Inter Dominion.
Robertson later stood the brilliant two-year-old Convivial at stud and trained many of that stallion's progeny to win.
Pictured: Fair Admiral, with Charlie Robertson driving, winning the 1929 Victoria Trotters Derby at Ascot as a nine-year-old.
J J (Jack) Kennerley (1918)
J J Kennerley, contrary to general opinion, was not an Australian. He was born in the Waikato in NZ, but at a early age he went to Australia with his parents.
Kennerley trained and drove his first winner, Lively Bells, in 1911. He later won a Sydney Thousand with Hardy Wilkes. In 1914 Kennerley went to NZ, and won a race with Eminent at Addington. He returned to Australia, but in 1921 he went back to NZ and settled there.
He took with him Lightnin the BJC Open winner of 1921, which he sold to Sir John McKenzie of Roydon Lodge.
He soon became a leading trainer and was private trainer for McKenzie, who owned Great Bingen and Acron and many other good horses. Other champions and near-champions trained by Kennerley were Peter Bingen, Native Chief, Logan Chief and Pedro Pronto.
Chris Rokkjer (1920)
Chris (Christian Neilson) Rokkjer was born in Denmark in 1884 and went to NZ first and became a naturalised New Zealander.
He came to Melbourne in 1912 and was a horse trainer living at North Melbourne, Richmond and Collingwood.
He remarried in 1922 and moved to Sydney with his new wife and daughter and from 1925 lived at Coward Street, Mascot and was a very successful trainer and driver. He appeared in the 'Top Ten' in a few driver's premierships at Harold Park in Sydney.
Year

Race Date

Purse

Winner

Sire of winner

Best Mile Rate

Owner

Driver

1919

June 28

June 29

Aug 27

Aug 28

Nov 26

Nov 27

50 Sov

50 Sov

55 Sov

55 Sov

65 Sov

65 Sov

Vanzone

Black Doris

Native Direct

Native Direct

Alice Bell

Huon Jack

Van Roy

Judge Huon

Bonnie Direct

Bonnie Direct

Directway (USA))

Huon Junior

2:26.0

2:24 ¾

2:23.2

2:23.2

2:20.5

2:23.2

H Hogan

J Bowey

G Wilkinson

G Wilkinson

"J Byron"

H Bambridge

A Rae

T Busst

C H Wilson

C H Wilson

T Skehill

H Bambridge

1920

June 2

June 3

July 14

July 15

Aug 25

Aug 26

50 Sov

50 Sov

50 Sov

60 Sov

55 Sov

55 Sov

Sprightly

Sprightly

Lylockv NZ

Brown Voyage

Vimy Direct

Direct Lad

Dixie Alto (USA)

Dixie Alto (USA)

Hal Zolock (USA)

Final Voyage

Directway (USA)

Bronte

2:21 ¼

2:21 ¼

2:13.2

2:35.0

2:36.0

2:21.5

F Charlton

F Charlton

Mrs Bing

T Cox

H G Coutts

M D O'Callaghan

P Shipp

P Shipp

C Rokjer

T Cox

H Coutts

P Glasheen

1921

April 6

April 7

May 24

May 26

Aug 24

Aug 25

Nov 24

50 Sov

£ 50

£ 50

£ 100

£ 55

£ 55

£ 100

Moyne

A La Mode

Johnson Cleve

Lightnin (3yo)

Direct Lad

Grand Voyage

Rheola

Light O Frisco

All Style (USA)

Johnson J

Siam

Bronte

First Voyage (iiu)

Direct B

2:16.7

2:16.7

2:29.0

2:17.0

2:21.5

T2;13.0

2:25.4

James Lucas

F Burgoyne

A Dobell

R A McNaught

M D O'Callaghan

Belmont Stud Farm

J Hawkins

E G Lucas

H Toomer

J Ferguson

T Wills

M O'Callaghan

P Glasheen

G Dixon

1922

Feb 16

May 24

May 25

Aug 23

Aug 24

Nov 29

Nov 30

£ 50

£ 50

£ 50

£ 55

£ 55

£ 60

£ 60

Tango Tom

Globe Derby

The Brumby

County Antrim

Ruby Ribbon

Landstar

Sprightly

Grattan Bells

Mambrino Derby

Harold Direct

Baron Rothschild

Rothschild

Directway (USA)

Dixie Alto

2:21 ¾

2:08.2 TT

2:25.0

T2:22.2

2:34.0

2:15 ¼

2:21 ¼

Bernosochis

A G Hunter

R Dargan

T McCrow

J Phyland

W P O'Sullivan

Mrs Shipp

H Bambridge

A J Rae

T J Skehill

T McCrow

F Phyland

J Hawkins

P Shipp

1923

Feb 14

Feb 15

May 20

Aug 22

Aug 23

Nov 28

Nov 29

£ 40

£ 50

£ 65

£ 55

£ 60

£ 60

£ 60

Dolly Doble

Connie Wilkes

Abbey Jim

Alrema

Val Rosa

Nellie Chimes

Bonnie Direct

Lou Doble (USA)

Marshal Wilkes

Abbey Bells (USA)

Al Huon

Le Rosier (NZ)

Delavan Chimes

Directway (USA)

2:20.6

2:22.5

2:17.8

T2:20.0

2:25.0

2:12.0

2:17.0

J F Mooney

C McKenzie

J Anderson

J Rones

W Rocke

H Shinn

M Wilkie

J James

T Skehill

D Walsh

D Wilson

G Daniel

H Shinn

M Wilson

1924

Feb 13

Feb 14

May 21

May 22

Aug 13

Aug 14

Nov 27

£ 40

£ 50

£ 50

£ 60

£ 55

£ 60

£ 60

John Alto

Park Rose

Annam

Annam

Dixies Pride

Rheola

Queen Pirate (NZ)

Dixie Alto (USA)

Harry Rose

Siam

Siam

Dixie Alto (USA)

Direct B

Normintson (NZ)

2:26.0

2:12.5

2:34.0

2:34.0

2:15.0

2:25.4

2:15.4

S Coleman

M Burns

J White

J White

W Caldwell

H Samson

Busst and Glasheen

W Fraser

M Burns

S Thomas

S Thomas

C Caldwell

D Hughes

P Glasheen

1925

Feb 11

May 5

Aug 20

Nov 26

£ 40

£ 50

£ 65

£ 75

Rheola

Grand Voyage

Lee Voyage

Count Bingen

Direct B

First Voyage (iiu)

First Voyage (iiu)

Lord Bingen

2:25.4

T2:13.0

2:22.0

2:18.6

H Samson

Busst and Glasheen

C Robertson

J Sutton

P Glasheen

P Glasheen

C Robertson

J Farrell

1926

Feb 10

May 20

Aug 19

Nov 25

£ 40

£ 65

£ 65

£ 100

Harcourt (Burnealto)

Abbey Jim

Queen Pirate (NZ)

Stylish Huon

Harry Alto

Abbey Bells (USA)

Normintson (NZ)

All Style (USA)

2:17.2

2:17.8

2:15.4

2:28.5

Miss Caldwell

J Anderson

M Daniel

C Robertson

C Caldwell

D Walsh

F Donaldson

C Robertson

1927

April 4

May 19

Aug 18

Nov 24

£ 60

£ 65

£ 65

£ 100

Australite

Basil Huon

Gnapara Chimes

Bill McKinney

Globe Derby

Basil B

Derby Chimes

Jack McKinney

2:13.7

2:21.0

2:21.7

T2:22.5

H Shinn

W Hueston

J Jones

W J Morgan

H Shinn

W Hueston

D Wilson

P Glasheen

1928

Feb 18

May 17

Aug 16

Nov 29

£ 40

£ 65

£ 65

£ 100

Emmie Direct

Cissie Voyage

The Admiral

Princess Wood

Direct B

First Voyage (iiu)

Admiral Wood (NZ)

Admiral Wood (NZ)

2:22.8

2:21.2

2:16.3

2:17.0

C H Neilsen

W Watts

Mrs G Davies

H Stevens

C Caldwell

H Toomer

D Mann

M McMurtrie

1929

Feb 6

Aug 15

Nov 28

Nov 28

May 16

£ 40

£ 65

£ 50

£ 50

£ 65

Bronte Bells

Auburn Lad

Main Voyage

Lingering Lu

Diana Wood

Bronte

Globe Derby

Grand Voyage

Lulu Boy

Admiral Wood (NZ)

2:22.8

2:31.6

2:14.5

2:23.2

2:21.2

J Watts

W McKay

A Simpson

F Nelson

J Daniel

W McKay

W McKay

A Simpson

G Nelson

G Daniel
Next: Part Four 1930 – 1947
Economies bite: Back to four races a year and prizemoney shrinks
The war years 1941-1945, no BJC Open
Three Gath brothers win
The boys from Boort: Robertson, McKays, Butterworth
Who was Harry Toomer?
George Daniel (alias D George)
The end of grass track racing at Epsom? Not quite!
Summary of the 80 years: Leading drivers/riders and horses