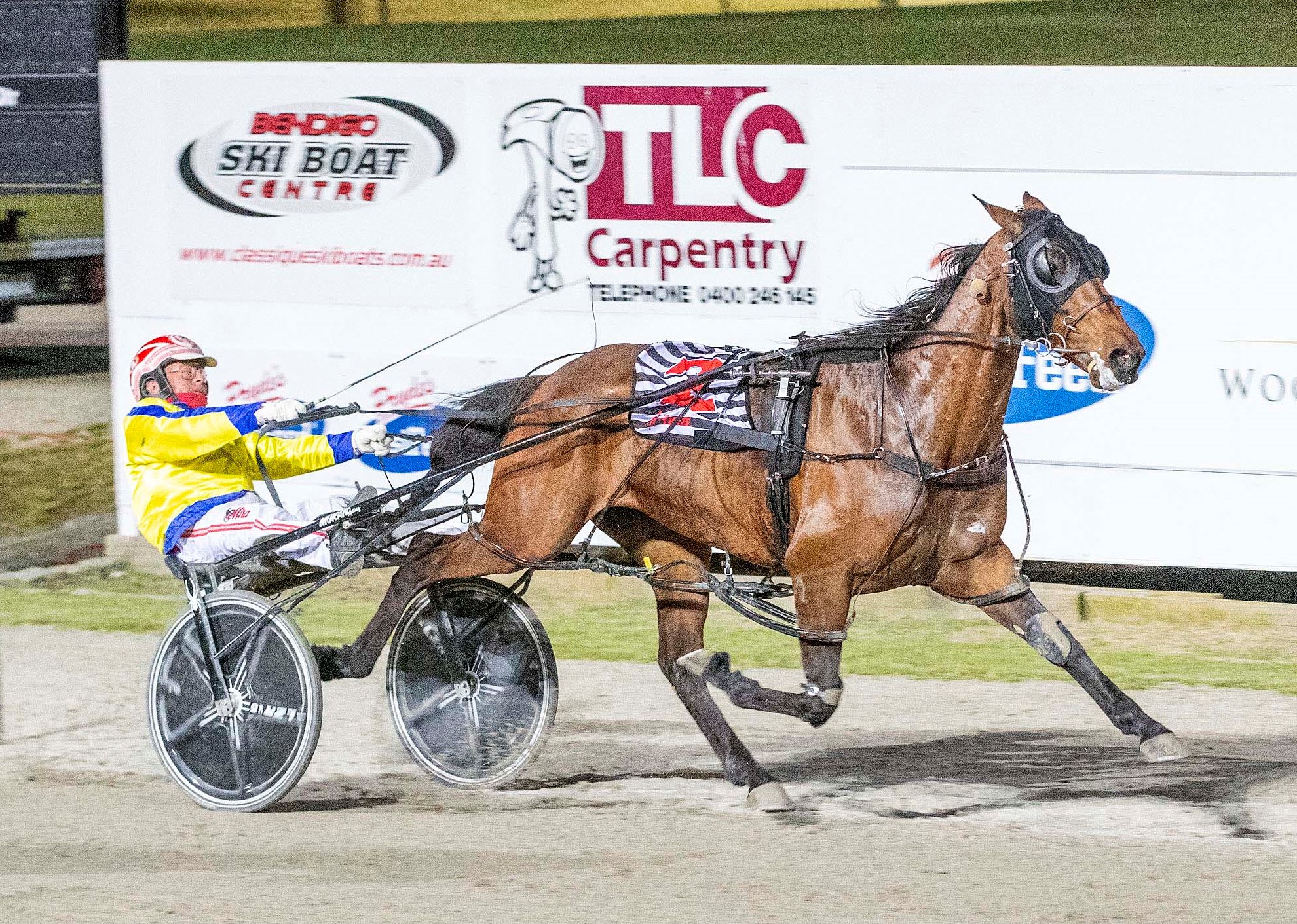 MAX Delight has produced a stunning turnaround to win the Pryde's EasiFeed Victoria Cup, nabbing Australia's leading pacer King Of Swing on the line to capture the prized silverware.
Chris Alford shot Max Delight to the lead from gate two before handing up to Amazing Dream, then lay in wait while the leader battled with King Of Swing, producing a late dash up the Bendigo sprint lane to score in the $300,000 classic.
It was a triumph for trainer David Aiken, who just a week prior scratched Max Delight from the TAB Smoken Up Sprint owing to a foot abscess, only to have the five-year-old recover to nab the victory.
"It's pretty amazing," Alford told TrotsVision. "It could have been a blessing in disguise not having a tough run and going into tonight fresh."
Alford and Aiken combined to win the Victoria Cup twice with Lennytheshark in 2016 and 2017 and the pair added a third tonight, orchestrating what would prove a decisive move by crossing the polemarker Torrid Saint from the gates.
"When we talked before the race I said I don't really think we can cross the one horse (Torrid Saint) and I don't think he'd be happy to sit on us … but Max had different ideas," Alford said.

"He got up on that gate, he was nearly eating it he was that hard up on it. Shot out really good the first 100 and just settled beautifully.
"Off the back I was just pinching myself going they're all off the bit here and I've still got plenty of horse. I knew we were rolling. Ants had to keep the foot down to make King Of Swing work.
"King Of Swing was off the bit down the back, and so was the leader. I looked around and General Dodge was there, I nearly buggered it all up and half went to come off the fence just before the straight. Luckily (Torrid Saint) wasn't going good enough and I was able to go back to the inside and get the run."
And the rest took care of itself, delivering Aiken a third Victoria Cup and Alford a fourth, with the latter having also won in 1995 on Golden Reign.
It was initially mixed emotions for Aiken after Malcolms Rhythm had a frightening fall with about 100 metres to run, but both the reinsman – his son Josh – and horse rebounded.
"Everything's good," he told Trots Vision, "so that's a relief, horse and driver are good".
And it meant he could enjoy the Grand Circuit win with a horse who had emerged from his inury cloud to soar in the spotlight.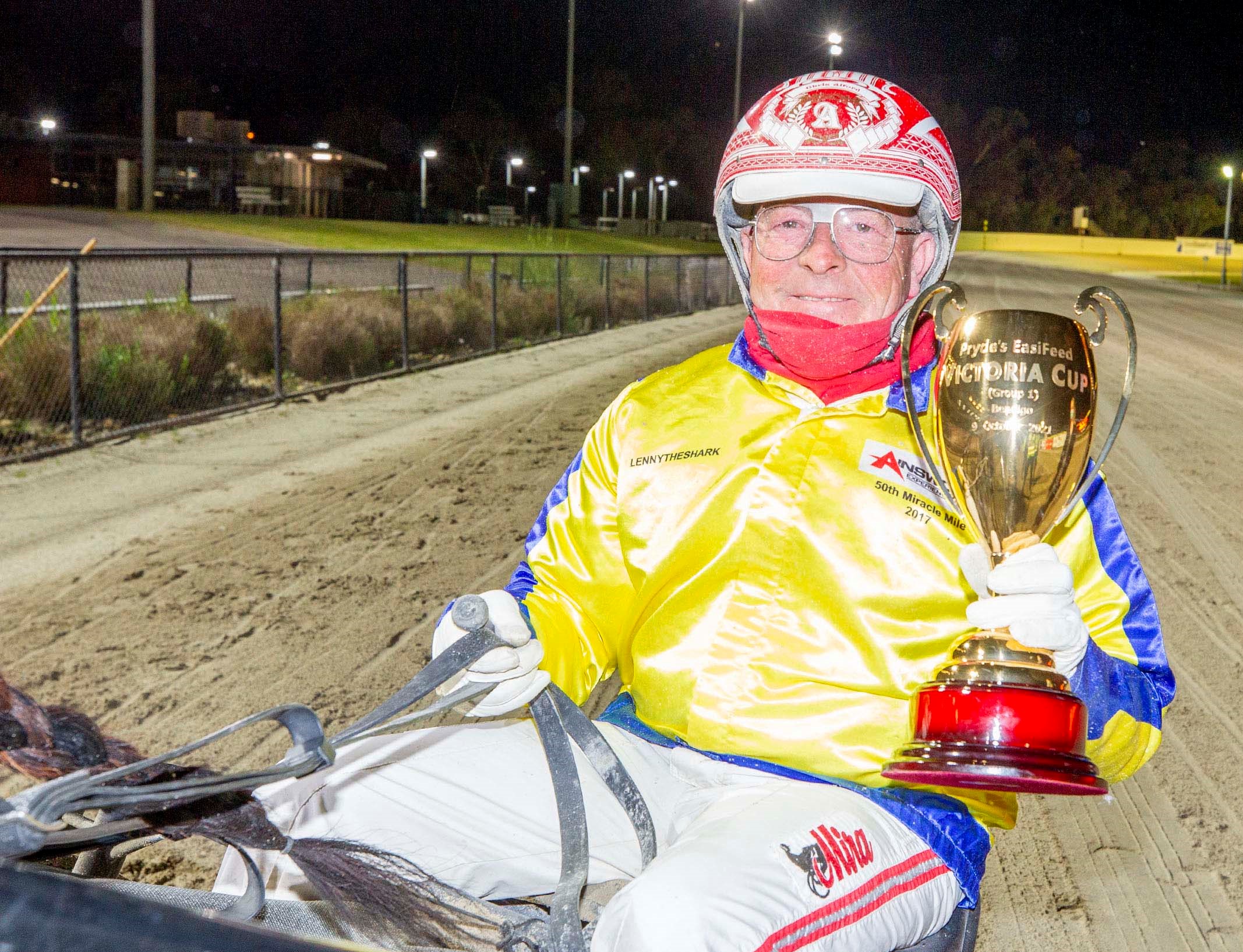 "I said to Chris before the race, we've had a disrupted week, but we've also had plenty of miles into his legs," Aiken said. "He's been to Sydney, he's had some hard racing, he's just missed that one run. It's a big relief, it's great.
"He had the draw and he's a dangerous horse. He had to have the luck, but (I was confident in the run). Ants set it up, he was driving to beat King Of Swing, which is understandable.
"But you've got a good sit-sprinter on your back, a horse with high speed, you leave yourself a little bit vulnerable."
And so it would prove, with Max Delight shooting down the sprint lane to score in a 1:53.2 mile rate, fueled by a 27.4-second third quarter and 28.5-second dash home.
Triple Eight again savaged the line to continue his outstanding season with a second placing, finishing within 3.2 metres of the winner and pipping King Of Swing on the line.
The latter, a Miracle Mile and Hunter Cup champion, would have lost no admirers after sitting in the breeze for the entire last lap, while leader Amazing Dream boxed on well to finish fourth beaten only eight metres.
EXCLUSIVE: WATCH AS DAVID AIKEN TAKES MAX DELIGHT THROUGH HIS FINAL WORKOUT
WATCH: DAVID AIKEN TALKS TO TROTS VISION AFTER MAX DELIGHT'S WIN
WATCH: CHRIS ALFORD TALKS TO TROTS VISION AFTER CAPTURING A FOURTH VIC CUP


---