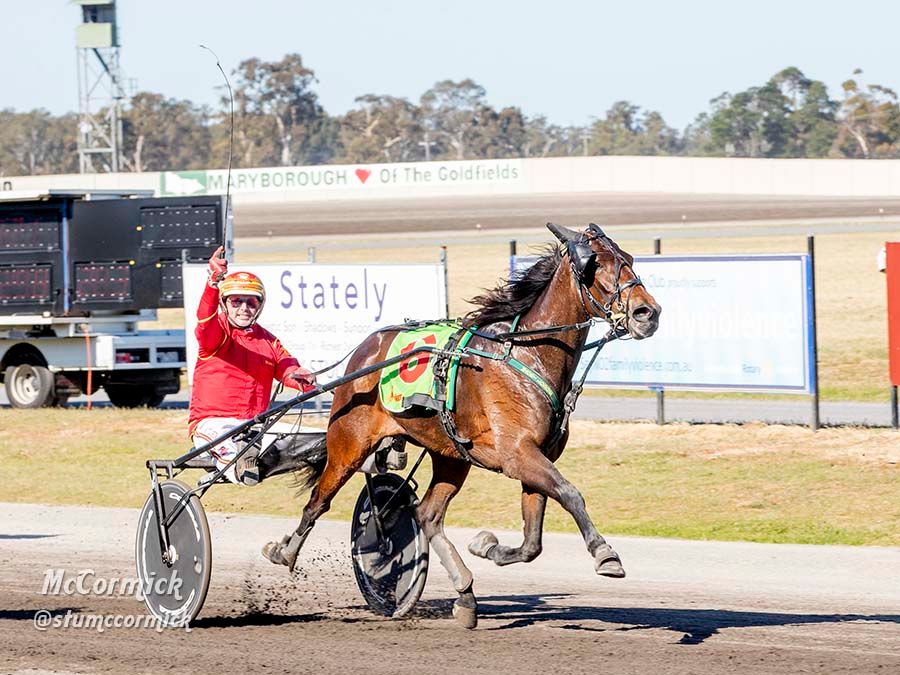 Trotting's most exciting superstar has shone again on trotting's biggest day with filly Pink Galahs upstaging the boys to win the Haras Des Trotteurs Victoria Trotters Derby Final at Maryborough.
The daughter of Skyvalley extended her winning streak to five – three of those races Group 1s – as she sprinted home from three back on the pegs to claim the lion's share of the $75,000 race prizemoney.
"The excitement, the pride, I'm just so proud of this little girl," trainer-driver Matthew Craven told Trots Vision.
"You just can't describe her. She makes you so proud. Yesterday we brought her in for a swim and a brush and took her for a walk, and she absolutely toed me around. You'd think four runs in four weeks was going to be a bit too much for a little filly, but she just gave me so much confidence that she was still up and about and ready to go."
Pink Galahs pinged from mobile and crossed to the pegs in front before handing up to the other Trotters Derby heat winner in Gimondi when Greg Sugars took that colt forward.
"Initially we were very keen to hold the front depending on how it all panned out but Gimondi has super in the heat and when he was coming and Lisa's horse (Powderkeg) was trailing I just thought it the right thing to hand up," Craven said.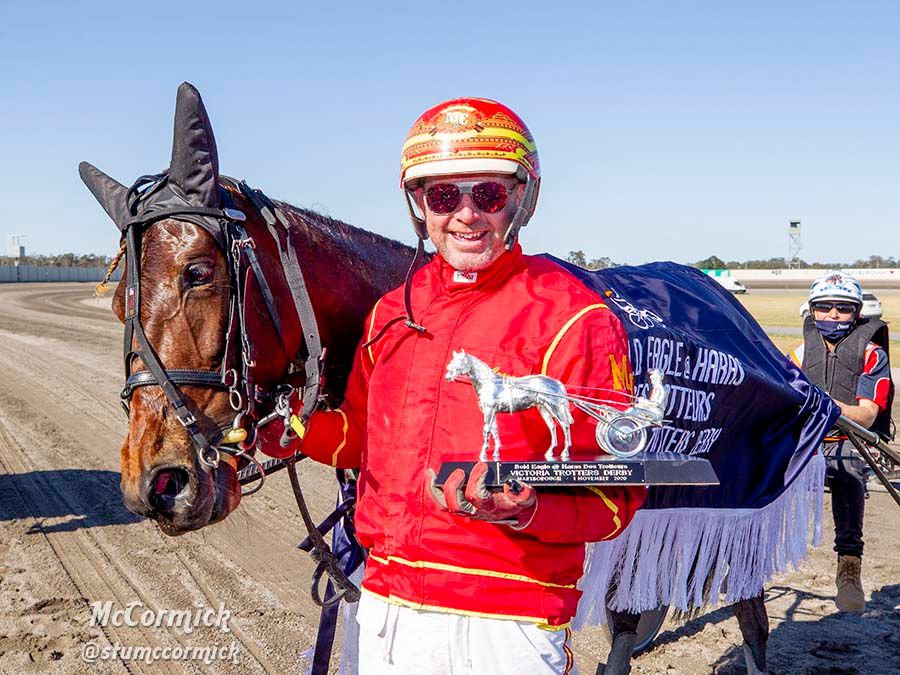 "I wanted to make sure we weren't going to cop too much pressure and make sure we got the trip (2600m)."
The race changed complexion at the bell when Anthony Butt exploded around the field on Elite Stride to run to the front, snookering Pink Galahs three-pegs.
"I wasn't going to panic," Craven said.
"When Greg went off stride (approaching the home turn) we still had a little way to make up, but just ask her (Pink Galahs) and she just puts her head down. It's a privilege to have a horse like this in your care."
Pink Galahs' major goal this campaign had been to win the TAB Victoria Trotters Oaks, which she did. But additionally, the filly has now beaten the older horses in the Group 1 Aldebaran Park Bill Collins Trotters Sprint and the Haras Des Trotteurs Victoria Trotters Derby.
"This is what it's all about. This is why we do it," Craven said.
"I'm so rapt to be able to pull it off."
Pink Galahs rated 2:01.2 today to defeat Elite Stride by 4m, with Lisa Miles' Powderkeg producing another tough effort to finish 4.5m behind the winner in third place.
Redwood Classic: Mexicana claims Group 1 2yo trotting feature
Photos: Stuart McCormick