Through a weekend of stars and sparkling performances, none were as remarkable as Just Believe.
I'm not sure he's ever looked sharper or gone better in Australia than he did winning first-up at Bendigo last Friday night.
In the build-up, Greg Sugars said Just Believe "feels as good, if not a touch better" than before he left for Sweden.
He looked it.
Sure, the race was run to suit with that early burn between Queen Elida and Mufasa Metro, but instead of a track record tempo "finding out" Just Believe first-up from a break, he revelled in it.
Sugars drove with confidence, putting him straight into the fray, outside his main danger Queen Elida, as soon as he could.
The way Just Believe ambled up to the mighty mare – who had won 12 of her previous 13 starts – was remarkable.
Rather than peak on his run, having not raced since June 17, Just Believe went right on with it and smashed the track record.
And surely there is improvement still to come.
"It wasn't ideal missing that race the week before and although he had the two trials, when we needed a strong hit out in the second one, there was only one rival," Sugars said. "We're so proud of him tonight."
The win saw his odds slashed from as much as $2.50 into $1.80 to successfully defend his Inter Dominion crown at Albion Park on December 16.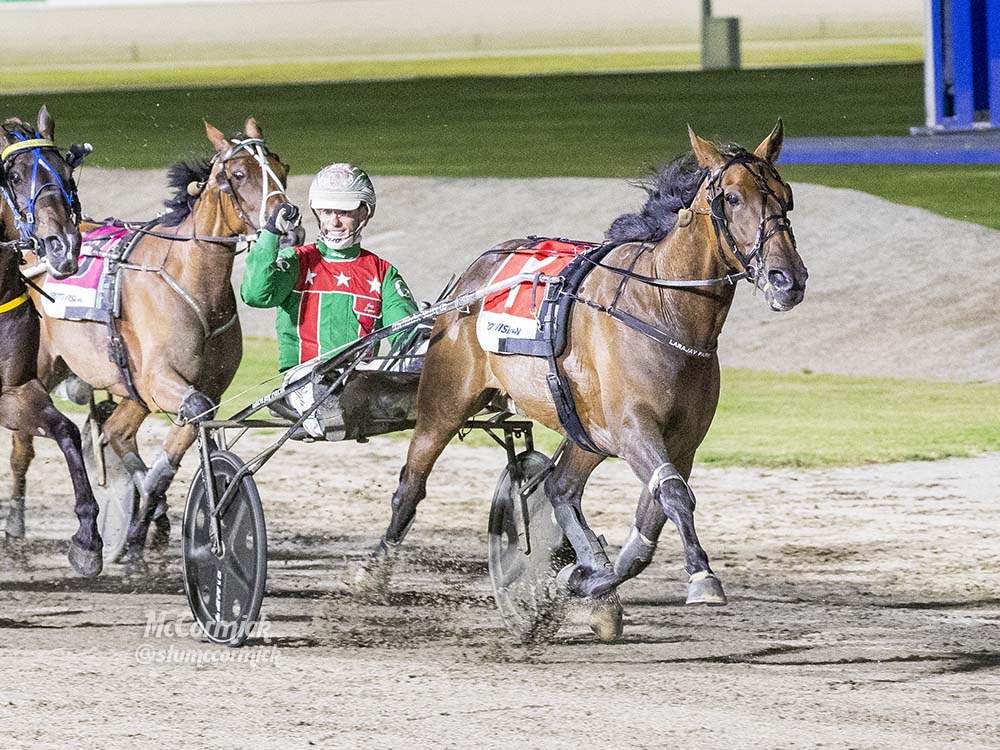 His next start will be the first round of heats on Friday week.
Despite the daunting travel, all the time in quarantine and the hard racing, master trotting trainer Chris Lang knows firsthand how a trip to the other side of the world and racing some trotting superstars can be hugely beneficial.
Lang's star Sundons Gift did exactly that after his failed tilt at the 2009 Elitlopp.
"There's no doubt he came back a better horse, quite a bit better," he said.
"He wasn't quite the right sort of horse to take to Sweden, but things you learn as a trainer and simply racing against those horses helped really make him."
Yes, Sundons Gift had already won the 2009 Inter Dominion final when he went to Sweden, but his form went to another level when he returned.
In his first 18 starts after returning to Australia, Sundons Gift won 14 of them and ran second in another three.
And he dominantly defended his Inter Dominion crown in 2010.
That's all the inspiration Sugars and Jess Tubb need.
The fringe benefit of going to Sweden is the things you learn, especially in Sugars' case when he stayed with one of the greatest horsemen of any code the world has seen, Stig Johannson.
Since coming home, Sugars has created a "Swedish" training routine for some of he and Tubbs' trotters.
Watch the results flow.
They've also got the natural terrain at their Myrniong property to try different things, including the hill and a straight stretch of track.
Sundons Gift is one of just three trotters to go back-to-back in Inter Dominion finals. Pride Of Petite (1997 & '97) and I Can Doosit (2011 & '12) are the others.
Just Believe looks right on target to become number four.
---
The opinions expressed in The Forum are those of the author and may not be attributed to or represent policies of Harness Racing Victoria, which is the state authority and owner of thetrots.com.au.